Introducing About

– The Avengers Beach Shorts:
The Avengers Beach Shorts. Looking to channel your inner superhero while catching some rays at the beach or lounging by the pool? Look no further than The Avengers Beach Shorts! These epic shorts are not only stylish, but they also showcase your love for Earth's mightiest heroes. In this article, we will delve into the exciting world of The Avengers Beach Shorts, exploring their remarkable features, unique design, and unbeatable comfort. So grab your shield or hammer and let's jump right into this adventure!
First and foremost, these beach shorts offer an irresistible combination of fashion and fandom. Featuring iconic characters such as Iron Man, Captain America, Thor, and Hulk, The Avengers Beach Shorts are a true tribute to the Marvel Universe. Gone are the days of plain, boring swimwear – with these shorts, you can flaunt your superhero allegiance in style, standing out from the crowd and inspiring envy among fellow fans.
What sets The Avengers Beach Shorts apart from ordinary swim trunks is their attention to detail. Each pair is meticulously designed with vibrant colors, intricate patterns, and carefully aligned character placements. From Tony Stark's Arc Reactor shining on Iron Man's suit to Thor's mighty hammer, Mjolnir, striking fear into the hearts of evildoers, every aspect of these shorts exudes authenticity. Crafted from high-quality material, these shorts feel just as impressive as they look.
Furthermore, comfort is paramount when it comes to beachwear, and The Avengers Beach Shorts deliver in spades. Made from a lightweight and breathable fabric, these shorts provide a relaxed fit that ensures ease of movement during your favorite summertime activities. Whether you're sprinting across the sandy shores or gracefully diving into the refreshing waters, these shorts won't hold you back. Additionally, they are equipped with an adjustable drawstring waistband, allowing you to personalize the fit according to your preference.
Versatility is another feature that makes The Avengers Beach Shorts an essential addition to your superhero wardrobe. While perfect for beach-themed outings, these shorts are equally suitable for other occasions. Throw on a t-shirt and pair them with sneakers for a cool and casual everyday look. Whether you're vacationing on a tropical island or just hanging out with friends at a local pool party, The Avengers Beach Shorts effortlessly transition from beachwear to streetwear, guaranteeing all eyes are on you and your heroic style.
To ensure their durability through multiple adventures in the sun and surf, The Avengers Beach Shorts boast exceptional quality and construction. Reinforced stitching guarantees resilience against wear and tear while withstanding the rigors of various water sports and activities. Additionally, these shorts are quick-drying, ensuring you can seamlessly transition from poolside lounging to impromptu beach volleyball matches without the discomfort of wet swim trunks.
In conclusion, The Avengers Beach Shorts are not just another piece of swimwear but a fashion statement worthy of a true superhero fan. Their eye-catching design, superior comfort, and versatile appeal make them an essential addition to your summer closet. Channel your favorite Avenger as you hit the beach, maximizing your heroism both in and out of the water. So why wait? Elevate your beach game to legendary proportions with The Avengers Beach Shorts and let your inner superhero shine!
Order your pair of The Avengers Beach Shorts now and mobilize a heroic summer like never before. Don't miss out on elevating your style with these epic swim trunks – unleash the hero within!
Why The Avengers Beach Shorts is Important to You?
 The Avengers Beach Shorts holds a special place in my heart as a devoted Marvel fan. From the moment I laid eyes on these stylish shorts, I knew I had to have them. This product merges my love for superheroes and the summertime, creating an unparalleled experience that adds a unique touch to my beach outings. In this section, I will delve into the reasons why this particular product holds immense importance to me personally.
First and foremost, the Avengers Beach Shorts visually represent my admiration for Marvel and the world of superheroes. As an avid follower of the Marvel Cinematic Universe, I deeply resonate with its messages of unity, resilience, and heroism. These shorts boast a captivating design featuring the iconic Avengers logo and a variety of beloved characters. Every time I wear them to the beach, I display my enthusiasm and connection to this remarkable fictional world. It fills me with immense pride to be able to showcase my passions through fashion – it's like wearing my love for the Avengers right on my shorts.
Another reason why the Avengers Beach Shorts are essential to me is the high level of comfort they offer. Made from top-quality materials, the shorts are incredibly soft, lightweight, and breathable. These qualities make them perfect for beach activities such as swimming, sunbathing, or playing beach volleyball. The shorts' quick-drying feature allows me to seamlessly transition from water to land without discomfort or irritation. Not only do these shorts provide functionality, but they also amplify my enjoyment of various beach pursuits. Whether I'm taking a leisurely stroll along the shoreline or engaging in exciting water sports, the Avengers Beach Shorts ensure that nothing gets in the way of my fun and relaxation.
Furthermore, this product provides a platform for self-expression, allowing me to unite with fellow Marvel enthusiasts. Wearing these shorts often prompts conversations and connections with other fans who share the same passion and devotion. Engaging in discussions about favorite characters, theories, or memorable movie scenes creates a sense of belonging and serves as a reminder that I am part of a vast and dedicated community. The Avengers Beach Shorts act as a symbol that bridges the gap between strangers, sparking instant camaraderie and enabling me to establish valuable connections beyond the beach.
Beyond its aesthetic appeal and practicality, these shorts hold sentimental value for me due to the memories attached to them. Each time I wear them, I am reminded of when I first watched the Avengers movies, the excitement and anticipation leading up to each film's release, and the moments spent discussing fan theories with friends and family. These shorts encapsulate not only my love for Marvel but also the experiences and emotions that I associate with it. They serve as a visual reminder of the joy, laughter, and anticipation that these movies have brought into my life, making them an integral part of my personal journey as a fan.
Summing up, the Avengers Beach Shorts are undeniably important to me. They let me proudly display my adoration for the Marvel universe while ensuring optimal comfort during beach activities. Additionally, these shorts have become a way for me to connect with like-minded fans, fostering a sense of community wherever I go. Above all, they encapsulate the beloved memories and experiences I associate with Marvel and allow me to carry those sentiments with me wherever I may roam, forming an irreplaceable component of my identity as a passionate comic book aficionado.. The Avengers Beach Shorts.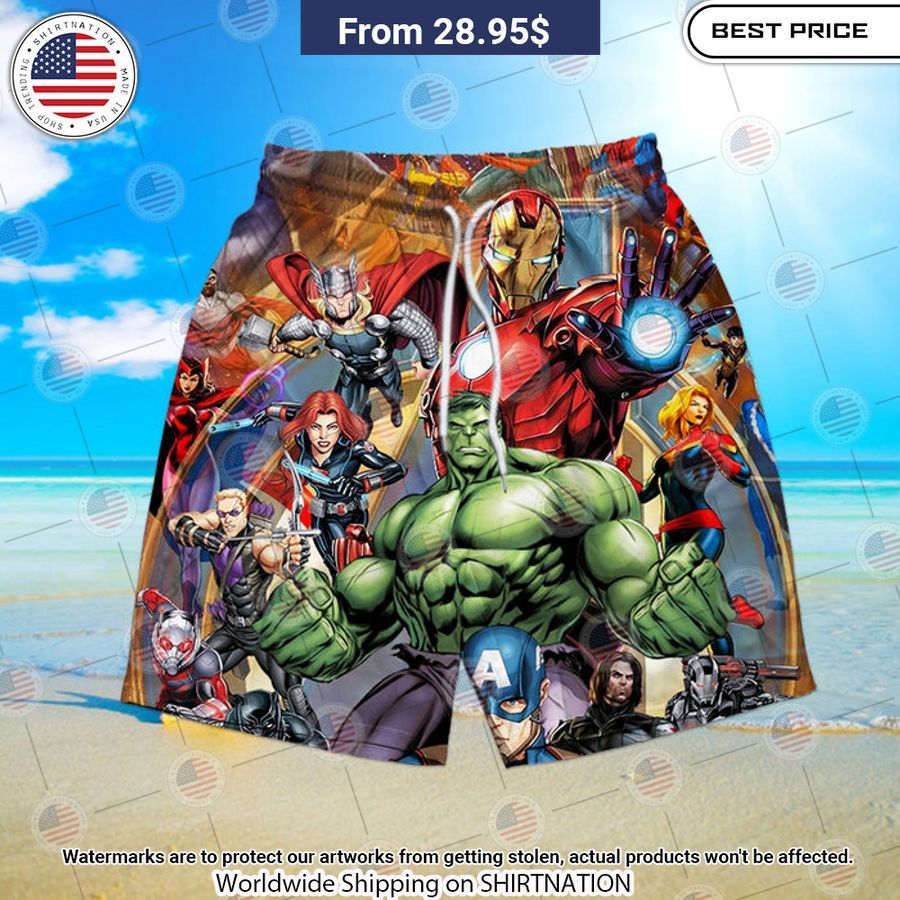 What you need to know About The Avengers Beach Shorts:
KEY FEATURES: 
Drawstring closure. 

Elastic waistband with adjustable drawstring, the drawstring can be used freely adjustable tightness according to your waist medium length beach shorts with mesh lining. 

Suitable for special occasions such as Christmas, birthday, celebration, housewarming gift. 
PRODUCT INFORMATION:
Kate fabric, high quality, quick-drying, breathable, lightweight, comfortable and skin-friendly fabric, can direct contact to skin.

There are two pockets which will be convenient for the user. 
PRINTS: Dye-sublimation printing
WASHABLE: Machine wash cold, only non-chlorine bleach when needed, hang dry, cool iron on reverse side or dry clean
SIZE CHART – The Avengers Beach Shorts: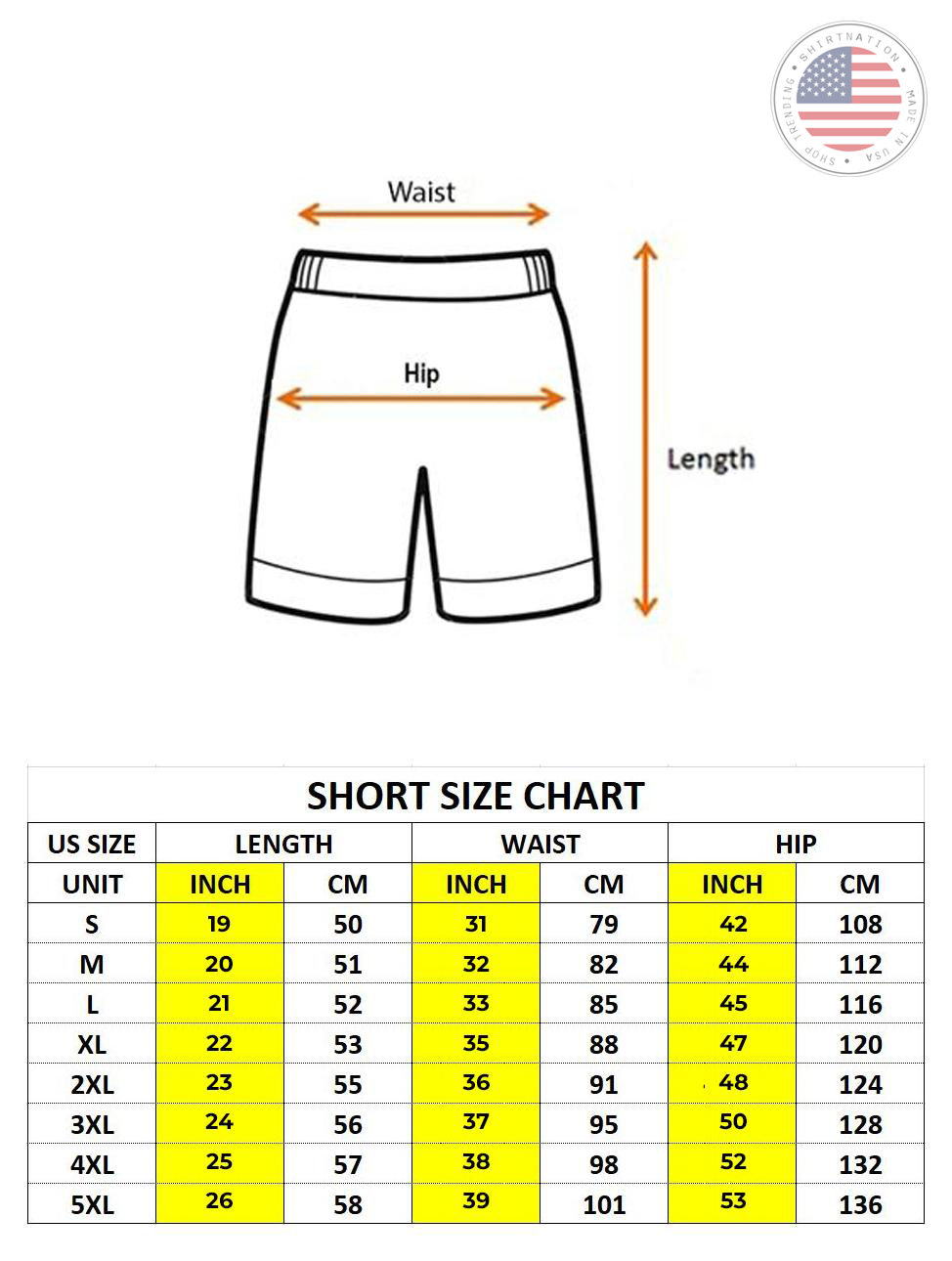 Reason To Purchase Hawaiian Shirt and Shorts:
Hawaiian shirts and shorts have garnered widespread popularity for their association with a relaxed and carefree style that extends beyond the Hawaiian islands. People are drawn to these iconic garments for various reasons. First and foremost, they provide unmatched comfort with their lightweight and breathable fabrics, ensuring wearers stay cool even in warm weather. The loose fit and relaxed design contribute to their comfort factor. Additionally, the vibrant and lively prints featuring bold floral patterns and tropical motifs add a touch of joy and fun to any ensemble. These prints allow individuals to express their unique style preferences and showcase their personality. Moreover, the versatility of Hawaiian shirts and shorts is a significant draw, as they can be dressed up or down to suit different occasions. Whether it's a semi-formal gathering or a casual day at the beach, these garments effortlessly adapt to the desired look. Lastly, wearing Hawaiian shirts and shorts evokes a sense of vacation and the laid-back Hawaiian lifestyle, enabling wearers to embrace a carefree and leisurely mindset.
Design Features of The Avengers Beach Shorts:
 – Material: The Avengers Beach Shorts are made from a premium blend of fabrics, such as polyester and spandex. This combination ensures durability, flexibility, and comfort during any outdoor activity.
Innovative Patterns and Prints: These shorts boast unique and eye-catching designs inspired by the iconic characters from the Marvel Universe. Featuring visuals of Avengers superheroes like Iron Man, Captain America, Thor, Hulk, Black Widow, and Hawkeye, these shorts allow fans to proudly display and express their love for Earth's mightiest heroes.
– Fit and Length Options: The Avengers Beach Shorts are available in various sizes and lengths, ensuring a perfect fit for every body type and personal preference. Whether you prefer a shorter or longer length, these shorts are designed to cater to your desired style, ensuring maximum comfort and mobility.
– Elastic Waistband with Drawstring: To provide an adjustable and secure fit, these beach shorts feature an elastic waistband with a drawstring. This design allows wearers to customize the fit according to their waist size, ensuring a snug yet comfortable feel. Whether you're lounging on the beach, hitting the waves, or engaging in various sports activities, the elastic waistband with a drawstring will keep the shorts securely in place.
– Quick-Drying Technology: Perfect for aquatic adventures or hot summer days, the Avengers Beach Shorts are constructed with quick-drying technology. This feature allows the fabric to rapidly wick away moisture, ensuring that you stay dry and comfortable no matter how intense your beach activities become. Say goodbye to uncomfortable moments in soggy shorts!
– Built-In UV Protection: The Avengers Beach Shorts provide an additional layer of sun protection with their built-in UV coating. This special treatment blocks harmful UVA and UVB rays, safeguarding your skin against potential sunburns and reducing the risk of long-term skin damage. Enjoy your time outdoors without worrying about overexposure to the sun.
– Multiple Pockets: Practicality meets style with the inclusion of multiple pockets in the design of the Avengers Beach Shorts. These shorts offer ample space for essential items such as keys, wallet, or sunscreen without compromising comfort. The pockets are strategically positioned to avoid bulkiness and retain the sleek look of the shorts.
– Reinforced Stitching: The Avengers Beach Shorts are crafted with meticulous attention to detail, featuring reinforced stitching throughout. This ensures the durability and longevity of the shorts, even during high-intensity activities or frequent use. You can rely on these shorts to stand up to your adventures over an extended period.
– Versatility: While primarily designed as beach shorts, these versatile garments can also effortlessly transition into casual everyday wear or workout attire. Pair them with a t-shirt and sneakers for a comfortable and stylish look for running errands or attending social gatherings. The Avengers Beach Shorts offer versatility that truly embodies the spirit of the superheroes they represent.
In conclusion, the Avengers Beach Shorts combine impeccable design features and attention to detail to offer a unique and comfortable experience for fans of Marvel's Avengers. With their innovative patterns, adjustable fit, quick-drying technology, UV protection, multiple pockets, and reinforced stitching, these shorts are not only fashionable but also functional for any outdoor activity. Add a touch of superhero flair to your wardrobe and embrace your inner Avenger with these fantastic beach shorts. The Avengers Beach Shorts.
SHIPPING INFORMATION:
Production Time: 3 – 5 days
Worldwide Shipping Time (including Production Time ):  7 –14 days by Fast Ship, 15 – 20 days by Standard Ship

Tracking Number: When your order is completed, we will send you the tracking number with the confirmation email so that you can track the package online.

Our factories are located in America, Canada, E.U, Turkey, Viet Nam, and Indonesia.

If you find the delivered product:




– Damaged due to production quality (missing button, dirty marks…)




– Damaged due to poor packaging/handling during shipment                                                                                                
Please notify us at [email protected] with photo evidence of the errors mentioned above, so that we can help you resolve the problem as quickly as possible
WAREHOUSE – SHIPPING WORLDWIDE
MONEY-BACK GUARANTEE
We want you to be 100% satisfied with the products you buy from us. If for ANY reason you are not satisfied with your purchase, we offer an iron-clad money-back guarantee.
If you have any questions during shipping time, please send them via our email [email protected] or chat messenger with us. Thank you!
🌐 Home Page: Shirtnation.net