Introducing About

– Rainer Beer Baseball Shirt:
Rainer Beer Baseball Shirt. Introducing the Rainer Beer Baseball Jersey, a one-of-a-kind sports apparel that combines the iconic world of beer and America's favorite pastime in a unique and stylish way. Perfect for both beer enthusiasts and baseball lovers, this jersey is sure to be a hit on and off the field. Whether you're gearing up for a game or casual outing with friends, the Rainer Beer Baseball Jersey will turn heads and spark conversations with its clever design and exceptional quality.
Crafted with an unwavering attention to detail, our Rainer Beer Baseball Jersey is not your average sports attire. It is infused with the spirit of the Rainer Beer brand, renowned for its rich heritage and popularity among beer connoisseurs from coast to coast. This jersey pays tribute to the brand's unwavering commitment to quality and celebration of all things American sports and beer.
One of the standout features of the Rainer Beer Baseball Jersey is its unique design. Combining classic baseball aesthetics with the distinct visual elements of the Rainer Beer logo, this jersey is a visual testament to the seamless blend of two beloved American traditions. With its crisp white fabric adorned with the signature Rainer Beer logo embroidered on the chest, this jersey exudes a sense of nostalgia and reverence for America's sporting history.
Beyond its remarkable design, the Rainer Beer Baseball Jersey boasts unparalleled comfort and durability. Made from high-quality, breathable fabric, this jersey allows for flexibility and ease of movement, ensuring maximum comfort during even the most intense games or casual nights out. Reinforced stitching ensures long-lasting wear and tear resistance, making it a solid investment for sporty beer aficionados who want a versatile garment that can withstand both the rigors of the baseball diamond and the everyday adventures.
Another standout feature is the attention given to authentic details. The Rainer Beer Baseball Jersey embraces the timeless charm of traditional baseball jerseys with its button-up front closure, presenting a nod to the old days of the sport. Additionally, the jersey features contrasting white piping on the sleeves and collar, adding a touch of retro elegance. Whether you're out in the ballpark or catching up with friends at your favorite bar, this garment is both a statement piece and a beloved collectible that captures the spirit of true sportsmanship and camaraderie.
But the Rainer Beer Baseball Jersey goes beyond just being a piece of clothing – it's a conversation starter, emphasizing the true fusion of American culture, sports, and brews. It serves as a bridge between two worlds, allowing fans to proudly showcase their love for both baseball and Rainer Beer. As uniquely American icons, the rich history and tradition of baseball and beer have become intertwined throughout the years, influencing one another and generating countless moments of joy and celebration.
Now, what are you waiting for? Level up your game day apparel and show off your love for classic American traditions with the Rainer Beer Baseball Jersey. Donning this exclusive jersey is not only a testament to your passion for beer and sports but also an homage to the shared experiences that bring us together. Truly, this striking garment is a must-have for any sports enthusiast, beer lover, or collector searching for a truly eye-catching and meaningful addition to their wardrobe.
Don't miss out on a chance to experience the perfect blend of iconic American beer and baseball in a stunning piece of clothing, opening doors to incredible memories and unforgettable moments. Rediscover the joys of America's pastime and indulge yourself in a refreshing celebration by grabbing your own Rainer Beer Baseball Jersey now!
Why Rainer Beer Baseball Shirt is Important to You?
 As a fan of both beer and baseball, the Rainer Beer Baseball Jersey holds a special place in my heart. This product speaks to my love for the game and my appreciation for a good brew, all while showcasing a unique and stylish design.
One of the main reasons why this product is important to me is its ability to bring together two things that I enjoy so much – beer and baseball. Baseball has always been a part of my life, whether it was playing catch with my dad in the backyard or attending games with friends and family. The sense of camaraderie and excitement that the game brings is unmatched. Similarly, the enjoyment of a refreshing beer on a hot summer day is an experience like no other. The Rainer Beer Baseball Jersey combines these two passions of mine into one iconic piece of apparel, allowing me to display my love for both in a fashionable and unique way.
Not only does this jersey represent my personal interests, but it also holds significance on a larger scale. Rainer Beer has been a beloved brand among both beer enthusiasts and sports fans for decades. Their rich history and dedication to quality have earned them a well-deserved reputation. Wearing the Rainer Beer Baseball Jersey allows me to align myself with this revered brand while paying homage to their contribution to the beer and baseball culture. It's a way for me to showcase my support and connection to these traditions.
Beyond just its symbolic value, the practical aspects of the Rainer Beer Baseball Jersey also make it important to me as a consumer. The jersey is made from high-quality materials that offer comfort, durability, and breathability. The fabric is designed to keep me cool during those hot summer games or tailgate parties. Additionally, the attention to detail in the stitching and craftsmanship ensure that this jersey will withstand many seasons to come. The shirt's relaxed fit enables free movement while still maintaining a flattering silhouette. These features are essential for game-day attire, as the last thing I want is to be distracted by uncomfortable clothing.
Furthermore, the design of the Rainer Beer Baseball Jersey is visually appealing and unique. The jersey features the iconic Rainer Beer logo prominently displayed on the front, making a bold statement. The combination of the classic beer branding with the aesthetics of a baseball jersey creates a standout piece that draws attention and starts conversations. Whether I'm at the ballpark or out in public, this jersey guarantees that I will not only look stylish but also showcase my personality and interests.
In summary, the Rainer Beer Baseball Jersey holds great importance to me as a fan of both baseball and beer. It provides a connection to my personal interests, aligns me with a respected brand, and offers practicality and comfort as a consumer. With its visually appealing design and high-quality construction, the jersey becomes much more than just a piece of clothing – it becomes an expression of who I am and what I love.. Rainer Beer Baseball Shirt.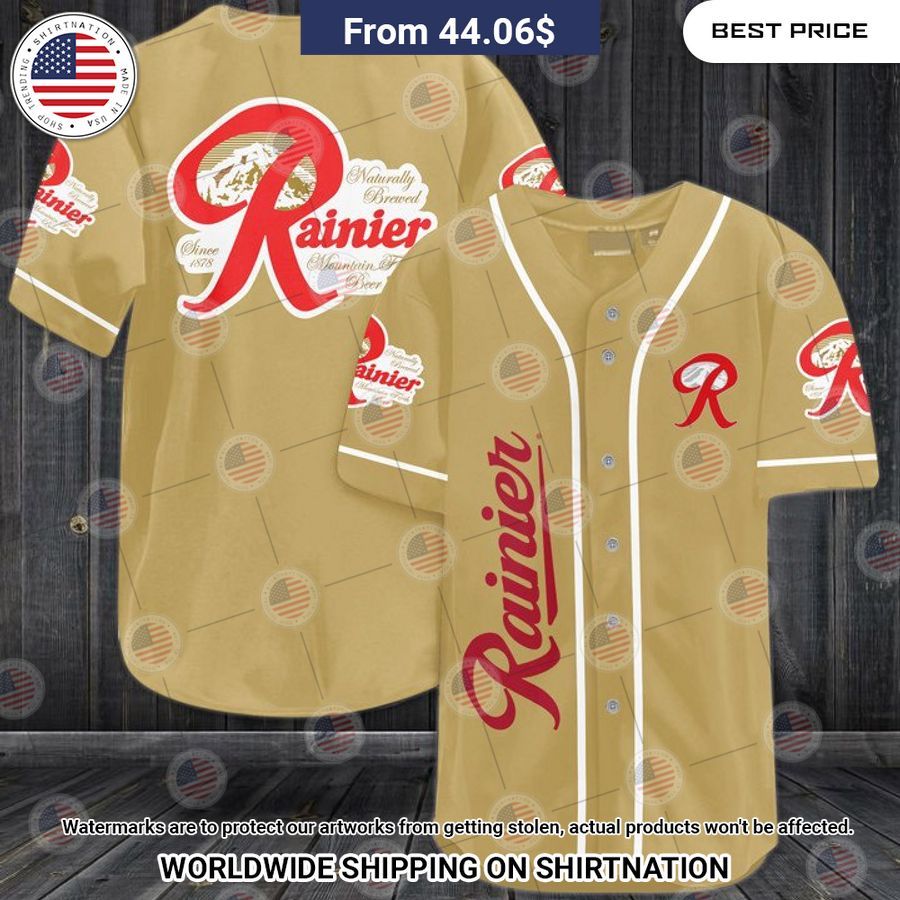 What you need to know About Rainer Beer Baseball Shirt:
KEY FEATURES:
Baseball/softball jersey with a full button down closure
It is appropriate for special events like as Christmas, birthdays, celebrations, and housewarming gifts. 
PRODUCT INFORMATION:
Breathable fabric made of polyester and mesh. 
Quick-drying and wrinkle-free fabric. The fabric is silky and breathable.
PRINTS: Dye-sublimation printing
WASHABLE: Machine wash cold, only non-chlorine bleach when needed, hang dry, cool iron on reverse side or dry clean
SIZE CHART – Rainer Beer Baseball Shirt:

Reason To Purchase Baseball Jersey:
Wearing a baseball jersey provides various benefits and opportunities for both dedicated players and enthusiastic fans. It serves as a symbol of unwavering team loyalty and camaraderie, allowing individuals to connect with fellow supporters. Additionally, donning a jersey bearing the name and number of a favorite player becomes a tribute to their accomplishments and sparks conversations among like-minded enthusiasts. Beyond game days, baseball jerseys offer comfort and versatility in everyday wear, while also holding sentimental value as collectibles and serving as thoughtful gifts. Overall, owning a baseball jersey is a meaningful way to showcase love for the sport and become part of the passionate baseball community.
Design Features of Rainer Beer Baseball Shirt:
 The Rainer Beer Baseball Jersey is curated with a perfect blend of style, comfort, and functionality. This trendy yet classic design features encapsulate the essence of the baseball game while providing a distinctive impression. In this detailed list, we will explore each design feature of this remarkable product, highlighting its unique qualities and benefits.
1. Premium Quality Material:
Crafted from premium-quality, breathable fabric, this jersey offers excellent durability and superior comfort. The blend of cotton and polyester gives it a soft texture while ensuring optimum moisture-wicking capabilities. Reinforced stitching provides added strength, allowing the product to withstand the rigors of the game. Whether you're on the diamond or off, this jersey promises exceptional performance and longevity.
2. Authentic Team Logo and Colors:
The Rainer Beer Baseball Jersey boasts the authentic logo and colors of the renowned Rainer Beer. This iconic logo, elegantly displayed on the front of the jersey, represents the rich history and tradition associated with the brand. The vibrant team colors further enhance the overall appeal, making it an excellent choice for die-hard fans and collectors alike.
3. Classic Button-Up Design:
Embracing the timeless baseball aesthetic, this jersey features a traditional button-up design. Made with high-quality buttons, they not only offer a stylish look but also provide a secure fit. The carefully placed buttons allow for easy fastening and unfastening, giving players the freedom to control their ventilation during intense gameplay or when cheering from the stands.
4. Breathable Mesh Panels:
The inclusion of strategically placed breathable mesh panels on the sides and underarms sets this jersey apart from the competition. These perforated panels enhance airflow, optimizing ventilation and comfort. By efficiently regulating body heat, they prevent excessive sweating, keeping players fresh and focused throughout the game. Additionally, they contribute to the overall lightweight design without compromising on durability.
5. Roomy Fit and Flexibility:
Designed to accommodate varying body types, this jersey offers a roomy yet tailored fit without clamping or restricting movement. The generous cut through the shoulders and chest ensures a wide range of motion, allowing players to swing their arms freely during pitching or hitting. Furthermore, the perfect balance of fabric elasticity guarantees flexibility for unrestricted gameplay.
6. Enhanced Neckline and Collar:
The neckline and collar of this baseball jersey are meticulously crafted to deliver both style and comfort. The neck features a classic crew-neck design, which lends a clean and professional appearance. It sits comfortably on the neck without causing any irritation or discomfort. Furthermore, the reinforced collar offers excellent resilience, maintaining its shape even after continuous wear and washing.
7. Functional Pockets:
A standout feature of this jersey is the inclusion of functional pockets on the sides. With thoughtfully designed pocket placements, they provide convenient storage options for small essentials like coins, keys, or even a smart device. Practicality meets style, as these pockets seamlessly blend into the overall design without compromising the jersey's aesthetics.
8. Authentic Patchwork Detailing:
An exquisite detail in this jersey comes in the form of authentic patchwork. Crafted with precision, these patches showcase the iconic Rainer Beer branding, evoking a sense of nostalgia. These patches add a touch of heritage and character to the jersey, elevating its overall appeal and making it a cherished piece for collectors and enthusiasts.
In conclusion, the Rainer Beer Baseball Jersey masterfully combines classic design elements with modern functionality. From premium-quality materials and authentic branding to enhanced ventilation and thoughtful details, this jersey delivers superior performance and style. Whether you're a player stepping onto the field or a fan watching from the stands, this jersey is the perfect choice to showcase your passion for both baseball and the iconic Rainer Beer brand. Rainer Beer Baseball Shirt.
SHIPPING INFORMATION:
Production Time: 3 – 5 days
Worldwide Shipping Time (including Production Time ):  7 –14 days by Fast Ship, 15 – 20 days by Standard Ship

Tracking Number: When your order is completed, we will send you the tracking number with the confirmation email so that you can track the package online.

Our factories are located in America, Canada, E.U, Turkey, Viet Nam, and Indonesia.

If you find the delivered product:




– Damaged due to production quality (missing button, dirty marks…)




– Damaged due to poor packaging/handling during shipment                                                                                                
Please notify us at [email protected] with photo evidence of the errors mentioned above, so that we can help you resolve the problem as quickly as possible
WAREHOUSE – SHIPPING WORLDWIDE
MONEY-BACK GUARANTEE
We want you to be 100% satisfied with the products you buy from us. If for ANY reason you are not satisfied with your purchase, we offer an iron-clad money-back guarantee.
If you have any questions during shipping time, please send them via our email [email protected] or chat messenger with us. Thank you!
🌐 Home Page: Shirtnation.net