Introducing About

– Personalized South Africa Springboks Tumbler:
Personalized South Africa Springboks Tumbler. Are you ready to show off your love for the South Africa Springboks? Look no further than our Personalized South Africa Springboks Tumbler! This tumbler is the perfect accessory for any Springboks fan, allowing you to express your loyalty and creativity all in one. With its unique personalization features and high-quality design, this tumbler is sure to leave you impressed. Join us as we delve into the world of this magnificent product, exploring its incredible features and offering you a glimpse into why it's a must-have for any Springboks enthusiast.
The Personalized South Africa Springboks Tumbler is more than just a simple beverage container; it is an embodiment of pride, individuality, and support for the national rugby team. Crafted with the utmost attention to detail, this tumbler boasts a range of exciting features that will elevate your experience, both on and off the rugby field. So, let me take you on a journey through the endless possibilities and wonders that this customizable tumbler has to offer.
First and foremost, this tumbler allows you to showcase your unique style and personality with its personalized design option. Whether you want to feature your name, initials, or even a favorite Springboks player's number, our high-quality customization service can make it happen. Every time you take a sip from this tumbler, you'll be reminded of your undying love for the Springboks, and it will undoubtedly spark conversations amongst both friends and fellow fans.
To ensure long-lasting quality, our Personalized South Africa Springboks Tumbler is constructed with durable stainless steel. This material not only provides exceptional insulation, but it also guarantees that your favorite drink stays hot or cold for hours at a time. So whether you're enjoying a piping hot coffee before an early morning match or relishing in a refreshing cold beverage during halftime, this tumbler will be the ideal companion to keep your drink at the perfect temperature.
Furthermore, we understand that accidents can happen, which is why our tumbler is equipped with a spill-resistant lid. No more worrying about spills or leaks ruining your Springboks experience. With its secure lid, you can confidently take your tumbler on any adventure, be it a tailgate party, a road trip, or simply enjoying a cozy evening by the fireplace. Rest assured that no matter where you go, your beloved Springboks tumbler will be by your side, keeping your drink safe and secure.
Lastly, but certainly not least, this tumbler sports a sleek and modern look. The bold South Africa Springboks emblem prominently displayed on the front not only shows your team spirit but also serves as a conversation starter with other rugby enthusiasts. Whether at work, in the gym, or during your daily commute, this tumbler will undoubtedly turn heads and draw admiration from fellow fans and rivals alike.
We pride ourselves on producing high-quality products that provide exceptional value, and our Personalized South Africa Springboks Tumbler is no exception. Every detail has been carefully considered, from the personalized design option to the stainless-steel construction and spill-resistant lid, ensuring that you have the ultimate Springboks fan gear.
So, what are you waiting for? Step up your game and show off your South Africa Springboks pride with our Personalized Springboks Tumbler! Don't miss the chance to drink in style and true support for your favorite rugby team. Place your order today and become the envy of all Springboks fans. Cheers to the triumphs and traditions of the South Africa Springboks – sip by sip!
Why Personalized South Africa Springboks Tumbler is Important to You?
The personalized South Africa Springboks Tumbler holds immense importance to me personally due to several reasons. As a proud South African and a dedicated rugby fan, this product is the perfect combination of utility and symbolism.
To begin with, as a South African, I have a deep-rooted love for my country and its rich cultural heritage. The Springboks are not just any rugby team; they are an integral part of South African identity. The team's iconic green and gold jersey represents national pride and unity. By owning a personalized tumbler adorned with the emblem of the Springboks, I am able to showcase and celebrate my patriotic spirit. It serves as a constant reminder of the World Cup victories and the historic moments when the Springboks have triumphed against all odds.
Furthermore, as a dedicated rugby fan, I recognize the significance of the Springboks within the global rugby community. The team's resilience, determination, and unwavering commitment to the sport make them an inspiration for rugby enthusiasts like myself. Owning a personalized South Africa Springboks tumbler allows me to display my devotion to the sport and my admiration for the team, which serves as a conversation starter with fellow rugby lovers.
Apart from symbolic meaning, the personalized South Africa Springboks tumbler's practicality is another reason why it has great importance to me. Whether I am at home, in the workplace, or on the go, the tumbler ensures that I have a dedicated vessel to keep my beverages at the optimal temperature. Its insulated design keeps drinks cold for hours during hot summer days or warm throughout frosty winter nights. The cap securely seals the tumbler, preventing any leakage or spilling, offering convenience and peace of mind during travels or busy commutes.
Additionally, the capacity of the tumbler is perfect for my needs. With its generous size, it can hold an adequate amount of liquid, reducing the need for frequent refills. This serves as a great advantage during long road trips, gym sessions, or hectic workdays when interruptions and breaks may not be readily available. Moreover, the tumbler's design allows it to fit into most cup holders, making it easy to use on-the-go whether in my car or public transport.
Furthermore, investing in a personalized South Africa Springboks tumbler is an eco-friendly choice that aligns with my commitment to sustainability. By using this tumbler, I can significantly reduce my reliance on single-use plastic cups and contribute to less plastic waste generation. It allows me to enjoy my favorite beverages guilt-free knowing that I am making a positive impact on the environment.
Last but not least, owning a personalized tumbler highlights my individuality and unique style. By adding a personal touch, such as my name or initials, to the design, it becomes a one-of-a-kind item, like no other. This personalization creates a sense of ownership and exclusivity, making me feel connected to the product on a deeper level.
In conclusion, the personalized South Africa Springboks tumbler holds immense importance to me. It allows me to celebrate and display my love for my country, unite with fellow rugby fans, enjoy practical and convenient beverage storage, embrace sustainability, and add a touch of individuality to my daily routine. Esteemed worldwide for its rugby prowess and symbolic representation, owning this tumbler deepens my connection to the Springbok legacy and enhances my overall experience as both a proud South African and an avid rugby enthusiast.. Personalized South Africa Springboks Tumbler.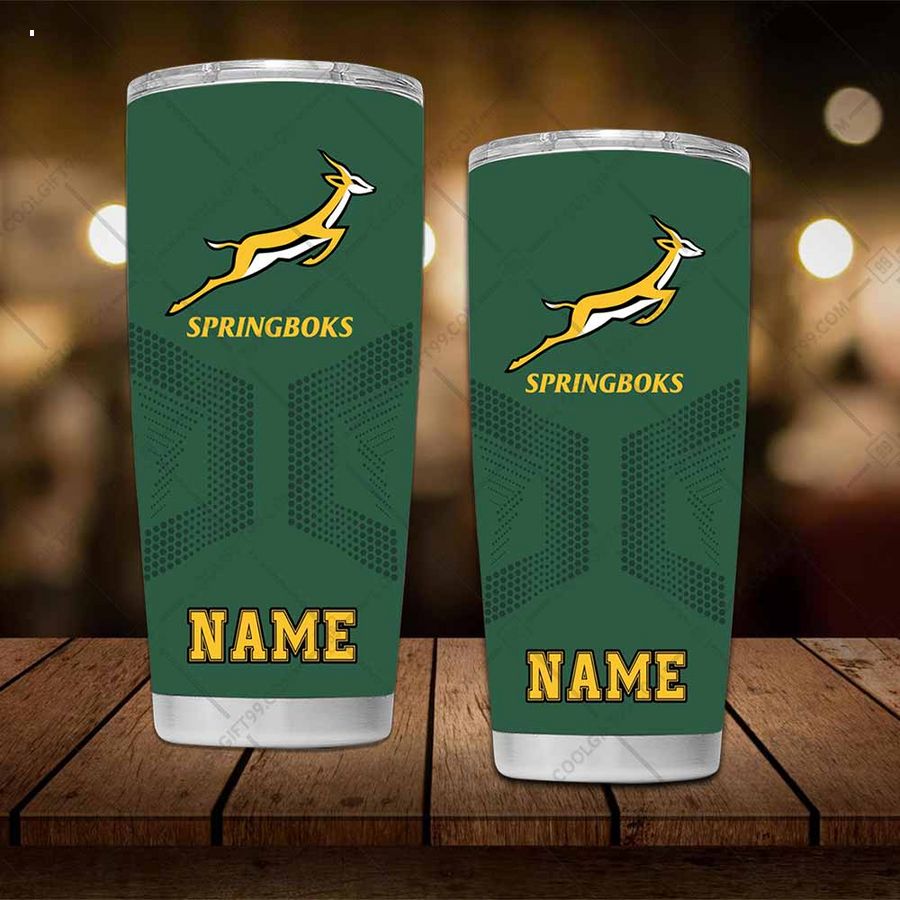 What you need to know About Personalized South Africa Springboks Tumbler:
KEY FEATURES:
You can use a tumbler set indoors or outdoors – day drinking on the patio, by the pool, on the boat, outdoor BBQs, family reunions, boating, picnics, RV, camping, glamping, cruising or parties.
PRODUCT INFORMATION:
Made of Inox, stainless steel water tumbler with a double wall insulated design keeps your drinks cold for a very long time, which will bring you a colder ice drink whether swimming or family beach holiday for a wonderful summer.

Also, its keep-hot function is available in winter.
PRINTS: Dye-sublimation printing
WASHABLE: Easily washed with soap and water.
SIZE CHART – Personalized South Africa Springboks Tumbler: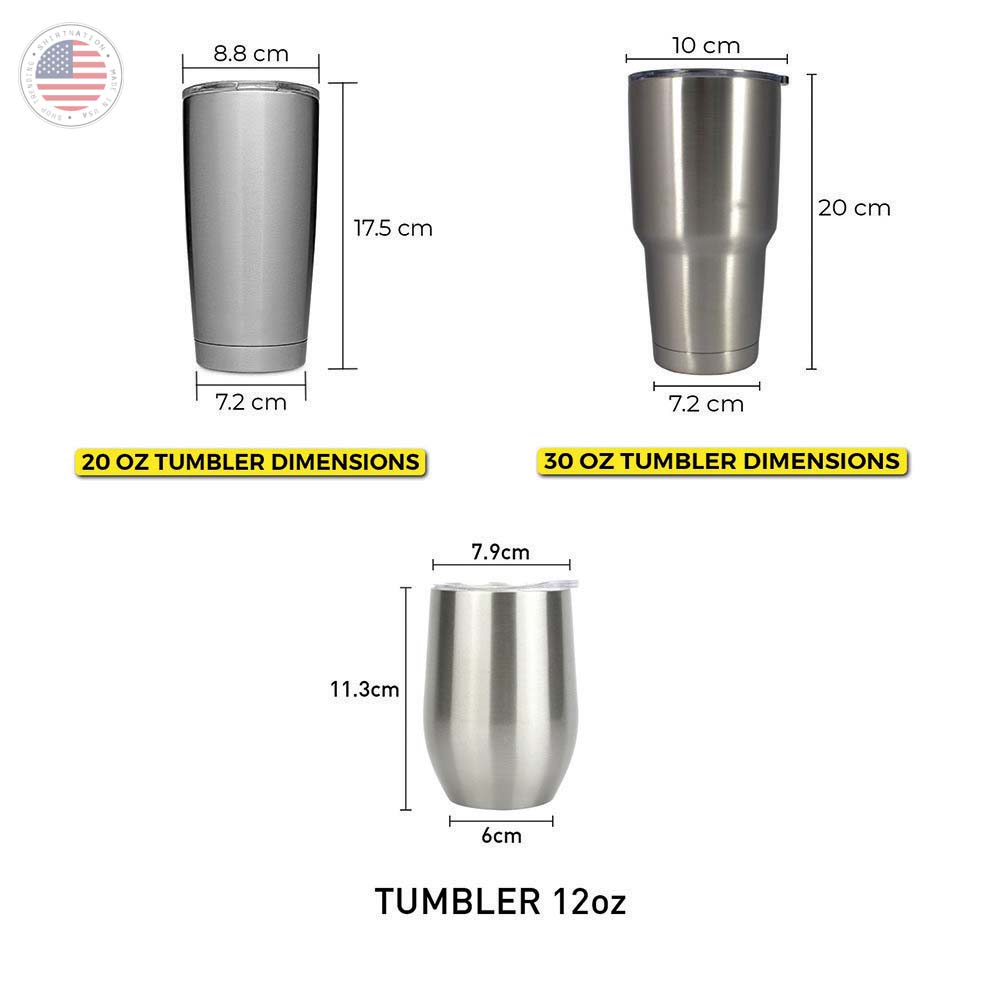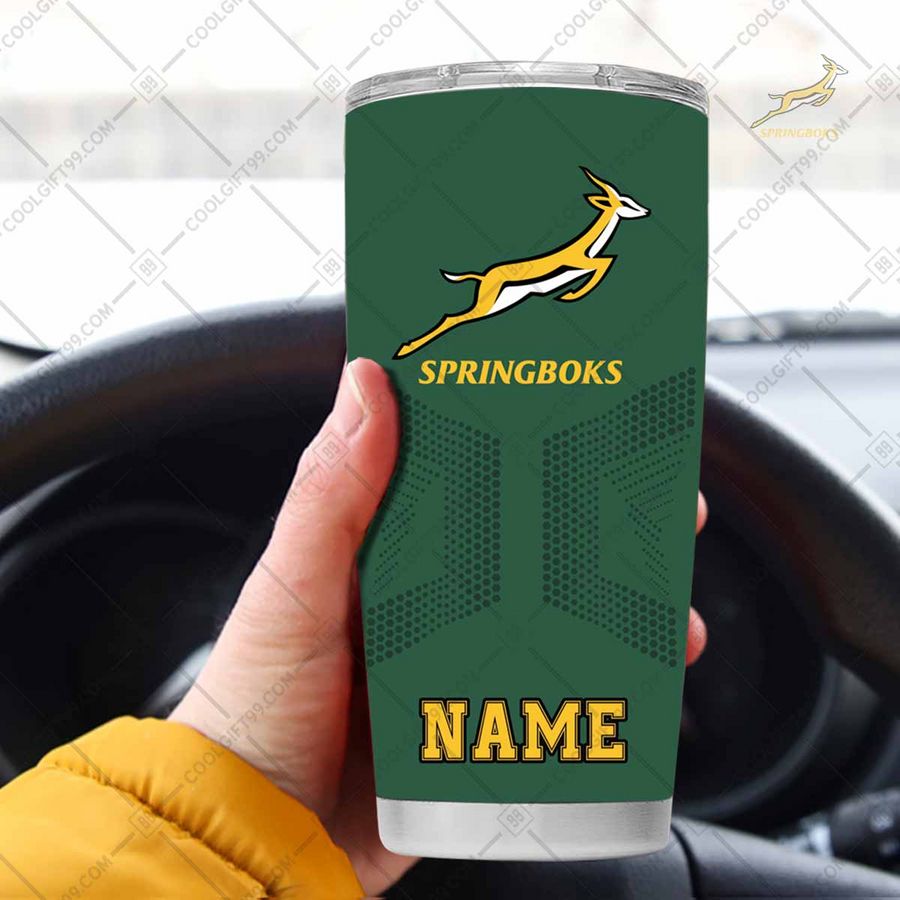 Reason To Purchase Tumbler:
Tumblers offer a range of benefits, including temperature control to keep beverages hot or cold for longer, durability to withstand rough handling and outdoor activities, portability with secure lids for easy transportation, eco-friendliness by reducing single-use waste, customization options for personalization, and long-term cost savings compared to disposable cups. These qualities make tumblers a practical and sustainable choice for enjoying drinks on the go while minimizing environmental impact.
Design Features of Personalized South Africa Springboks Tumbler:
The Personalized South Africa Springboks Tumbler is a stylish and functional drinkware item that is perfect for showing off your love for the South African national rugby team while keeping your beverages at their desired temperatures. Designed with several innovative features, this tumbler is not only durable but also highly practical for everyday use.
1. Double-Wall Insulation:
The tumbler features double-wall insulation, which helps in maintaining the temperatures of both hot and cold beverages. The inner wall is made of high-quality stainless steel, preventing your drinks from losing heat or getting warm while ensuring icy beverages stay cool for an extended period. Enjoy a steaming cup of coffee or a refreshing glass of iced tea without worrying about them losing their intended temperatures.
2. Personalization Options:
To make the tumbler even more special, it offers personalization options. You can customize the tumbler with your name, initials, or even your jersey number to create a unique and personalized touch. Additionally, the tumbler also showcases the iconic South Africa Springboks team logo, adding a sense of authenticity and pride to the overall design.
3. Durable Construction:
Built to withstand daily use, this tumbler is constructed with heavy-duty materials, including a stainless steel exterior and a BPA-free plastic interior lining. The stainless steel material ensures that the tumbler can endure accidental drops or impacts without denting or breaking. On the other hand, the BPA-free plastic interior lining not only enhances the insulation capabilities but also guarantees the safety of your drinks.
4. Leak-Proof Lid:
This tumbler is equipped with a convenient lid that is designed to be leak-proof. Whether you're commuting to work or going for a run, take your tumbler with you without the fear of drips and spills. The secure lid provides a reliable seal, eliminating any unnecessary messes and allowing you to enjoy your favorite beverages on-the-go, worry-free.
5. Sweat-Proof Exterior:
Another noteworthy design feature is the sweat-proof exterior of the tumbler. Thanks to the double-wall insulation, the exterior of the tumbler remains condensation-free even when filled with cold drinks. This aspect prevents any slippery surfaces and enables you to firmly grip the tumbler without it slipping from your hands. Say goodbye to water rings on your table and enjoy a hassle-free drinking experience.
6. Versatile Size Options:
These tumblers are available in various size options, catering to different needs and preferences. If you prefer a smaller tumbler for your morning coffee or a larger one for your gym sessions, there is a size that suits your requirements. Choose from options like 12 oz, 16 oz, or 20 oz depending on your desired capacity.
7. Easy to Clean:
Cleaning this personalized tumbler is effortless. The wide-mouth design allows for easier access to the interior, enabling thorough cleaning with a sponge or a bottle brush. Additionally, both the stainless steel exterior and the BPA-free plastic interior lining are dishwasher safe, making the cleanup process even more convenient.
In conclusion, the Personalized South Africa Springboks Tumbler boasts an array of carefully crafted design features. From its durable construction to the practical elements such as double-wall insulation, leak-proof lid, and sweat-proof exterior, every aspect has been considered for a superior drinking experience. Show your support for the South Africa Springboks team and enjoy your favorite beverages in style with this highly functional and customizable tumbler. Personalized South Africa Springboks Tumbler.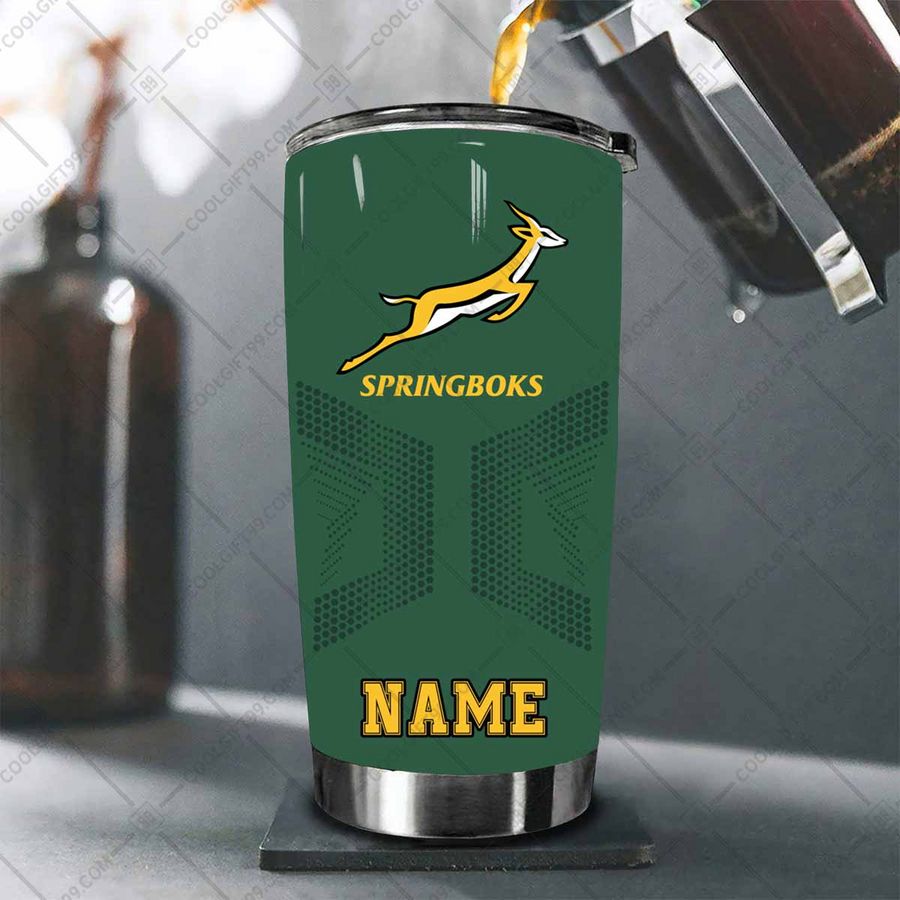 Production Time: 3 – 5 days
Worldwide Shipping Time (including Production Time ):  7 –14 days by Fast Ship, 15 – 20 days by Standard Ship

Tracking Number: When your order is completed, we will send you the tracking number with the confirmation email so that you can track the package online.

Our factories are located in America, Canada, E.U, Turkey, Viet Nam, and Indonesia.

If you find the delivered product:




– Damaged due to production quality (missing button, dirty marks…)




– Damaged due to poor packaging/handling during shipment                                                                                                
Please notify us at [email protected] with photo evidence of the errors mentioned above, so that we can help you resolve the problem as quickly as possible
WAREHOUSE – SHIPPING WORLDWIDE
MONEY-BACK GUARANTEE
We want you to be 100% satisfied with the products you buy from us. If for ANY reason you are not satisfied with your purchase, we offer an iron-clad money-back guarantee.
If you have any questions during shipping time, please send them via our email [email protected] or chat messenger with us. Thank you!
🌐 Home Page: Shirtnation.net