Introducing About

– NCAA Wisconsin Badgers Custom Cap:
NCAA Wisconsin Badgers Custom Cap. Are you a die-hard fan of the Wisconsin Badgers? Do you want to represent your favorite NCAA team in style? Then look no further! Introducing the NCAA Wisconsin Badgers Custom Cap – the ultimate accessory for any true Badgers fan. Designed with both comfort and style in mind, this custom cap is a game-changer for those who bleed red and white. With its exceptional features, high-quality materials, and eye-catching design, this cap is bound to become your new go-to accessory on game day, tailgates, or casual outings. Join us as we delve into the world of the NCAA Wisconsin Badgers Custom Cap and discover why it is a must-have for any devoted fan.
First and foremost, this custom cap boasts a truly unique and personalized design. Show off your Badger pride with the striking Wisconsin logo embroidered on the front of the cap, which is sure to turn heads wherever you go. Adorned with the soaring motion "W" logo that symbolizes the team's spirit, this cap perfectly captures the essence of the Badgers' athleticism and determination. Whether you're cheering from the stands or watching from home, sporting this cap unmistakably declares your love for the team.
Furthermore, this cap is expertly crafted using premium materials that ensure both durability and comfort. The NCAA Wisconsin Badgers Custom Cap features a strong and sturdy construction, making it perfect for those intense games where emotions run high. Even after countless wears and washes, this cap maintains its shape and appearance, showing no signs of wear and tear. Additionally, the cap's breathable fabric prevents discomfort or sweating, allowing you to focus solely on supporting your beloved Badgers and enjoying the game.
But what truly sets this cap apart from others on the market is its customizability. You have the flexibility to fully personalize your cap by selecting from an extensive range of colors, styles, and sizes. Whether you prefer a traditional curved brim or a modern flat brim, this cap accommodates your individual taste. Furthermore, the adjustable strap ensures a perfect fit for everyone, guaranteeing that this cap is suitable for Badgers fans of all ages and head sizes. Embrace your uniqueness and stand out from the crowd with a custom cap that reflects your personal style.
Finally, this NCAA Wisconsin Badgers Custom Cap is not only a fashionable accessory but also a tangible embodiment of school pride. By wearing this cap, you become part of a larger community dedicated to supporting and promoting the Wisconsin Badgers. It creates an immediate connection and facilitates camaraderie amongst fellow fans, fostering an atmosphere of inclusivity and enthusiasm. Whether you're attending live games or engaging in spirited debates online, wearing this cap serves as a talking point to forge new friendships and bond with fellow passionate supporters.
In conclusion, the NCAA Wisconsin Badgers Custom Cap perfectly embodies the spirit of the team and allows fans to proudly represent their favorite college sports franchise. From its striking and personalized design to its durable materials and customizability, every aspect of this cap has been meticulously thought out to provide the best possible experience for Badgers fans. Join the countless supporters who have already embraced this incredible accessory and gear up with your very own NCAA Wisconsin Badgers Custom Cap. Show off your school pride and let the world know that the Badgers are here to dominate! Get yours today and be part of the flock that cheers our team to victory.
Why NCAA Wisconsin Badgers Custom Cap is Important to You?
 The NCAA Wisconsin Badgers Custom Cap holds great importance to me for several reasons. As a die-hard fan of the Wisconsin Badgers, this cap serves as a symbol of my loyalty and support for my favorite college sports team. It carries sentimental value as it marks unforgettable memories and moments spent cheering for the Badgers.
First and foremost, this cap has become an essential part of my game day attire. When I wear it to a football or basketball game, I feel a strong sense of unity with other fans who are also donning their team-coloured caps. The stadium buzzes with energy, and we all feel connected as we come together to show our unwavering support for the Badgers. It truly creates an electrifying atmosphere and boosts our team spirit.
Additionally, the NCAA Wisconsin Badgers Custom Cap is not just a fashion accessory but also a reliable shield against the sun's rays. With its sturdy brim, it protects my face and eyes from the bright sunlight during those hot summer games and practices. This becomes particularly important considering that dehydration and sunburn may negatively impact my experience at these events. By wearing this cap, I can focus solely on enjoying the game rather than being uncomfortable or uneasy due to excessive exposure to the sun.
Another significant reason why this cap holds importance to me is its ability to invoke nostalgia. Whenever I put it on, images of legendary Badgers players and memorable victories start flooding my mind. It transports me back in time, reminding me of college friendships, spirited tailgates, and thrilling game-winning moments. The connections I have formed with fellow Badgers fans over the years are cherished, and this cap serves as a constant reminder of the unique bond we share with each other and our beloved team.
Beyond its sentimental value, the NCAA Wisconsin Badgers Custom Cap is also a conversation starter. Being an avid sports enthusiast, it often initiates engaging discussions with fellow fans and even sparks friendly banter with rivals supporting opposing teams. I enjoy these interactions as they encourage sportsmanship and allow for the exchange of different perspectives and insights into the game. The cap has been instrumental in forging numerous new connections and fostering a sense of community among like-minded individuals who share a passion for the Badgers.
Furthermore, displaying my support for the Badgers through this cap is a statement of pride in my alma mater, the University of Wisconsin-Madison. Wearing it shows my fondness for my university and signifies the strong impact the educational institution has had on my life. The cap symbolizes the values instilled in me during my time as a student, such as perseverance, teamwork, and determination. By spreading school spirit, I hope to inspire others to pursue their dreams and promote the university's exceptional reputation both academically and athletically.
Lastly, investing in the NCAA Wisconsin Badgers Custom Cap allows me to contribute to the financial support of the athletics program. As part of the revenue generated from licensed merchandise sales goes directly to the university's sports teams, purchasing this cap enables me to actively assist in enhancing the resources available to the athletes, coaches, and staff. It is not just a fashionable accessory but also a means to ensure the long-term success and growth of the Wisconsin Badgers' athletic programs.
In conclusion, the NCAA Wisconsin Badgers Custom Cap is a product that carries immense importance to me. It signifies my unwavering dedication to my favorite college sports team, provides comfort and protection during games, and evokes cherished memories and nostalgic moments. It fosters connections with fellow fans, showcases my university pride, and supports the financial sustainability of the athletics program. This cap encompasses much more than a simple piece of headwear – it embodies the passion of being a Wisconsin Badgers fan.. NCAA Wisconsin Badgers Custom Cap.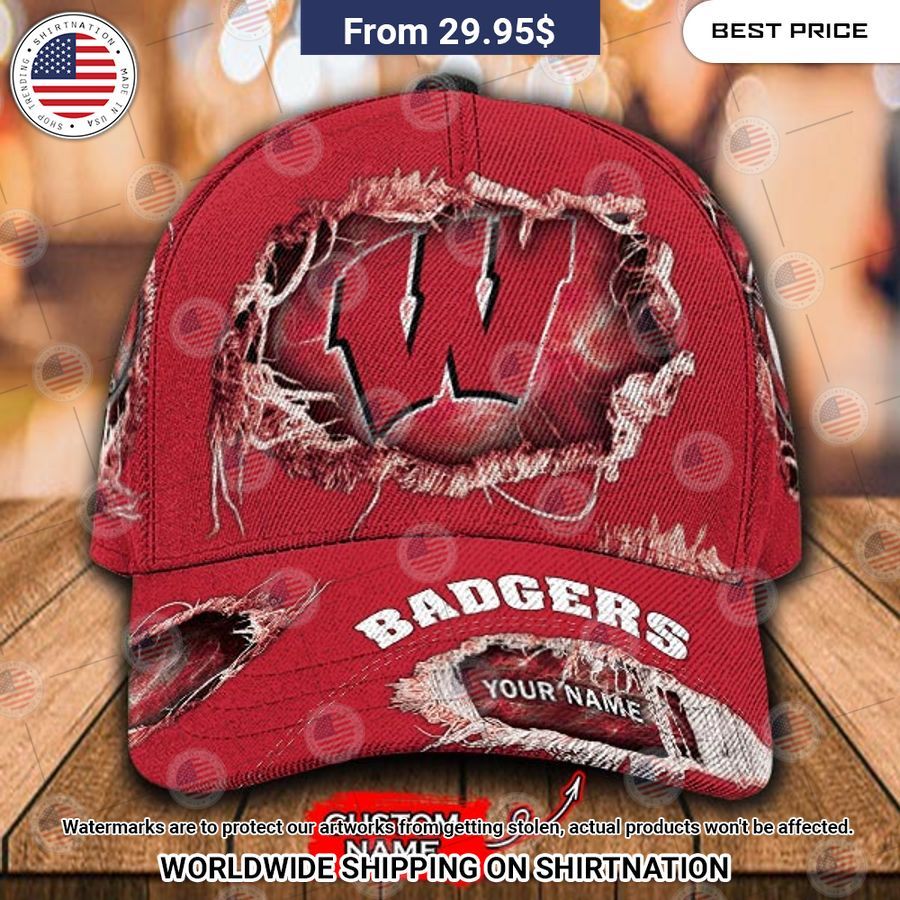 What You Need To know About NCAA Wisconsin Badgers Custom Cap:
KEY FEATURES:
Stay protected from the sun whilst looking cool with a Classic Cap
PRODUCT INFORMATION:
Classic Caps are made from 100% Polyester. They are proven to be durable and long-lasting.

A Fused Hard Buckram Sewn Into the Front of the Crown Provides Excellent Structure and Helps Maintain the Original Flexfit Shape
PRINTS: Dye-sublimation printing
WASHABLE: clean with water and soap
SIZE CHART – NCAA Wisconsin Badgers Custom Cap: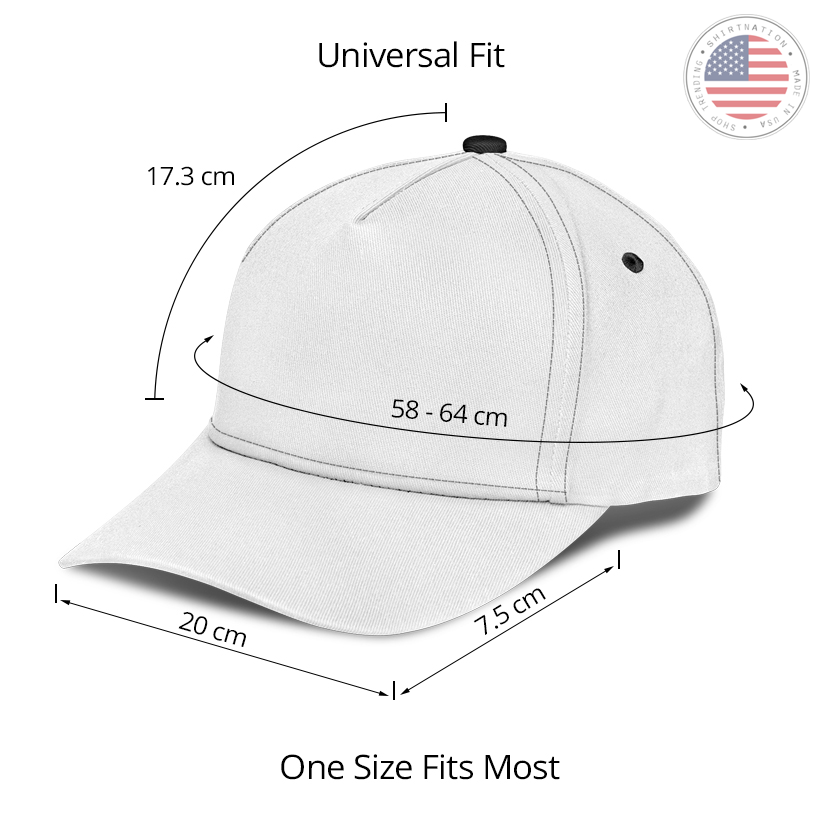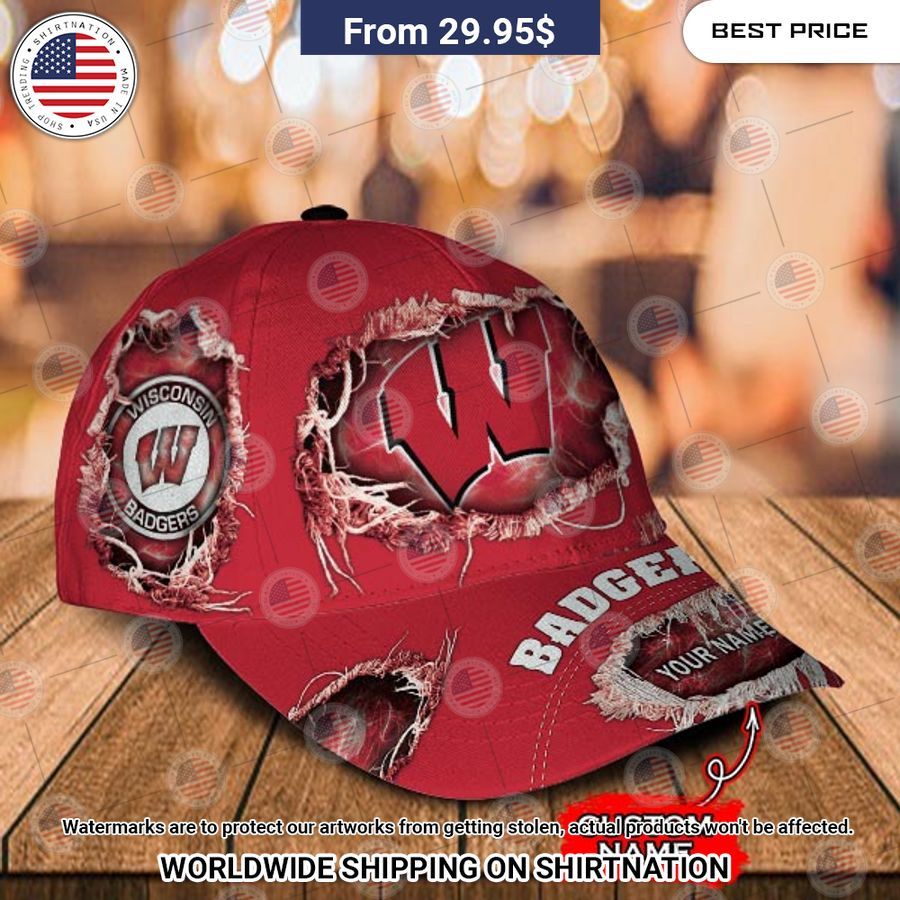 Reason To Purchase Cap:
There are numerous compelling reasons to invest in a hat. Hats offer both practical and aesthetic benefits, making them a versatile accessory that can enhance your style while serving a purpose. Whether you have a passion for fashion or need protection from the elements, there are several motives to consider adding a hat to your collection. Hats provide sun protection by shielding your face, neck, and ears from harmful rays, particularly during sunny days and outdoor activities. Additionally, they allow you to make a style statement and express your individuality, with a wide range of designs, colors, and materials to choose from. Hats are also versatile throughout the year, offering warmth in colder seasons and ventilation in warmer months. On days when your hair is uncooperative, hats can save the day by providing a quick fix for a bad hair day. They also serve functional purposes, such as keeping your head dry in wet weather or providing extra warmth with ear flaps and neck coverings. Moreover, hats can hold cultural significance, representing tradition, religion, occupation, or social status. By purchasing and wearing hats from different cultures, you can embrace diversity and show respect for various customs and heritage. So, consider your specific needs and preferences when selecting a hat that combines practicality and style for your wardrobe.
Design Features of NCAA Wisconsin Badgers Custom Cap:
 The NCAA Wisconsin Badgers Custom Cap is not just a typical hat, but a statement of your loyalty and pride for the University of Wisconsin's athletic teams. This custom cap is meticulously designed with attention to detail, ensuring that every Badgers fan can proudly wear this cap to show their unwavering support.
One of the standout design features of this cap is the embroidered Wisconsin Badgers logo on the front. The logo is intricately stitched, depicting the iconic Bucky Badger mascot. The rich and vibrant red color used for the logo adds depth and immediately catches the eyes of everyone around. It is meticulously placed, ensuring that the logo is centered and perfectly aligned, giving the cap its stylish and professional appearance.
The cap itself is made from premium quality materials to ensure durability and comfort. Crafted from a combination of cotton twill and polyester, it offers both breathability and long-lasting wear. The six-panel construction gives the cap a structured and sleek look, while the mid-profile crown fits most head sizes comfortably. Additionally, the self-fabric closure with a metal buckle allows for easy adjustment, so you can achieve the perfect fit every time you put it on.
Embracing the classic design, the cap features a curved visor to shield your eyes from the sun's glare. The visor also adds a cool and casual touch to the overall aesthetic. Its pre-curved shape ensures it retains its form, even after continuous use. The underside of the visor is lined with contrasting red fabric, providing an additional pop of color and enhancing the cap's uniqueness.
As for ventilation, this custom cap incorporates six embroidered eyelets strategically placed on each panel. These eyelets not only contribute to the cap's visual appeal by matching the logo's colors but also allow air to circulate, keeping your head cool and comfortable. Whether you're cheering on the Badgers from the bleachers or walking around campus, the well-designed ventilation system ensures a pleasant experience.
Moving to the rear of the cap, you'll notice an embroidered Wisconsin badger paw print. This intricate detail serves as a subtle reminder of the team spirit and adds extra character to the overall design. Placed above the self-fabric closure, this accent brings the whole cap together, completing the look with finesse.
Being a custom cap, personalization is also an option for this product. In addition to proudly displaying the official Wisconsin Badgers logo, you can choose to have your cap customized with your name or any other text on the back or sides. The expert embroidery team will precisely stitch your desired customization, adding a personalized touch that truly makes this cap one-of-a-kind.
Whether during game days, practices, or everyday wear, the NCAA Wisconsin Badgers Custom Cap is a versatile accessory that speaks volumes about your dedication to the Wisconsin Badgers. Its meticulously crafted design features ensure not only a stylish appearance but also remarkable comfort and durability. From the vibrant logo and embroidered paw print to the adjustable closure and well-designed ventilation, this custom cap encompasses both style and functionality, making it a must-have piece for any devoted fan. NCAA Wisconsin Badgers Custom Cap.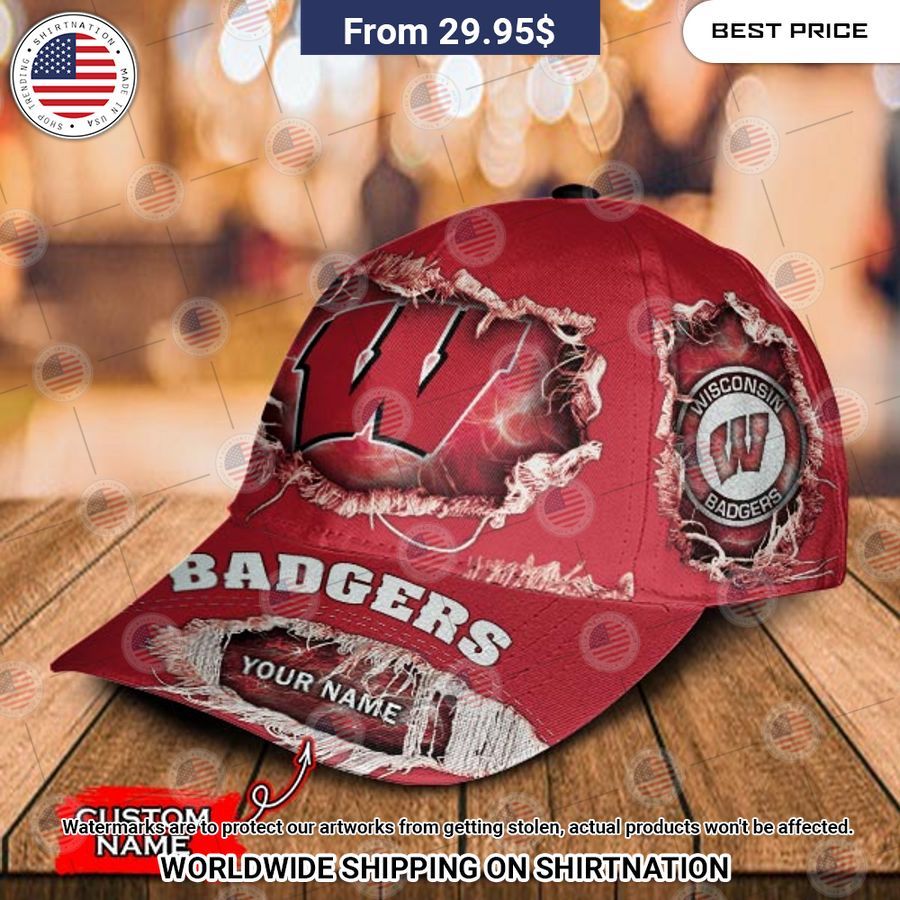 Production Time: 3 – 5 days
Worldwide Shipping Time (including Production Time ):  7 –14 days by Fast Ship, 15 – 20 days by Standard Ship

Tracking Number: When your order is completed, we will send you the tracking number with the confirmation email so that you can track the package online.

Our factories are located in America, Canada, E.U, Turkey, Viet Nam, and Indonesia.

If you find the delivered product:




– Damaged due to production quality (missing button, dirty marks…)




– Damaged due to poor packaging/handling during shipment                                                                                                
Please notify us at [email protected] with photo evidence of the errors mentioned above, so that we can help you resolve the problem as quickly as possible
WAREHOUSE – SHIPPING WORLDWIDE
MONEY-BACK GUARANTEE
We want you to be 100% satisfied with the products you buy from us. If for ANY reason you are not satisfied with your purchase, we offer an iron-clad money-back guarantee.
If you have any questions during shipping time, please send them via our email [email protected] or chat messenger with us. Thank you!
🌐 Home Page: Shirtnation.net