Introducing About

– NBA Team Logos Beach Shorts:
NBA Team Logos Beach Shorts. Looking to flaunt your love for your favorite NBA team while soaking up the sun? Look no further than our NBA Team Logos Beach Shorts! These stylish and comfortable shorts will not only keep you cool on those scorching summer days but will also make a strong fashion statement wherever you go. Showcasing the iconic logos of all 30 NBA teams, these beach shorts are a must-have for any basketball fanatic. Get ready to take your fandom to the beach, the pool, or even just rock them casually on a hot day in town!
Our NBA Team Logos Beach Shorts are designed with optimal comfort and style in mind. Made from high-quality materials, they offer a luxurious feel against your skin, ensuring maximum comfort. The premium fabric used in the manufacturing process ensures durability and long-lasting wear, allowing you to enjoy these shorts for seasons to come. What sets our NBA Team Logos Beach Shorts apart is the attention to detail put into each logo design. We have meticulously recreated the logos of all 30 NBA teams to ensure accuracy and authenticity. From the instantly recognizable silhouette of Michael Jordan soaring through the air for the Chicago Bulls to the fierce and powerful Golden State Warriors emblem, each team's logo is captivatingly captured in rich detail. Rest assured, these beach shorts will leave no doubt about where your allegiance lies.
Whether you're planning a tropical getaway, a day at the beach, or simply lounging by the pool, our NBA Team Logos Beach Shorts offer the perfect blend of comfort and style. The relaxed fit provides an optimal range of motion, allowing you to move freely without restrictions. The elastic waistband with adjustable drawstrings ensures a secure and customizable fit, making these shorts suitable for all body types. Additionally, the quick-drying fabric allows for easy transitioning from water to land, ensuring your comfort throughout the day.
Not only are these beach shorts a fashion statement, but they also serve as a great conversation starter. Imagine walking onto the shore flaunting your favorite NBA team logo — you're bound to attract attention and spark conversations with fellow basketball enthusiasts. Whether it's while striking up a conversation poolside or joining a pickup game of beach basketball, our NBA Team Logos Beach Shorts are the ultimate ice-breaker for any NBA fan.
With their versatility and style, these beach shorts can be incorporated into your everyday wardrobe as well. Pair them with a casual tee or tank and your favorite sneakers, and you've got a stylish outfit that lets you showcase your team pride wherever you go. Take them to the streets, rock them while lounging at home, or wear them at sporting events to let everyone know who you're cheering for.
In conclusion, our NBA Team Logos Beach Shorts not only make a bold fashion statement but also perfectly capture your passion for the game and your favorite NBA team. With their exceptional comfort, high-quality design, and attention to detail, these beach shorts are the perfect addition to your sports-inspired wardrobe. So why wait? Gear up, hit the beach, and show off your love for your team with our NBA Team Logos Beach Shorts. Order yours today and make waves in style!
Why NBA Team Logos Beach Shorts is Important to You?
 As an avid basketball fan, the NBA Team Logos Beach Shorts hold immense importance in my eyes. These shorts not only serve as a fashionable choice for beachgoers but also allow me to proudly display my love for the game and my favorite NBA teams. Whenever I put on these shorts, it signals my affiliation and support for not only a specific team but the sport as a whole.
One aspect that makes these shorts important to me is the attention to detail and the assortment of team logos. As I peruse through the various NBA teams available, I can meticulously choose my favorite teams or represent my hometown pride. The NBA Team Logos Beach Shorts cater to all fans out there, with options ranging from the Los Angeles Lakers to the Miami Heat, satisfying the preferences of basketball enthusiasts from all corners of the country. This extensive range appeals to me greatly as I can switch up my style based on my chosen team for the day or even match it with my friend's attire when we head out for a beach day together.
Moreover, the quality and functionality of these shorts make them an essential part of my summer wardrobe. Crafted from high-quality materials, they offer durability and withstand the wear and tear associated with active beach activities. The fabric is lightweight, providing optimal breathability even on the hottest days, ensuring maximum comfort throughout the day. The elastic waistband ensures a comfortable fit, adapting to my body shape and allowing freedom of movement. Additionally, the shorts are equipped with convenient pockets, facilitating the storage of small personal items like keys or phone while providing easy accessibility. With these practical features, I can truly enjoy my time at the beach without worrying about discomfort or the safety of my belongings.
One aspect that particularly resonates with me is the power of basketball in bringing people together, across different backgrounds and cultures. The NBA Team Logos Beach Shorts enable me to strike conversations and form connections with fellow fans or even spark debates when interacting with fans of opposing teams. It fosters a sense of community and helps build new friendships and bonds over a shared passion. Whether I am playing a game of beach volleyball, lounging on the sandy shores, or walking along the boardwalk, these shorts prove to be an effective icebreaker, kickstarting engaging discussions about our favorite players, memorable moments, and upcoming games.
Additionally, as an individual who is conscious of fashion trends and seeks to showcase personal style statement, the NBA Team Logos Beach Shorts perfectly blend refined aesthetics with athletic appeal. The combination of vibrant team colors and well-designed logos not only represents basketball excellence but also adds a touch of playfulness to my summer look. These eye-catching elements demonstrate a remarkable attention to detail and craftsmanship, ensuring that the shorts are not merely a piece of sports apparel, but a fashion statement in their own right. Whether worn alone with a simple t-shirt or paired with a trendy bomber jacket for an evening beach bonfire, these shorts undoubtedly elevate my overall attire and add a flair of sporty chic.
In conclusion, the NBA Team Logos Beach Shorts are fundamentally important to me owing to their ability to showcase my team allegiances, their exceptional quality and functionality, their capacity to foster connections with fellow fans, and their enhancement of my personal style. From the moment I put on these shorts, they become a symbol of loyalty, pride, and love for basketball – a continuation of the excitement and energy that I feel whenever I watch a thrilling NBA game. They are not just a product but a tangible representation of my passion and dedication to the game, making them an indispensable part of my wardrobe.. NBA Team Logos Beach Shorts.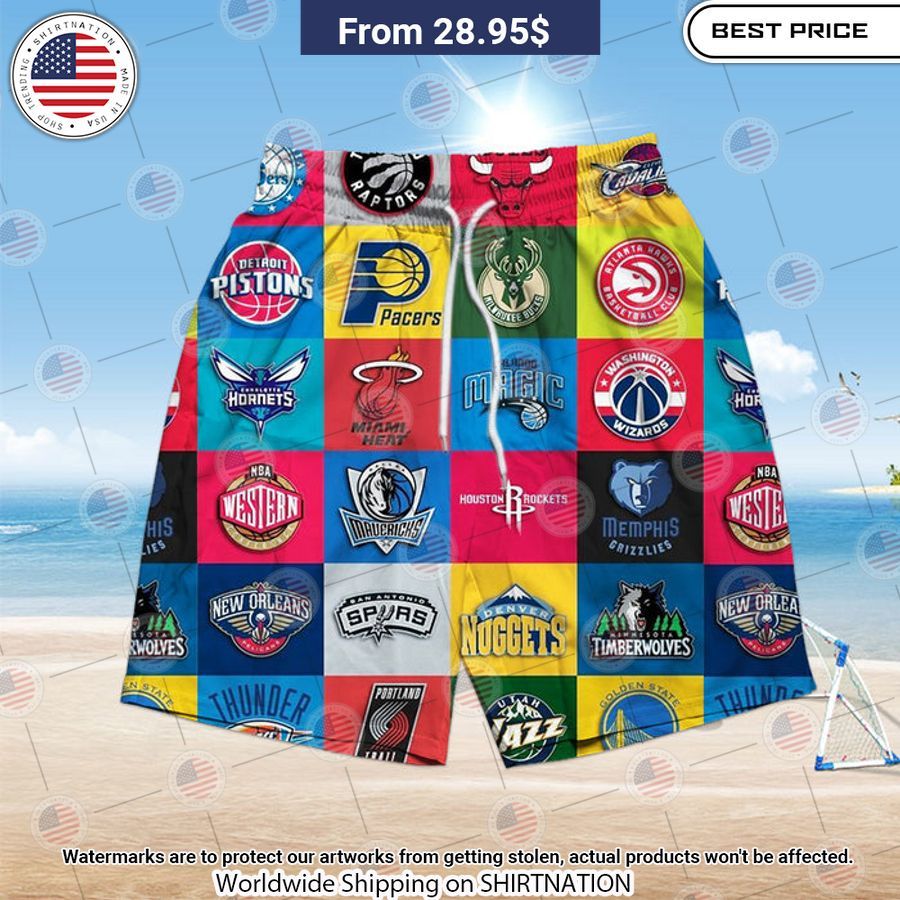 What you need to know About NBA Team Logos Beach Shorts:
KEY FEATURES: 
Drawstring closure. 

Elastic waistband with adjustable drawstring, the drawstring can be used freely adjustable tightness according to your waist medium length beach shorts with mesh lining. 

Suitable for special occasions such as Christmas, birthday, celebration, housewarming gift. 
PRODUCT INFORMATION:
Kate fabric, high quality, quick-drying, breathable, lightweight, comfortable and skin-friendly fabric, can direct contact to skin.

There are two pockets which will be convenient for the user. 
PRINTS: Dye-sublimation printing
WASHABLE: Machine wash cold, only non-chlorine bleach when needed, hang dry, cool iron on reverse side or dry clean
SIZE CHART – NBA Team Logos Beach Shorts: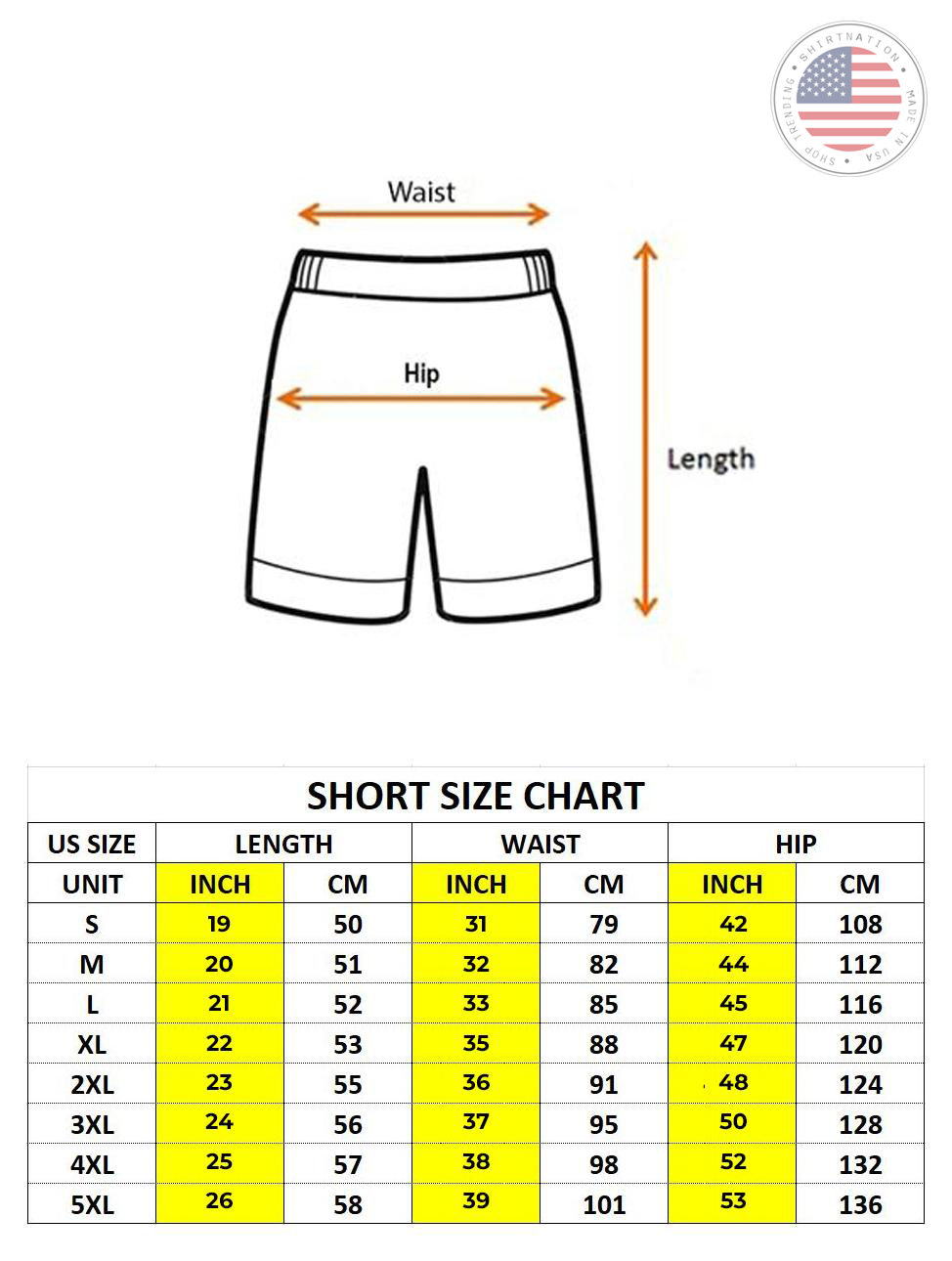 Reason To Purchase Hawaiian Shirt and Shorts:
Hawaiian shirts and shorts have garnered widespread popularity for their association with a relaxed and carefree style that extends beyond the Hawaiian islands. People are drawn to these iconic garments for various reasons. First and foremost, they provide unmatched comfort with their lightweight and breathable fabrics, ensuring wearers stay cool even in warm weather. The loose fit and relaxed design contribute to their comfort factor. Additionally, the vibrant and lively prints featuring bold floral patterns and tropical motifs add a touch of joy and fun to any ensemble. These prints allow individuals to express their unique style preferences and showcase their personality. Moreover, the versatility of Hawaiian shirts and shorts is a significant draw, as they can be dressed up or down to suit different occasions. Whether it's a semi-formal gathering or a casual day at the beach, these garments effortlessly adapt to the desired look. Lastly, wearing Hawaiian shirts and shorts evokes a sense of vacation and the laid-back Hawaiian lifestyle, enabling wearers to embrace a carefree and leisurely mindset.
Design Features of NBA Team Logos Beach Shorts:
 The NBA Team Logos Beach Shorts are the ultimate piece of clothing for any basketball lover. These stylish shorts not only represent your favorite team, but they also provide comfort and versatility. Let's dive deeper into the design features that make these beach shorts so unique and desirable.
First and foremost, the NBA Team Logos Beach Shorts are made of high-quality materials to ensure durability and long-lasting wear. Crafted from a blend of polyester and cotton, these shorts offer a lightweight and breathable feel. Whether you're lounging on the beach or engaging in outdoor activities, these shorts will keep you cool and comfortable throughout the day.
The design of these beach shorts incorporates the iconic logos of various NBA teams, making them a must-have for every basketball enthusiast. The logos are seamlessly integrated into the fabric through advanced printing techniques, ensuring vibrant colors and sharp details. Whether you root for the Los Angeles Lakers, Chicago Bulls, or any other team, you can proudly display your allegiance with these logo-adorned shorts.
The NBA Team Logos Beach Shorts feature an elastic waistband with an adjustable drawstring, providing a secure and personalized fit for individuals of all sizes. Whether you prefer a tighter or looser fit, these shorts can easily adapt to your preferences. The elastic waistband also adds an additional layer of flexibility, allowing for unrestricted movements during physical activities such as swimming, beach volleyball, or simply running around with friends.
To enhance functionality, these beach shorts are equipped with multiple pockets. Both practical and stylish, these pockets allow you to conveniently store your belongings while enjoying your favorite outdoor activities. With two side pockets and a back pocket with a Velcro closure, you can keep your keys, phone, wallet, or any other essentials within reach at all times. These pockets are strategically placed to ensure convenience without compromising the design aesthetics of the shorts.
Another notable design feature of the NBA Team Logos Beach Shorts is their quick-drying properties. The polyester element of the fabric allows moisture to evaporate rapidly, ensuring that these shorts dry quickly after swimming or any encounters with water. This attribute is particularly advantageous for beachgoers who want to avoid discomfort or inconvenience due to damp clothing.
Additionally, the NBA Team Logos Beach Shorts are designed with versatility in mind. They are not solely intended for beach-related activities; they can also be worn as casual attire for everyday wear or loungewear at home. The contemporary design and incorporation of team logos add a sporty touch to any outfit. Pair these shorts with a basic t-shirt or even a team jersey to create an outfit that showcases your love for both basketball and your favorite team.
Furthermore, the NBA Team Logos Beach Shorts come in a variety of sizes, ranging from small to extra-large, to accommodate customers with different body types and preferences. Additionally, the shorts offer a relaxed fit suitable for men, women, and even teenagers. Regardless of age or gender, everyone can find the perfect fit and bask in the comfort and style of these beach shorts.
In conclusion, the NBA Team Logos Beach Shorts possess exceptional design features that make them superior to regular beach shorts. From the high-quality fabric to the vibrant team logos, from the adjustable elastic waistband to the functional pockets, these shorts offer both style and functionality. Whether you're heading to the beach, engaging in outdoor activities, or simply want to exhibit your passion for the game, the NBA Team Logos Beach Shorts are the perfect addition to your wardrobe. Embrace comfort, showcase team loyalty, and elevate your fashion game with these remarkable beach shorts. NBA Team Logos Beach Shorts.
SHIPPING INFORMATION:
Production Time: 3 – 5 days
Worldwide Shipping Time (including Production Time ):  7 –14 days by Fast Ship, 15 – 20 days by Standard Ship

Tracking Number: When your order is completed, we will send you the tracking number with the confirmation email so that you can track the package online.

Our factories are located in America, Canada, E.U, Turkey, Viet Nam, and Indonesia.

If you find the delivered product:




– Damaged due to production quality (missing button, dirty marks…)




– Damaged due to poor packaging/handling during shipment                                                                                                
Please notify us at [email protected] with photo evidence of the errors mentioned above, so that we can help you resolve the problem as quickly as possible
WAREHOUSE – SHIPPING WORLDWIDE
MONEY-BACK GUARANTEE
We want you to be 100% satisfied with the products you buy from us. If for ANY reason you are not satisfied with your purchase, we offer an iron-clad money-back guarantee.
If you have any questions during shipping time, please send them via our email [email protected] or chat messenger with us. Thank you!
🌐 Home Page: Shirtnation.net