Introducing About

– Michigan Wolverines Skeleton Hawaiian Shirt:
Michigan Wolverines Skeleton Hawaiian Shirt. 🏈🌺 The Ultimate Way to Showcase Your Wolverines Pride – Michigan Wolverines Skeleton Hawaiian Shirt! 🌺🏈
Are you a die-hard fan of the University of Michigan Wolverines? Do you love bringing your team spirit to every occasion and making a bold fashion statement? If so, we have the perfect product for you – the Michigan Wolverines Skeleton Hawaiian shirt! This unique and stylish shirt combines two beloved themes: the Wolverines and the timeless appeal of Hawaiian shirts. Get ready to show off your team pride in a remarkable way!
🤘 Stand out from the crowd with eye-catching graphics and design🤘
The Michigan Wolverines Skeleton Hawaiian Shirt is a vibrant blend of Wolverine motifs and classic Hawaiian aesthetics. Imagine a sea of palm leaves, hibiscus flowers, and beach vibes united with the iconic Wolverine logo, maize and blue shades, and spirited patterns. These imaginative graphics are designed by our talented team of artists, ensuring that every detail captures the essence of both Wolverines enthusiasm and Aloha spirit.
💪 Comfortable material for game day or any casual occasion 💪
Made from premium-quality, soft, and breathable fabric, this Hawaiian shirt guarantees comfort on game day or any casual outing. Whether you're heading to the stadium to cheer on the Wolverines or attending a backyard barbecue party, this shirt has got you covered! It offers the perfect balance of lightweight feel and durability, keeping you comfortable and confident all day long. The loose-fitting nature ensures unrestricted movement, allowing you to express your Wolverines fanaticism any way you like.
✨ Versatile clothing item suitable for various occasions ✨
What's great about the Michigan Wolverines Skeleton Hawaiian Shirt is its versatility. Gone are the days when team apparel was restricted to game days only. With this shirt, you can celebrate your Wolverines pride at any gathering, from tailgates and holidays to beach trips and family outings. It serves as an instant conversation starter, allowing you to connect with other fans and bask in the excitement of being part of the Wolverine pack.
With its bold, eye-catching design, this shirt is not just limited to men. It's also an excellent choice for Wolverines-loving ladies who want to make a fashion statement! Wear it open over a tank top, tie it up for a trendy crop-top look, or pair it with your favorite shorts or skirts. The possibilities are endless, and you can effortlessly showcase your team loyalty while remaining stylish and unique.
🖐️ Satisfaction guaranteed for passionate Wolverines fans 🖐️
We take great pride in delivering high-quality products and ensuring absolute customer satisfaction. With the Michigan Wolverines Skeleton Hawaiian Shirt, you can expect nothing less than excellence. Our shirt undergoes a rigorous quality control process, to guarantee its visual appeal matches its wearer's enthusiasm.
Are you ready to up your Wolverines game and stand out as the ultimate fan? Don't miss out on this incredible opportunity to express your devotion to the Michigan Wolverines with style, comfort, and pizzazz! Order your very own Michigan Wolverines Skeleton Hawaiian Shirt today and join the community of Wolverines supporters who proudly wear their passion.
🏈🌺 Click here here **(sales page URL)** to grab yours now, and let your Wolverines spirit shine brightly wherever you go! 🌺🏈
Why Michigan Wolverines Skeleton Hawaiian Shirt is Important to You?
 As a devoted Michigan Wolverines fan, the Michigan Wolverines Skeleton Hawaiian Shirt holds significant importance to me. This extraordinary piece of clothing not only displays my unwavering support for my favorite team but also empowers me with a sense of belonging and connection to a community of fellow fans.
For years, I have followed the triumphs and tribulations of the University of Michigan's athletic program, rooting for the Wolverines no matter the outcome. From memorable victories on the football field to impressive performances on the basketball court, I have always stood behind these beloved athletes. Wearing the Michigan Wolverines Skeleton Hawaiian Shirt allows me to proudly showcase my allegiance and express my loyalty in a unique and eye-catching manner.
The vibrant combination of the traditional Hawaiian shirt design and the iconic Michigan Wolverines imagery makes this shirt a standout among the sea of jerseys and merchandise. The striking blue fabric adorned with the team's distinctive 'M' logo, maize-colored hibiscus flowers, and subtly incorporated skeleton illustrations captures attention and sparks conversations. It serves as a means to forge connections with fellow fans, as wearing the shirt signifies an immediate camaraderie and shared love for the Wolverines.
Beyond its aesthetic appeal, the Michigan Wolverines Skeleton Hawaiian Shirt represents the unwavering spirit and resilience ingrained in both the university and its athletics program. The shirt acts as a tangible symbol of the passion and determination exhibited by the team, reflecting their relentless pursuit of excellence and their commitment to upholding the tradition of success. By donning this shirt, I become a walking embodiment of the Wolverines' tenacity and indomitable spirit on and off the field.With each wear and glance in the mirror, I am reminded of the hard work and dedication it takes to achieve greatness, which inspires me not only as a fan but also in my personal life endeavors.
It is during game days and special events that the Michigan Wolverines Skeleton Hawaiian Shirt truly shines. The sense of anticipation and excitement resonates in the air as droves of Wolverines fans come together to create a palpable energy. In these moments, donning this shirt becomes an integral part of the game day experience, stimulating feelings of unity and collective support. Cheering side by side with fellow fans while wearing identical or complementary versions of the shirt amplifies not only the team's impact on the field but also our influence in the stands.
Furthermore, the Michigan Wolverines Skeleton Hawaiian Shirt transcends fashion norms and proves that fandom can be stylish and expressive. With its clever fusion of two distinct such as the formal appearance of traditional Hawaiian shirts and the symbolically rich Michigan Wolverines imagery, this merchandise pushes the boundaries of typical fan apparel. By embracing the uniqueness and audacity of this clothing item, I proudly showcase my individuality and commitment to the Wolverines.
In conclusion, the Michigan Wolverines Skeleton Hawaiian Shirt is indispensable to me as a fan due to its ability to represent my unwavering loyalty to the team, forge connections with fellow supporters, signify the values of perseverance and resilience, contribute to the game day experience, and demonstrate style and individuality. As I effortlessly wear this garment, I become a part of something greater – the irreplaceable, unbreakable spirit of the Maize and Blue.. Michigan Wolverines Skeleton Hawaiian Shirt.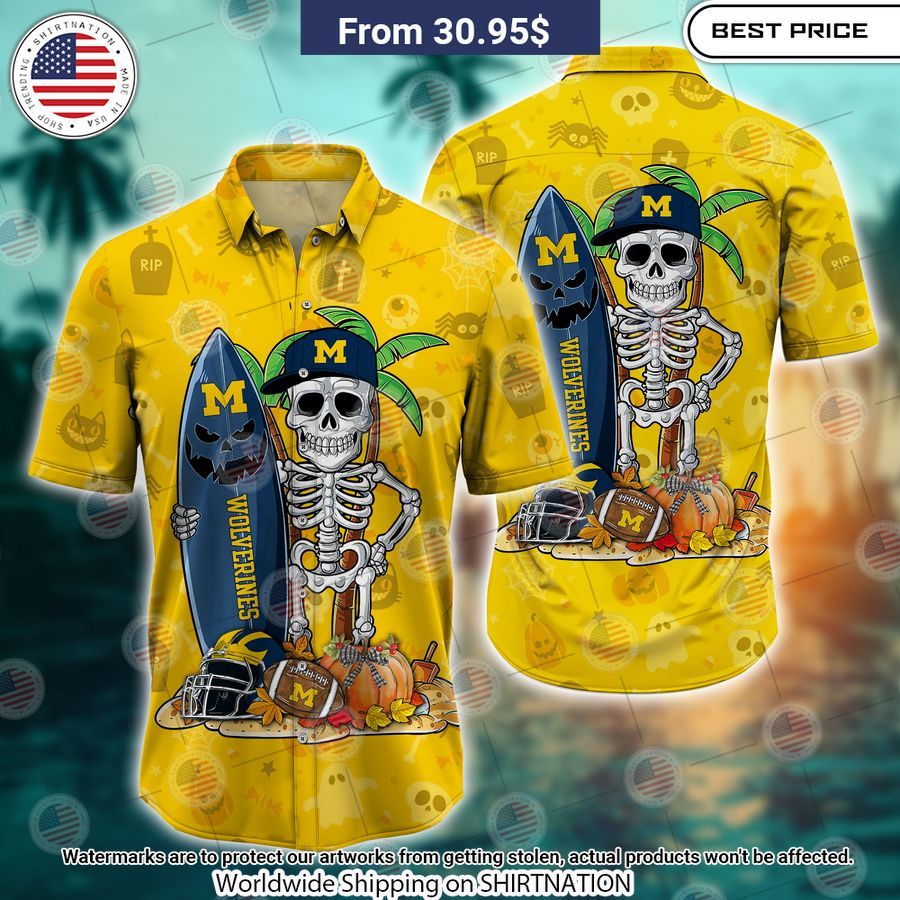 What you need to know About Michigan Wolverines Skeleton Hawaiian Shirt:
KEY FEATURES:
Summer Short Sleeve Hawaiian Beach Shirt. Casual/Dating/Sun Beach Party/Hawaiian/suitable for a variety of occasions

Suitable for special occasions such as Christmas, birthday, celebration, housewarming gift. 
PRODUCT INFORMATION:
100% KATE SILK

Casual button-down shirts /Soft decent Regular fit/Breathable/Good Quality/Men designer shirts /Good Choice for Summer/men Hawaiian shirts
PRINT: Dye-sublimation printing
WASHABLE: Machine wash cold, only non-chlorine bleach when needed, hang dry, cool iron on the reverse side or dry clean
SIZE CHART – Michigan Wolverines Skeleton Hawaiian Shirt: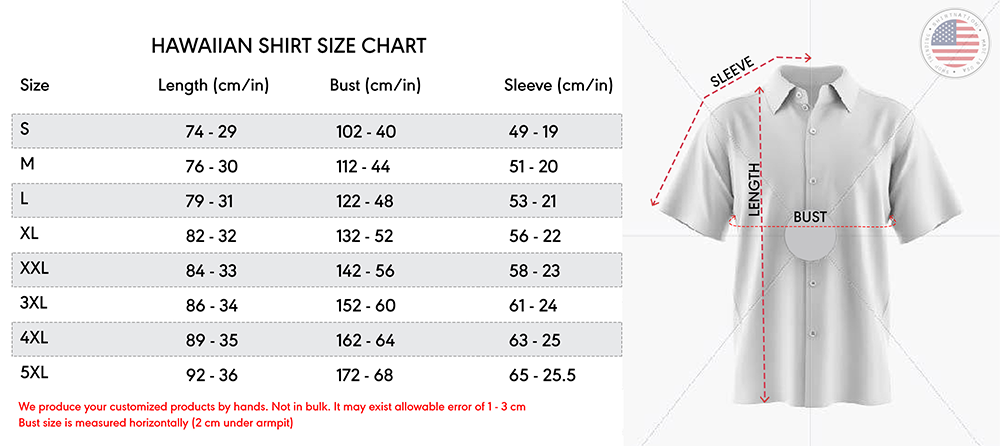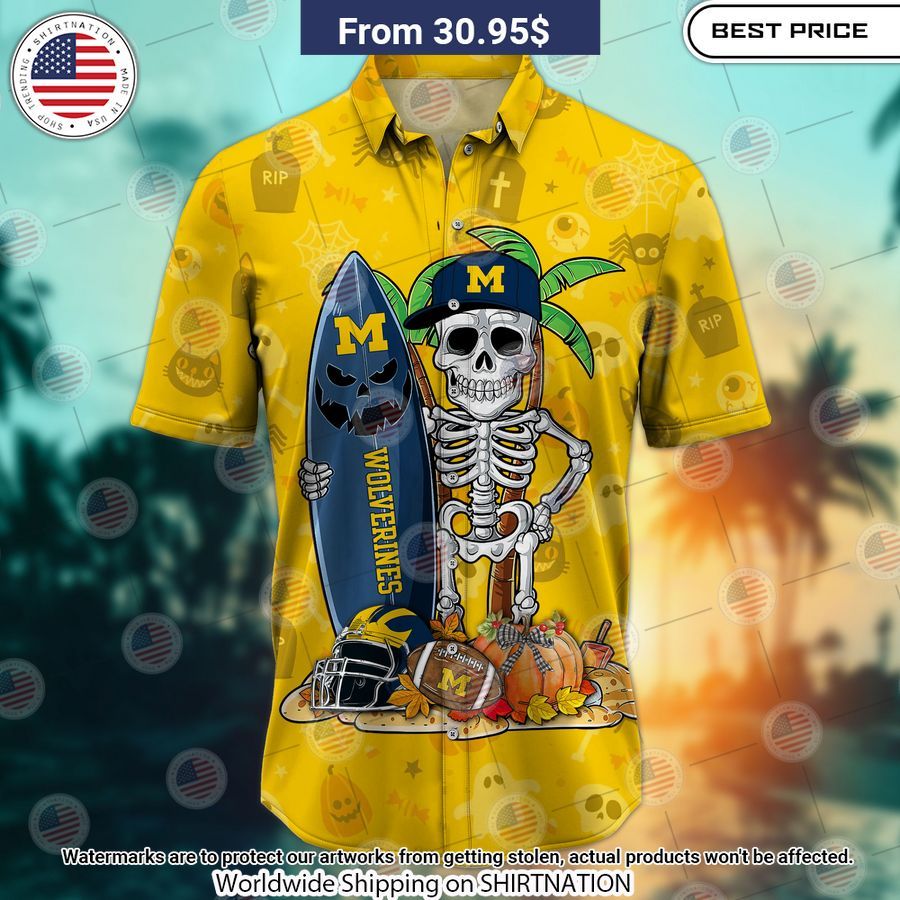 Reason To Purchase Hawaiian Shirt:
There are multiple reasons why buying a Hawaiian shirt can be a great decision. Whether you want to add some lively and colorful style to your wardrobe or are preparing for a tropical trip, there are compelling reasons to consider getting a Hawaiian shirt. They offer a unique and attention-grabbing style with their bold and vibrant prints featuring tropical elements. These shirts embody the warm and welcoming spirit of Hawaii, allowing you to embrace the "Aloha" culture. Additionally, Hawaiian shirts are versatile and comfortable, suitable for both casual and more formal occasions. They are also perfect for vacation wear, instantly creating a relaxed and carefree atmosphere. With their nostalgic and timeless appeal, Hawaiian shirts serve as a form of self-expression and can uplift your mood with their cheerful designs. Overall, a Hawaiian shirt is a fantastic choice for infusing your wardrobe with personality, style, and a touch of tropical paradise.
Design Features of Michigan Wolverines Skeleton Hawaiian Shirt:
 The Michigan Wolverines Skeleton Hawaiian Shirt is an iconic piece of merchandise that combines the rich tradition of the University of Michigan football team with a unique and eye-catching design. This shirt is perfect for any fan who wants to show off their love for the Wolverines in a fun and stylish way.
One of the standout design features of this shirt is the skeleton print. The artwork on the shirt depicts a quirky yet intimidating skeleton, dressed in the traditional Hawaiian shirt, with the colors and logo of the Michigan Wolverines prominently displayed. This design immediately catches the eye and distinguishes the wearer as a passionate supporter of the team.
The skeleton motif pays homage to Michigan's nickname, "The Big House," which is the nickname for the team's home stadium, Michigan Stadium. Known for its capacity to hold over 100,000 spectators, it has been said that the stadium turns into a massive "skeleton" when filled with fans wearing maize and blue. The skeleton print on this shirt encapsulates that spirit and adds an edgy and exciting element to the shirt.
The Hawaiian shirt style of this product is another distinctive design feature. While traditionally associated with beach wear or casual vacations, the incorporation of the skeleton print and Michigan Wolverines branding transforms this shirt into a unique and unexpected item for devoted fans. The contrast between the relaxed Hawaiian vibes and the bold team symbols creates an interesting juxtaposition that captures attention and sparks conversation.
The use of vibrant colors adds to the overall appeal of this shirt. The Michigan Wolverines are known for their maize and blue team colors, and these shades are reflected in the shirt's design. The intensity of the blue against the crisp white background creates a visually stunning effect, and the hints of maize yellow add a touch of warmth and energy. These colors are not only representative of the team; they also invoke feelings of loyalty, pride, and dedication among fans.
Additionally, this shirt incorporates high-quality materials for both comfort and durability. Crafted from a soft and breathable fabric blend, it ensures a comfortable fit that can withstand everyday wear and tear. The stitching is meticulous, maintaining the shirt's integrity even after repeated washes. The attention to detail speaks to the commitment of delivering an exceptional product that will last for years to come.
Another noteworthy feature of this shirt is its versatility. While it is undoubtedly a fashion statement for game days or other Michigan Wolverines events, it can also be worn in various casual settings. Pair it with shorts or jeans for a relaxed day at the beach or a barbecue with friends. Alternatively, dress it up with khaki pants or chinos for a unique twist on business-casual attire. This shirt allows fans to proudly display their affiliation with the Wolverines while enjoying its versatility in different social contexts.
Furthermore, the sizing options of this shirt cater to a wide range of body types. Available in sizes from small to 3XL, it ensures that fans of the Michigan Wolverines can find the perfect fit for themselves or as a gift for a fellow supporter. This inclusivity demonstrates the brand's commitment to providing a product that is accessible and suitable for all members of the Wolverines fanbase.
In conclusion, the Michigan Wolverines Skeleton Hawaiian Shirt is a must-have item for any avid supporter of the University of Michigan football team. With its captivating skeleton print, Hawaiian-inspired design, vibrant team colors, high-quality materials, versatility, and size inclusivity, this shirt stands out among other fan merchandise options. Wearing this shirt allows fans to express their loyalty while standing apart from the crowd. So whether you're headed to a game, the beach, or simply want to show off your Michigan pride, the Michigan Wolverines Skeleton Hawaiian Shirt is the ideal choice. Michigan Wolverines Skeleton Hawaiian Shirt.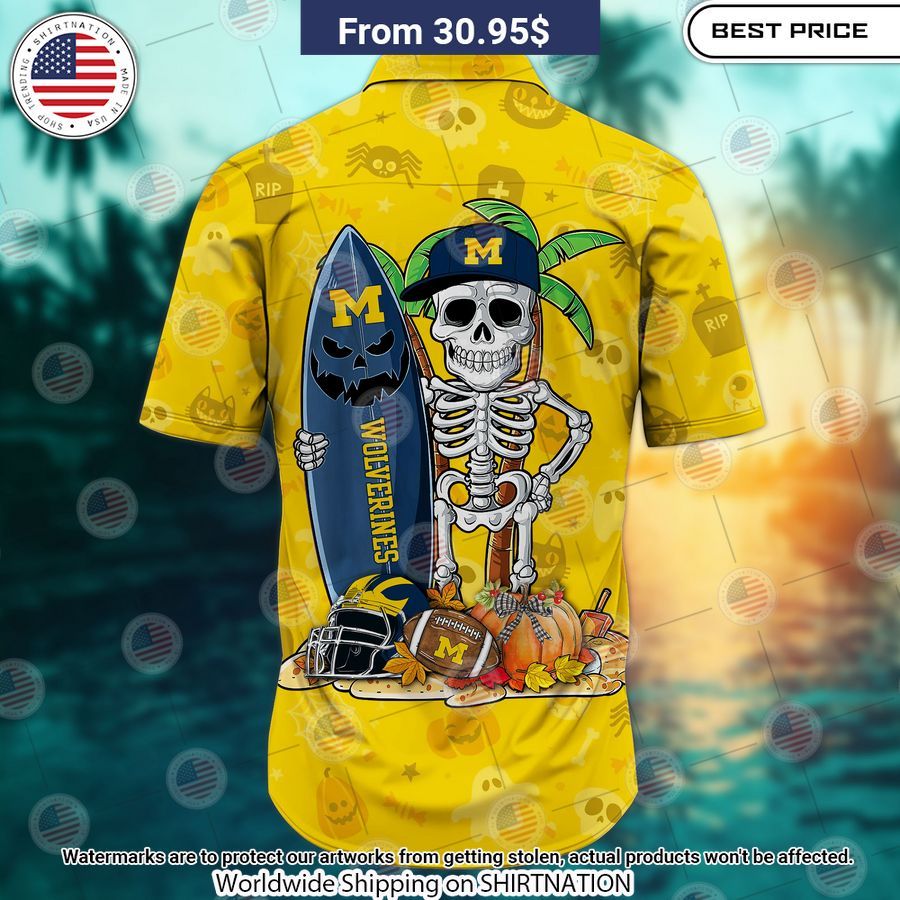 Production Time: 3 – 5 days
Worldwide Shipping Time (including Production Time ):  7 –14 days by Fast Ship, 15 – 20 days by Standard Ship

Tracking Number: When your order is completed, we will send you the tracking number with the confirmation email so that you can track the package online.

Our factories are located in America, Canada, E.U, Turkey, Viet Nam, and Indonesia.

If you find the delivered product:




– Damaged due to production quality (missing button, dirty marks…)




– Damaged due to poor packaging/handling during shipment                                                                                                
Please notify us at [email protected] with photo evidence of the errors mentioned above, so that we can help you resolve the problem as quickly as possible
WAREHOUSE – SHIPPING WORLDWIDE
MONEY-BACK GUARANTEE
We want you to be 100% satisfied with the products you buy from us. If for ANY reason you are not satisfied with your purchase, we offer an iron-clad money-back guarantee.
If you have any questions during shipping time, please send them via our email [email protected] or chat messenger with us. Thank you!
🌐 Home Page: Shirtnation.net