Introducing About

– Kiss Band Beach Shorts:
Kiss Band Beach Shorts. Introducing the bold and stylish Kiss Band Beach Shorts, designed for those who want to step up their beachwear game this summer. These eye-catching shorts are not your average swim trunks – they are a flamboyant statement piece that showcases your love for music and fashion simultaneously. Made with utmost precision and attention to detail, the Kiss Band Beach Shorts are the ultimate must-have for any music enthusiast or trendsetter.
With their vibrant prints and comfortable fit, these beach shorts are designed to make you stand out from the crowd. The unique artwork depicts the iconic faces of the members of the legendary rock band, Kiss. Whether you're lounging by the pool, riding the waves, or taking a leisurely stroll on the beach, these shorts will be an instant conversation starter.
Crafted from high-quality materials, Kiss Band Beach Shorts offer outstanding durability and longevity. The fabric is chosen specifically to withstand the harsh conditions of saltwater, sun, and sand without fading or losing vibrancy. Additionally, the material is quick-drying, ensuring that you'll be ready for any water-related activities in no time.
One feature that sets the Kiss Band Beach Shorts apart from the rest is the care about your comfort. Each pair is crafted with an elastic waistband and an adjustable drawstring, allowing for a customizable and secure fit. This ensures that no matter your body type, these shorts will fit like a dream and provide maximum comfort, enabling you to stay active while looking effortlessly stylish.
Worried about storage when you're out and about? We've got you covered! Kiss Band Beach Shorts come equipped with multiple pockets, perfect for storing your essentials. Whether it's your smartphone, wallet, or keys, these shorts guarantee you never leave your valuables behind. No more juggling belongings or worrying about misplaced items – enjoy your day worry-free!
Moreover, the Kiss Band Beach Shorts are not just reserved for beach days; they're versatile companions for any casual occasion. Paired with a plain white tee, they make a fashionable ensemble for beachside barbecues, summer festivals, or even everyday wear. Express your love for Kiss and your unique sense of style by incorporating these beach shorts into your wardrobe rotation all year round.
When it comes to caring for your Kiss Band Beach Shorts, maintenance is hassle-free. They are fully machine washable and designed to withstand countless cycles without losing their color or fit. Just toss them in the machine, follow the instructions, and enjoy a fresh pair of shorts each time – convenience and style rolled into one!
In conclusion, the Kiss Band Beach Shorts are not just an article of clothing; they are an embodiment of creativity, music, and fashion. Whether you're an avid Kiss fan or simply enjoy bold and vibrant designs, these shorts are a must-have for your summer wardrobe. Stand out on the beach, showcase your personality, and enjoy the unmatched comfort and style that Kiss Band Beach Shorts offer. Don't miss the opportunity to experience the rock 'n' roll vibe meets beach fashion – grab your very own pair now! Visit our website or head to a retail store near you, and be ready to rock this summer like never before!
Why Kiss Band Beach Shorts is Important to You?
 The Kiss Band Beach Shorts are not just a regular pair of swim trunks; they are a representation of my love for music and nostalgia. As a huge fan of the iconic American rock band Kiss, these beach shorts allow me to proudly display my admiration for the band while also enjoying my time by the water. These shorts hold sentimental value for me as they bring back memories of attending their concerts and feeling connected to their music.
One of the main reasons why these beach shorts hold such importance to me is the fact that they celebrate the music legacy of Kiss. From their electrifying stage presence to their unforgettable makeup and costumes, Kiss has been a symbol of rock 'n' roll excellence for decades. The band's powerful lyrics continue to inspire and resonate with fans like myself, and these beach shorts serve as a constant reminder of their impact on the music industry. Wearing them on the beach instantly sparks conversations and allows me to connect with fellow fans who share the same appreciation for the band.
Moreover, the vibrant design and colors of the Kiss Band Beach Shorts make them stand out in a crowd. The shorts feature the band members' faces painted in their iconic black and white makeup, which attracts attention and creates a unique fashion statement. It's remarkable how a simple pair of shorts can instantly communicate my love for Kiss without the need to say a word. This personal connection with the brand enhances my enjoyment of any beach or pool outing, as it feels like I am displaying a piece of my identity and passion for music.
The comfort and functionality of these beach shorts contribute to their importance as well. Made from high-quality materials, they offer excellent durability and withstand the elements of sand, saltwater, and chlorine without losing their color or shape. The lightweight fabric ensures a comfortable fit both in and out of the water. Additionally, the shorts have a built-in mesh lining, providing extra support and comfort during physical activities such as swimming or beach volleyball. The elastic waistband with an adjustable drawstring ensures a secure fit, allowing me to move freely without any worry of them slipping or falling off. This comfort is essential to me as it allows me to fully enjoy my time at the beach without any distractions or discomfort.
Another aspect that makes these beach shorts so valuable to me is their versatility. While primarily designed for swimming or other water-related activities, they easily transition into casual everyday attire. Adding a plain white t-shirt or a tank top instantly transforms them into stylish summer shorts suitable for any occasion. Whether I'm strolling along the boardwalk, grabbing a bite to eat, or hanging out with friends, these shorts add a touch of personality and fun to my outfit. This versatility creates a sense of practicality as one pair of shorts serves multiple purposes, making them a wardrobe staple during the warm months.
In conclusion, the Kiss Band Beach Shorts hold immense significance in my life as a passionate Kiss fan. They represent my love for music, carry nostalgic memories, initiate conversations, and serve as a visual expression of my identity. Their comfortable fit, durable construction, and versatile nature make them an essential part of my beachwear collection. Whether I'm rocking out at a concert or simply enjoying a day by the water, these shorts are the perfect combination of style, sentimentality, and functionality. For any music enthusiast like myself, these Kiss Band Beach Shorts display both a fashion statement and an expression of musical affinity.. Kiss Band Beach Shorts.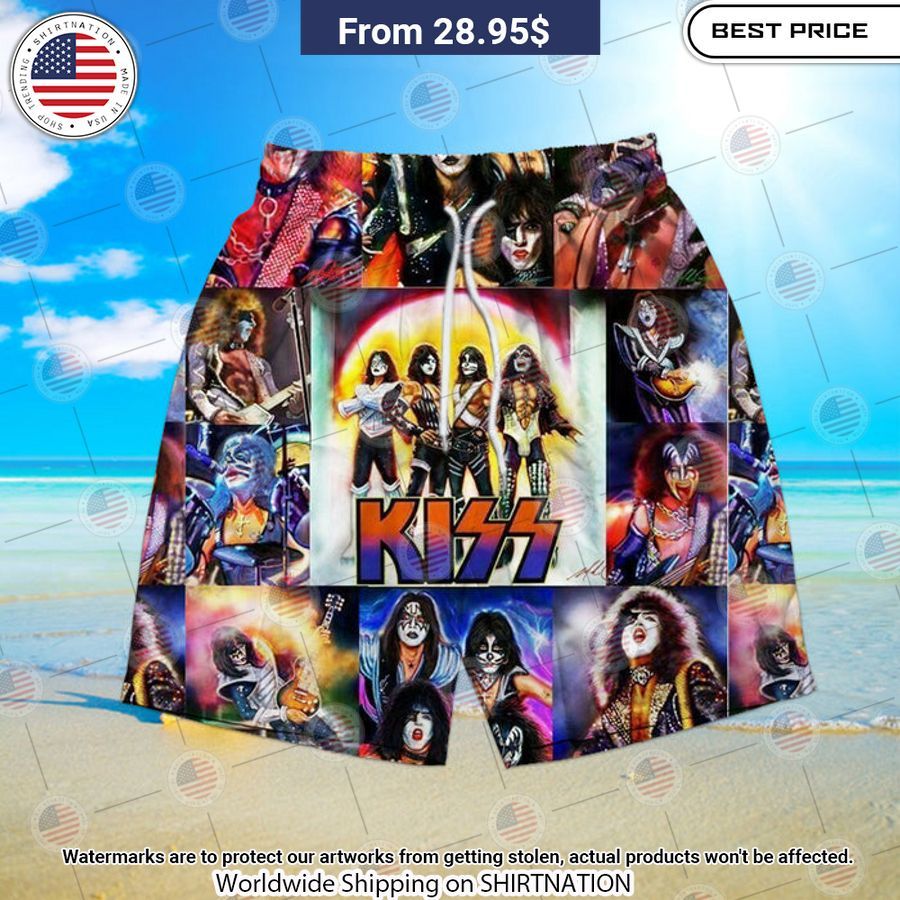 What you need to know About Kiss Band Beach Shorts:
KEY FEATURES: 
Drawstring closure. 

Elastic waistband with adjustable drawstring, the drawstring can be used freely adjustable tightness according to your waist medium length beach shorts with mesh lining. 

Suitable for special occasions such as Christmas, birthday, celebration, housewarming gift. 
PRODUCT INFORMATION:
Kate fabric, high quality, quick-drying, breathable, lightweight, comfortable and skin-friendly fabric, can direct contact to skin.

There are two pockets which will be convenient for the user. 
PRINTS: Dye-sublimation printing
WASHABLE: Machine wash cold, only non-chlorine bleach when needed, hang dry, cool iron on reverse side or dry clean
SIZE CHART – Kiss Band Beach Shorts: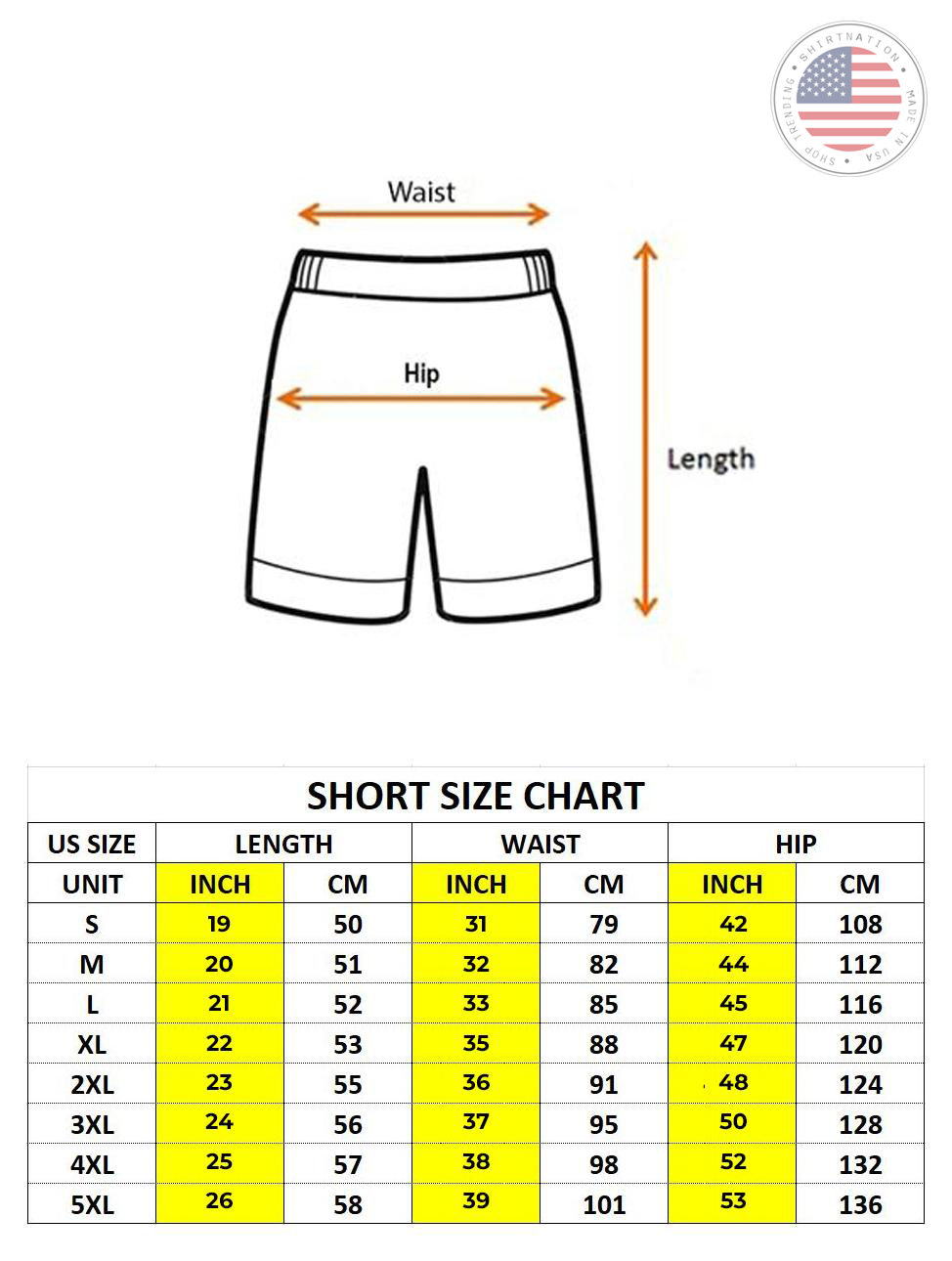 Reason To Purchase Hawaiian Shirt and Shorts:
Hawaiian shirts and shorts have garnered widespread popularity for their association with a relaxed and carefree style that extends beyond the Hawaiian islands. People are drawn to these iconic garments for various reasons. First and foremost, they provide unmatched comfort with their lightweight and breathable fabrics, ensuring wearers stay cool even in warm weather. The loose fit and relaxed design contribute to their comfort factor. Additionally, the vibrant and lively prints featuring bold floral patterns and tropical motifs add a touch of joy and fun to any ensemble. These prints allow individuals to express their unique style preferences and showcase their personality. Moreover, the versatility of Hawaiian shirts and shorts is a significant draw, as they can be dressed up or down to suit different occasions. Whether it's a semi-formal gathering or a casual day at the beach, these garments effortlessly adapt to the desired look. Lastly, wearing Hawaiian shirts and shorts evokes a sense of vacation and the laid-back Hawaiian lifestyle, enabling wearers to embrace a carefree and leisurely mindset.
Design Features of Kiss Band Beach Shorts:
 The Kiss Band Beach Shorts are not your average pair of swim shorts. They are designed to not only provide comfort and functionality but also make a fashion statement for any Kiss Band fan. Made from high-quality materials and featuring unique design elements, these beach shorts will become the must-have item for any Kiss Band enthusiast.
Firstly, let's talk about the material used in creating these beach shorts. The designers carefully selected a blend of polyester and spandex for this product. This combination offers the perfect balance between durability and flexibility. The polyester makes the shorts resistant to wear and tear, ensuring they can handle the harsh conditions of the beach. On the other hand, the addition of spandex provides excellent stretchability, allowing for a wide range of motion while swimming, playing beach volleyball, or simply lounging around.
The next design feature that sets these shorts apart is their vibrant and eye-catching print. Inspired by the iconic Kiss Band, the all-over pattern on the beach shorts features the members of the band in their unmistakable makeup and costumes. Each member's character is artistically portrayed, grabbing attention and showcasing your love for the Kiss Band. The printing process involves the use of the latest technology, ensuring the colors stay vibrant, even after multiple washes.
One of the essential design features of any swimwear is a comfortable and secure fit. The Kiss Band Beach Shorts are equipped with a versatile elastic waistband. This waistband is adjustable, accommodating various waist sizes, and providing a snug fit for all-day comfort. Whether you prefer a tighter or looser fit, the flexible waistband gives you complete control over the tightness of the shorts. Additionally, the shorts feature a drawstring closure that allows for further adjustability, ensuring they stay in place no matter how active you are on the beach.
Another practical and innovative design feature can be found in the pockets of the Kiss Band Beach Shorts. Unlike many swim shorts, which often have deep pockets where items tend to shift and potentially fall out, these beach shorts have strategically designed mesh pockets. These pockets allow for easy drainage, ensuring your belongings won't get heavy or waterlogged while enjoying water activities. On top of that, the mesh material also provides enhanced breathability, preventing excessive heat and moisture buildup.
In terms of functionality, these shorts also come with a built-in interior lining. This lining is made from a soft and comfortable fabric that adds an extra layer of support. It helps prevent any accidental exposures and offers an additional barrier between your skin and the outer material. Furthermore, the lining dries quickly, enhancing overall comfort by keeping you feeling cool and fresh even after leaving the water. Plus, it adds to the durability of the shorts, increasing their lifespan.
Lastly, these beach shorts are designed for versatility. While they excel as swimwear, they are also suitable for casual streetwear. The attention-grabbing design allows for easy styling with a simple t-shirt or tank top. You can effortlessly transition from a day at the beach to a summer party while still sporting your favorite Kiss Band look.
In summary, the Kiss Band Beach Shorts are a perfect blend of style, functionality, and comfort. Made from high-quality materials, they are designed to last and withstand the demands of beach activities. Their eye-catching print, adjustable waistband, mesh pockets, and interior lining make them stand out from regular swim shorts. Show your love for the Kiss Band and be the center of attention on any beach or outdoor gathering with these unique and exceptional beach shorts. Kiss Band Beach Shorts.
SHIPPING INFORMATION:
Production Time: 3 – 5 days
Worldwide Shipping Time (including Production Time ):  7 –14 days by Fast Ship, 15 – 20 days by Standard Ship

Tracking Number: When your order is completed, we will send you the tracking number with the confirmation email so that you can track the package online.

Our factories are located in America, Canada, E.U, Turkey, Viet Nam, and Indonesia.

If you find the delivered product:




– Damaged due to production quality (missing button, dirty marks…)




– Damaged due to poor packaging/handling during shipment                                                                                                
Please notify us at [email protected] with photo evidence of the errors mentioned above, so that we can help you resolve the problem as quickly as possible
WAREHOUSE – SHIPPING WORLDWIDE
MONEY-BACK GUARANTEE
We want you to be 100% satisfied with the products you buy from us. If for ANY reason you are not satisfied with your purchase, we offer an iron-clad money-back guarantee.
If you have any questions during shipping time, please send them via our email [email protected] or chat messenger with us. Thank you!
🌐 Home Page: Shirtnation.net