Introducing About

– Hello Kitty CUSTOM Canvas High Top Shoes:
Hello Kitty CUSTOM Canvas High Top Shoes. Whether you are a long-time lover of Hello Kitty or just discovering her for the first time, these shoes are sure to put a smile on your face. These customized canvas shoes are not only stylish, but they are also practical for everyday wear. The high top design provides ample ankle support for all your adventures, whether that is running errands in the city or taking a leisurely Sunday stroll. The customizable nature of these shoes makes them an excellent choice for anyone looking to add a personal touch to their footwear. Engrave your name onto them and make them distinctively yours. The materials used in these shoes are of the highest quality, ensuring that your custom pair will last you through many Hello Kitty-worthy escapades. The brand behind the creation of these shoes is a company that prides itself on its commitment to environmental sustainability. Wearing a pair of these customized Hi-top shoes is bound to turn heads and be a conversation starter, making them the perfect accessory for your next get-together or party. People love collecting various pieces that remind them of happy memories, affiliations, and characters they adore. If Hello Kitty brings you joy, why not let it reflect your style, whether at home, work, school, chill-out day out moments or just bragging amongst your peers!
Are you feeling inspired to order your very own pair of Hello Kitty canvas high tops now? Head over to our online store today and select from an extensive range of different sizes and color combinations. Our expert team is always on hand to help advise you on creating a product that you will treasure always!
In conclusion, your footwear doesn't have to be dull, mundane or boring when you could wear something playful, fun, durable, and unique, based on your inspiration board. You deserve to showcase your personality regardless of your surroundings whenever possible, so put some Hello Kitty in your walk to make every day unarguably fun. So, what are you waiting for? Order your custom Hello Kitty canvas high top shoes today and walk in style!
Why Hello Kitty CUSTOM Canvas High Top Shoes is Important to You?
Are you a Hello Kitty fan looking to add a touch of cuteness to your daily wardrobe? Look no further than our Hello Kitty CUSTOM Canvas High Top Shoes. Our shoes are made to order, ensuring each wearer receives a unique pair tailored specifically for them. With fully customizable options, customers can choose to add their own personalization, making each pair a true reflection of their personality. But fashion isn't just about appearances – comfort is equally as important. We understand the importance of properly supporting your feet throughout the day. That's why we've designed our shoes with a durable rubber sole, providing all-day wear comfort. You can enjoy Hello Kitty fashion without the discomfort that often comes with footwear lacking proper support. And don't let your size hold you back from looking stylish in our Hello Kitty shoes. We offer a variety of sizes for women and children, so everyone can rock these adorable, personalized sneakers. Our shoes are also high top canvas, adding an extra layer of versatility to your wardrobe. Whether paired with shorts, skirts, or pants, Hello Kitty fans of all ages can incorporate our shoes into their daily looks. Purchasing a pair of our Hello Kitty CUSTOM Canvas High Top Shoes isn't just about owning a pair of stylish sneakers. It's about connecting with fellow Hello Kitty fans and expressing your love for all things cute and fun. Our shoes provide comfort, customization, and conversation-starting fashion in one package. Don't miss out on the chance to add these incredible shoes to your collection today! Hello Kitty CUSTOM Canvas High Top Shoes.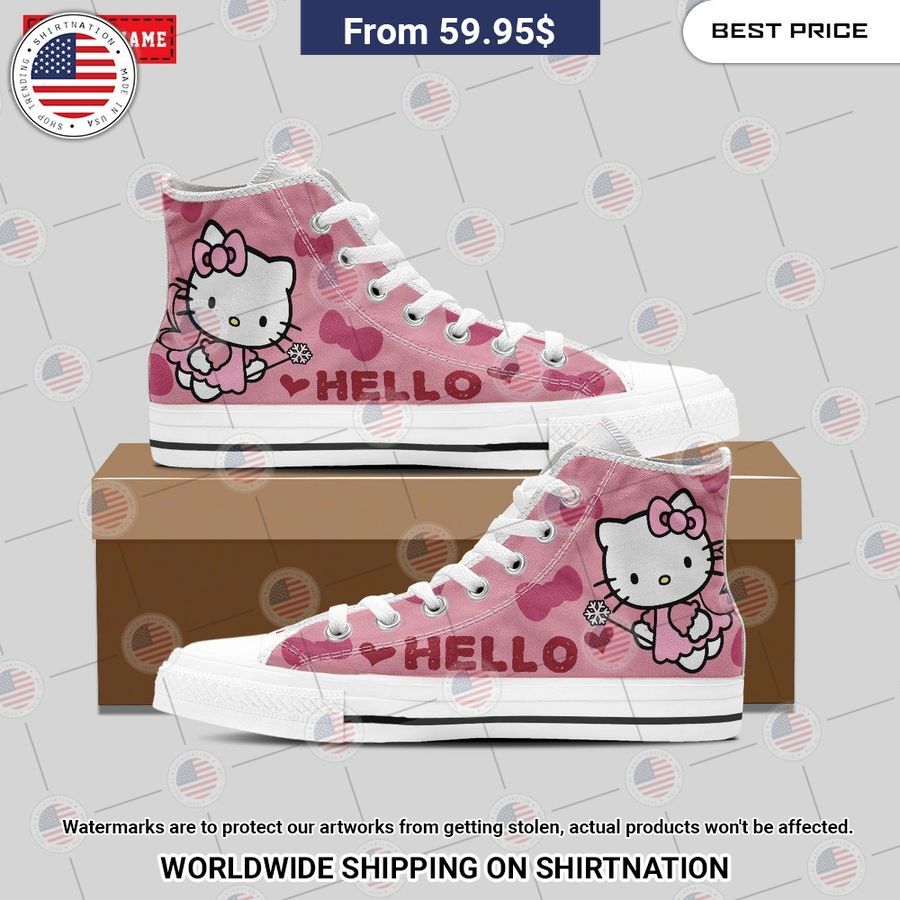 What you need to know About Hello Kitty CUSTOM Canvas High Top Shoes:
KEY FEATURES:
These canvas shoes can accompany you through the majority of your life, including school, work, parties, and shopping thanks to their timeless style and high-quality materials.

Ideal as a present for housewarmings, birthdays, celebrations, and special occasions like Christmas.
PRODUCT INFORMATION:
For ultimate comfort, choose a lightweight design with soft textile lining.

Offers excellent durability, a rubber outsole.

Double-sided, full-canvas construction with a rounded toe. Metal eyelets for a timeless appearance

This shoe is accountable for all costs related to a broken bottom, degumming, damage, major color difference, and serious stain.
PRINT: Dye-sublimation printing
WASHABLE: clean with water and soap.
Size Chart – Hello Kitty CUSTOM Canvas High Top Shoes: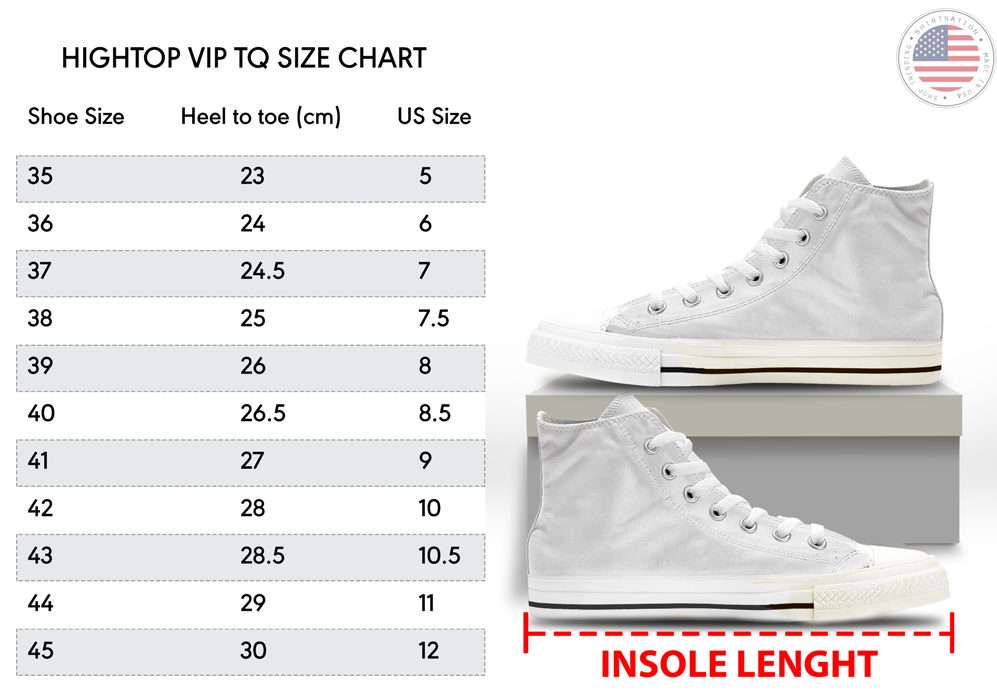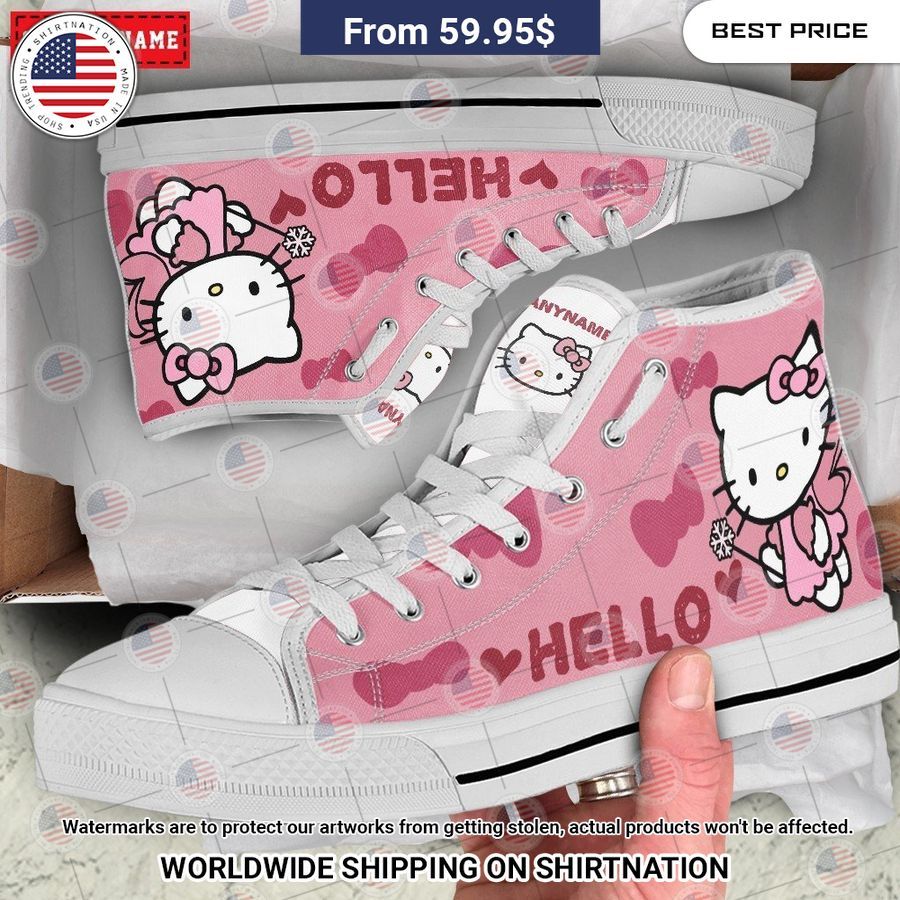 Reason To Purchase Canvas High Top Shoes:
Canvas high-top shoes offer a multitude of reasons to make them a worthwhile purchase. These shoes are renowned for their style and trendiness, appealing to a wide range of individuals. Their iconic design, featuring a high ankle profile, adds a touch of edginess to any outfit. Moreover, canvas high tops are incredibly versatile and can be effortlessly paired with various outfits, making them suitable for different occasions. Comfort is another standout feature, with their lightweight construction and breathable canvas fabric ensuring a pleasant wearing experience. The high-top design provides ankle support, making them comfortable for extended periods. Durability is yet another advantage, as canvas shoes are known for their resilience and long-lasting nature. Furthermore, the customization options available with canvas high tops allow individuals to personalize their footwear to reflect their unique style. With all these benefits, it's no wonder that canvas high-top shoes are an attractive choice for fashion-conscious individuals seeking comfort and versatility in their footwear.
Design Features of Hello Kitty CUSTOM Canvas High Top Shoes:
Our Hello Kitty CUSTOM Canvas High Top Shoes are designed to showcase your love for the adorable feline character while giving you the opportunity to add your own personal touch. The shoes sport a high-top design, which provides great ankle support and complements any casual outfit effortlessly. The canvas material is sturdy and durable, ensuring that your shoes look great regardless of how many times you wear them or how hard you use them. At the heart of these shoes is the delightful Hello Kitty design, which captures the playful personality of the beloved Sanrio character. The design features a range of colors, from baby pink to neon green, providing you with plenty of different styles to choose from. These shoes have been envisioned by fans of the character and thoroughly tested to meet the highest standards of durability and comfort. Speaking of comfort, our Hello Kitty CUSTOM Canvas High Top Shoes feature a durable rubber sole, which provides excellent traction when walking on uneven surfaces. This construction is ideal for people who enjoy exploring the outdoors or simply going for a walk. Prolonged use is supported thanks to the rubber sole and arch support that reduces the impact of each step, resulting in reduced foot fatigue. But what makes our Hello Kitty CUSTOM Canvas High Top Shoes truly unique is that they can be fully customized to match your own personality. Choose from a range of colors, styles, and even add your own personalization to create completely original shoes that speak to you. From names and dates to custom artwork and logos, you can truly make your shoes one-of-a-kind. We offer our Hello Kitty CUSTOM Canvas High Top Shoes in a variety of sizes for both women and children. So whether you are purchasing shoes for you, your little one or an entire family, we've got you covered. With Hello Kitty's unique design and custom options, combined with the comfort and durability provided by this shoe's perfect construction, our shoes are perfect for those with an active and individualistic style. Make sure to grab a pair today and experience the joy and fun only a Sanrio Hi Top can deliver. Hello Kitty CUSTOM Canvas High Top Shoes.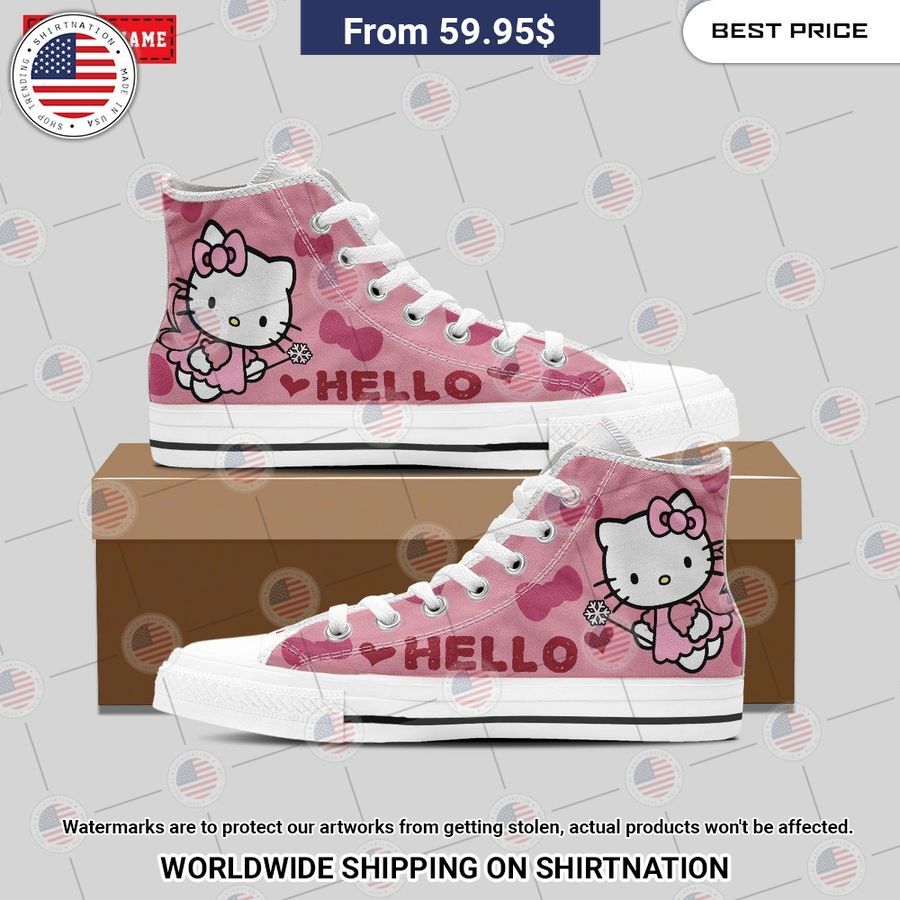 SHIPPING INFORMATION:
Production Time: 3 – 5 days
Worldwide Shipping Time (including Production Time ):  7 –14 days by Fast Ship, 15 – 20 days by Standard Ship

Tracking Number: When your order is completed, we will send you the tracking number with the confirmation email so that you can track the package online.

Our factories are located in America, Canada, E.U, Turkey, Viet Nam, and Indonesia.

If you find the delivered product:




– Damaged due to production quality (missing button, dirty marks…)




– Damaged due to poor packaging/handling during shipment                                                                                                
Please notify us at [email protected] with photo evidence of the errors mentioned above, so that we can help you resolve the problem as quickly as possible
WAREHOUSE – SHIPPING WORLDWIDE
MONEY-BACK GUARANTEE
We want you to be 100% satisfied with the products you buy from us. If for ANY reason you are not satisfied with your purchase, we offer an iron-clad money-back guarantee.
If you have any questions during shipping time, please send them via our email [email protected] or chat messenger with us. Thank you!
🌐 Home Page: Shirtnation.net