Introducing About

– Hello Kitty Beach Shorts:
Hello Kitty Beach Shorts. "Get ready to make a splash with the adorable and stylish Hello Kitty Beach Shorts – the perfect addition to your summer wardrobe!"
Summer is here, and what better way to embrace the sunny season than with a pair of Hello Kitty Beach Shorts. Designed for comfort, style, and ultimate cuteness, these beach shorts are a must-have for Hello Kitty lovers of all ages. Whether you're lounging by the pool, enjoying a day at the beach, or simply looking for a trendy summer apparel piece, these Hello Kitty Beach Shorts have got you covered – literally!
Feature 1: Unparalleled Comfort
One of the first things you'll notice about these beach shorts is their exceptional comfort. Crafted from soft and lightweight fabrics, these shorts provide a breathable and relaxed fit, allowing you to move freely and comfortably in any summertime activity. The elastic waistband adapts to your body shape, ensuring a snug yet flexible fit. So whether you're building sandcastles, playing beach volleyball, or enjoying a stroll on the boardwalk, you can count on the Hello Kitty Beach Shorts to keep you comfortable throughout the day.
Feature 2: Iconic Hello Kitty Design
The Hello Kitty Beach Shorts effortlessly combine fashion and fun with their iconic Hello Kitty design. Adorned with adorable Hello Kitty motifs in vibrant colors, these shorts capture the essence of the famous feline character. Each pair of shorts features Hello Kitty's charming face and signature bow, giving an instant touch of playful cuteness to your summer outfit. The high-quality print ensures that the design remains vibrant even after multiple washes and excellent color retention over time.
Feature 3: Versatile Styling Options
These Hello Kitty Beach Shorts offer endless versatility when it comes to styling. Whether you're planning a casual beach day or want to elevate your poolside ensemble, these shorts blend seamlessly with different tops and swimwear options. Pair them with a bikini top or a tankini for a stylish beach look, or dress them up with a crop top and sandals for a summer brunch with friends. The possibilities are endless, giving you the freedom to express your personal style while sporting your favorite Hello Kitty character.
Feature 4: Premium Quality Construction
When it comes to selecting beach shorts, durability is paramount, and the Hello Kitty Beach Shorts excel in this aspect. Crafted from high-quality materials, these beach shorts are designed to withstand the rigors of sand, saltwater, and daily wear. The stitching and finishing are meticulously done, ensuring longevity and delivering a premium product that lasts through many summers. Additionally, the fabrics used are quick-drying, enabling you to transition effortlessly from the water to lounging without any discomfort or extended drying periods.
In conclusion, the Hello Kitty Beach Shorts are more than just swimwear. With their comfortable fit, iconic Hello Kitty design, versatile styling options, and top-notch quality, they become a statement piece for Hello Kitty fans who want to make a splash this summer. Whether you're planning a beach holiday or looking for the perfect addition to your summer wardrobe, these beach shorts will undoubtedly charm you with their adorable appeal and make you stand out from the crowd.
CTA: Get your own pair of Hello Kitty Beach Shorts today and experience the perfect blend of comfort, style, and cuteness firsthand. Don't miss out – click here to explore our wide range of sizes and colors, and start showing off your love for Hello Kitty this summer!
Why Hello Kitty Beach Shorts is Important to You?
 The Hello Kitty Beach Shorts hold a special place in my heart. As a huge fan of the adorable character, I cannot help but feel ecstatic whenever I lay my eyes on anything Hello Kitty-related. However, these beach shorts go beyond being just another merchandise item; they have become an essential part of my summer wardrobe, influencing not only my fashion choice but also my overall mood and confidence level.
First and foremost, the Hello Kitty Beach Shorts are important to me because they epitomize my love for all things cute and whimsical. The cheerful face of Hello Kitty adorning these shorts instantly brings a smile to my face and adds a touch of joy to my summer adventures. Whether I'm strolling along the sandy beaches, enjoying a picnic by the seaside, or simply relaxing poolside, these shorts radiate positivity and exude a playful vibe that perfectly aligns with my personality.
Moreover, the Hello Kitty Beach Shorts provide utmost comfort, which is paramount when it comes to selecting summer wear. Made from premium quality materials, these shorts ensure breathability and softness against my skin even during hot and humid days. The lightweight fabric allows for easy movement, making them ideal for various outdoor activities such as beach volleyball, frisbee, or building sandcastles. The elastic waistband ensures a secure yet flexible fit, giving me the freedom to enjoy myself without any discomfort or restrictions.
In addition, the functionality of these beach shorts cannot be overlooked; they are designed with thoughtful features that enhance convenience during beach outings. Equipped with multiple pockets, they offer ample storage space for essentials such as sunscreen, cellphones, small snacks, and keys. Having these items easily accessible without the need for carrying an extra bag or backpack makes my beach trips hassle-free, allowing me to fully immerse myself in the moment without worrying about misplacing or damaging my valuables.
Furthermore, the Hello Kitty Beach Shorts effortlessly fuse style and versatility, making them suitable for various occasions beyond just beach outings. Their vibrant color schemes, playful patterns, and tasteful Hello Kitty embellishments make these shorts an attractive option for casual days out, summer festivals, or even pool parties. When paired with a solid-colored tank top, a cute pair of sandals, and some matching accessories, these shorts transform into a fashion statement worth noticing, instantly uplifting my confidence and making me feel like the star of any event I attend.
Additionally, the durability of the Hello Kitty Beach Shorts is exceptional. These shorts are meticulously crafted with reliable stitching techniques and high-quality materials, ensuring they can withstand frequent wear, washing, and even the occasional dips in the ocean. Their ability to retain their shape and color over time is a testament to their overall longevity and value for money. Investing in these beach shorts not only allows me to enjoy their use for numerous summer seasons but also provides me with a tangible connection to the cherished Hello Kitty character that will last for years to come.
In conclusion, the Hello Kitty Beach Shorts hold great importance to me due to their innate cuteness, comfort level, functionality, stylishness, and durability. As a proud fan of Hello Kitty, possessing these shorts brings me immense happiness and allows me to showcase my fondness for the beloved character. Moreover, they have become an indispensable part of my summer wardrobe, elevating my style, boosting my confidence, and enhancing my overall beach experience. So, if you share the same affinity for Hello Kitty and desire a versatile and well-made piece of clothing for your summer adventures, these beach shorts are an absolute must-have.. Hello Kitty Beach Shorts.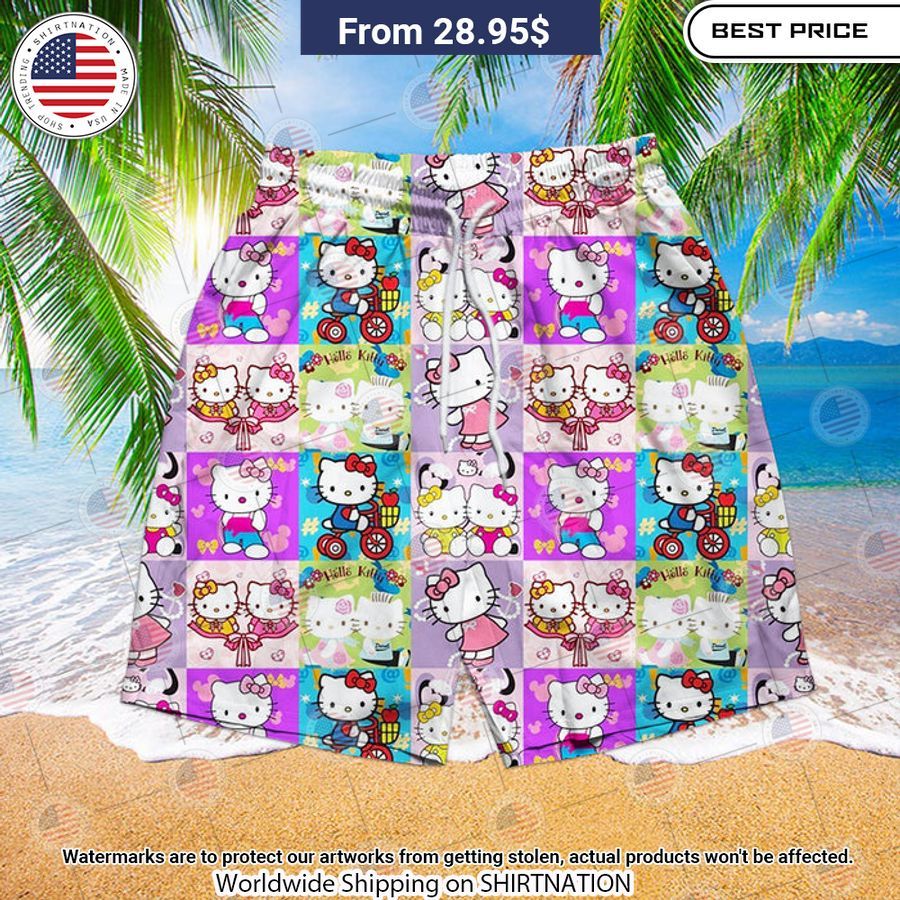 What you need to know About Hello Kitty Beach Shorts:
KEY FEATURES: 
Drawstring closure. 

Elastic waistband with adjustable drawstring, the drawstring can be used freely adjustable tightness according to your waist medium length beach shorts with mesh lining. 

Suitable for special occasions such as Christmas, birthday, celebration, housewarming gift. 
PRODUCT INFORMATION:
Kate fabric, high quality, quick-drying, breathable, lightweight, comfortable and skin-friendly fabric, can direct contact to skin.

There are two pockets which will be convenient for the user. 
PRINTS: Dye-sublimation printing
WASHABLE: Machine wash cold, only non-chlorine bleach when needed, hang dry, cool iron on reverse side or dry clean
SIZE CHART – Hello Kitty Beach Shorts: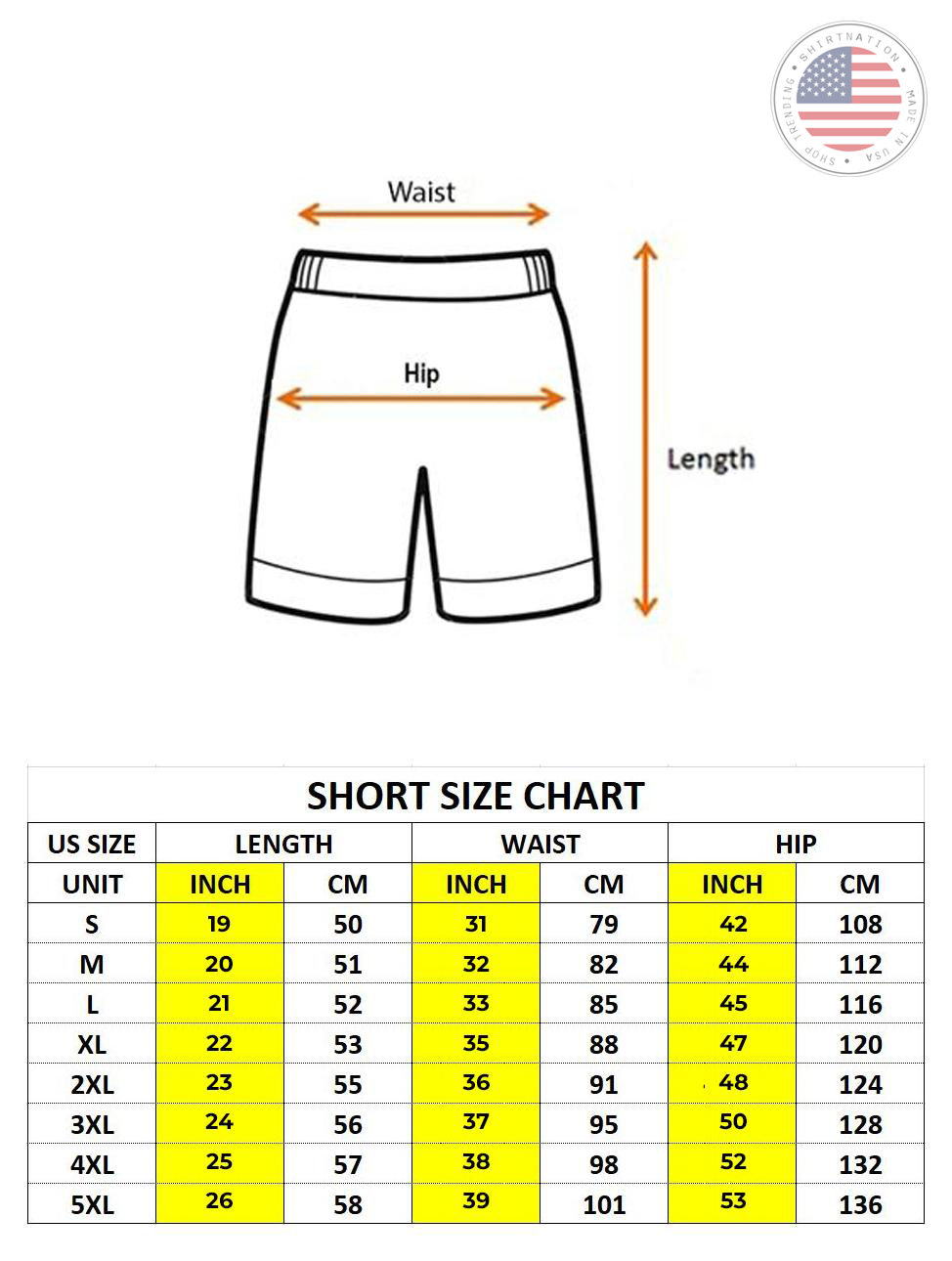 Reason To Purchase Hawaiian Shirt and Shorts:
Hawaiian shirts and shorts have garnered widespread popularity for their association with a relaxed and carefree style that extends beyond the Hawaiian islands. People are drawn to these iconic garments for various reasons. First and foremost, they provide unmatched comfort with their lightweight and breathable fabrics, ensuring wearers stay cool even in warm weather. The loose fit and relaxed design contribute to their comfort factor. Additionally, the vibrant and lively prints featuring bold floral patterns and tropical motifs add a touch of joy and fun to any ensemble. These prints allow individuals to express their unique style preferences and showcase their personality. Moreover, the versatility of Hawaiian shirts and shorts is a significant draw, as they can be dressed up or down to suit different occasions. Whether it's a semi-formal gathering or a casual day at the beach, these garments effortlessly adapt to the desired look. Lastly, wearing Hawaiian shirts and shorts evokes a sense of vacation and the laid-back Hawaiian lifestyle, enabling wearers to embrace a carefree and leisurely mindset.
Design Features of Hello Kitty Beach Shorts:
 The Hello Kitty Beach Shorts are the perfect garment for those who want to show off their love for the iconic Hello Kitty character while enjoying some fun under the sun. These beach shorts are designed with meticulous attention to detail to ensure both durability and style. Let's take a closer look at the design features that make these shorts stand out from the crowd.
The first notable feature of the Hello Kitty Beach Shorts is the fabric used in their construction. Made from a high-quality blend of polyester and spandex, these shorts offer both comfort and stretchability, allowing you to move freely and comfortably during your beach adventures. The fabric is also quick-drying, making these shorts the ideal choice for a day at the beach or pool.
The design of the Hello Kitty Beach Shorts features a trendy mid-rise waist that sits just below the natural waistline. This waistline creates a flattering fit on a wide range of body types while providing sufficient coverage without compromising on style. The waist is also adjustable with a drawstring, allowing you to customize the fit according to your preference and body shape.
Going further down, the Hello Kitty Beach Shorts have a relaxed yet tailored fit through the hips and thighs, ensuring a comfortable and flattering silhouette. The leg openings are slightly tapered, giving these shorts a modern and sleek look. These design details make these shorts suitable for both lounging by the shore and engaging in various beach activities such as beach volleyball or beachcombing without any discomfort or restriction.
The Hello Kitty Beach Shorts come in a vibrant and eye-catching color palette, featuring Hello Kitty-themed patterns and designs. From adorable Hello Kitty faces scattered across the fabric to playful motifs of the character engaging in various beach-related activities, these shorts will undoubtedly catch the attention of fellow Hello Kitty fans and admirers.
One of the most practical design features of these beach shorts is the inclusion of several functional pockets. The shorts feature two side pockets and a back pocket, all securely fastened with zippers or Velcro closures. These pockets provide ample space for storing small personal belongings such as keys, cash, or a credit card, eliminating the need for carrying a bag or worrying about losing valuable items while frolicking in the water or soaking up the sun.
Furthermore, the Hello Kitty Beach Shorts are designed to be easy to care for. They can be machine washed without any fear of color fading or fabric shrinkage, making them perfect for frequent wear and use during the summer months. The fabric is also resistant to wrinkles, ensuring that these shorts maintain their crisp and fresh appearance whether you're wearing them for a day at the beach or while on a tropical vacation.
In conclusion, the Hello Kitty Beach Shorts tick all the boxes for both style and functionality. From the choice of fabric to the attention to detail in the design features, these shorts are an excellent addition to any Hello Kitty fan's closet. So why not show off your love for the iconic character and make a fashion statement at the beach with these fabulous Hello Kitty Beach Shorts? Hello Kitty Beach Shorts.
SHIPPING INFORMATION:
Production Time: 3 – 5 days
Worldwide Shipping Time (including Production Time ):  7 –14 days by Fast Ship, 15 – 20 days by Standard Ship

Tracking Number: When your order is completed, we will send you the tracking number with the confirmation email so that you can track the package online.

Our factories are located in America, Canada, E.U, Turkey, Viet Nam, and Indonesia.

If you find the delivered product:




– Damaged due to production quality (missing button, dirty marks…)




– Damaged due to poor packaging/handling during shipment                                                                                                
Please notify us at [email protected] with photo evidence of the errors mentioned above, so that we can help you resolve the problem as quickly as possible
WAREHOUSE – SHIPPING WORLDWIDE
MONEY-BACK GUARANTEE
We want you to be 100% satisfied with the products you buy from us. If for ANY reason you are not satisfied with your purchase, we offer an iron-clad money-back guarantee.
If you have any questions during shipping time, please send them via our email [email protected] or chat messenger with us. Thank you!
🌐 Home Page: Shirtnation.net