Introducing About

– Florida Gators Skeleton Hawaiian Shirt:
Florida Gators Skeleton Hawaiian Shirt. Introducing the Florida Gators Skeleton Hawaiian Shirt – the perfect blend of spooky and sporty! If you're a die-hard fan of the Florida Gators and a lover of all things fun and Halloween, then this is the ultimate shirt for you.
Designed with vibrant colors and intricate detailing, this skeleton Hawaiian shirt proudly showcases the Florida Gators logo and team colors in a unique and captivating way. Whether you're heading to a tailgate party, a casual gathering with friends, or simply showing your team spirit, this shirt is guaranteed to turn heads and spark conversations wherever you go.
Now, let's dive into why the Florida Gators Skeleton Hawaiian Shirt is the must-have item for any Gators enthusiast.
First and foremost, this shirt is made with high-quality materials to ensure year-round comfort. Crafted from a luxurious blend of soft, lightweight fabrics, it offers breathability and a relaxed fit that'll keep you cool even on the hottest game days. The carefully chosen fabrics also ensure that the shirt maintains its shape and vibrant colors, even after repeated washing.
The eye-catching design is what truly sets this shirt apart from others in terms of style. The dynamic combination of the Florida Gators logo and the skeleton imagery creates a visually striking contrast that is both playful and bold. This attention to detail not only complements your team spirit but also showcases your unique personality and love for all things unconventional.
Another remarkable feature of the Florida Gators Skeleton Hawaiian Shirt is its versatility. It can be effortlessly paired with jeans, shorts, or even khaki pants, allowing you to dress it up or down depending on the occasion. Wear it unbuttoned over a plain t-shirt for a casual and relaxed look, or button it up for a bit more formal flair. Whether you're attending a football game, going on vacation, or simply spending time with family and friends, this shirt ensures that you always stand out from the crowd.
In addition to its aesthetic appeal and versatility, this shirt offers superior functionality. It features a convenient front pocket where you can store your essentials, such as your phone, keys, or sunglasses. This added practicality eliminates the need for carrying an extra bag or worrying about misplacing your belongings in the excitement of game day festivities.
Now is the time to unleash your inner Gator spirit and showcase your love for Halloween with the Florida Gators Skeleton Hawaiian Shirt. Hurry and grab yours today, because these spooky yet stylish shirts are selling fast!
To truly appreciate the quality and attention to detail of this unique shirt, click the link below to read the full article. We promise you won't be disappointed! Join the Gator Nation with pride and fashion, wearing the Florida Gators Skeleton Hawaiian Shirt – a perfect fusion of team spirit and spooky delight.
Click here to learn more about the Florida Gators Skeleton Hawaiian Shirt and explore our exclusive merchandise collection. Be prepared to stand out and make a statement, redefining what it means to be a true fan. Go Gators!
Why Florida Gators Skeleton Hawaiian Shirt is Important to You?
 The Florida Gators Skeleton Hawaiian Shirt holds a special place in my heart for various reasons. As a die-hard fan of the Florida Gators, this unique shirt allows me to display my unwavering support and pride for my favorite team in a casual and fun way. Not only does it merge two vibrant and distinctive concepts together – the traditional Hawaiian shirt design and the iconic mascot of the Florida Gators – but it also represents the enthusiasm and unity of our fan base.
First and foremost, this shirt is important to me because it symbolizes my loyalty and commitment to the Florida Gators. Being a sports fan is not just about rooting for the team when they win; it's about embracing the ups and downs, celebrating victories, and standing by the team even during challenging times. This shirt serves as a constant reminder of the rollercoaster of emotions that come with being a Gator fanatic. Whether it's shouting at the TV screen or jumping up and down in the stadium, I proudly wear this shirt to showcase my unwavering dedication to the team.
Furthermore, the Florida Gators Skeleton Hawaiian Shirt embodies our rich history and tradition as an athletic powerhouse. The Gator mascot has become synonymous with excellence and success over the years. This shirt captivates the spirit of the Gators, reminding me of the teams that came before, the legends who graced our fields, and the championships we have won. When I wear this shirt, it's not just a fashion statement; it's a way of paying tribute to the incredible athletes and coaches who have contributed to the legacy of the Florida Gators.
In addition to celebrating the team's legacy, this shirt also fosters a strong sense of camaraderie among fellow fans. When I wear it, I am instantly connected to a passionate network of Gator supporters. In social gatherings or game day tailgates, spotting someone else donning the same Florida Gators Skeleton Hawaiian Shirt sparks immediate rapport and opens up countless conversations about shared experiences, favorite players, and unforgettable matches. This sense of community and belonging is irreplaceable and is something that I value deeply.
The Florida Gators Skeleton Hawaiian Shirt has also proven to be a statement piece that encouraging conversations beyond the world of sports. Its distinct fusion of the vibrant Hawaiian shirt aesthetic with the bold imagery of a Gator skeleton intrigued people from all walks of life. Whether it's our rivals reaching out to understand the story behind the peculiar design or strangers approaching me at the grocery store curious about my allegiance, wearing this shirt has become a catalyst for engaging discussions and even new friendships. It serves as a bridge between seemingly different individuals, reminding us of the power and joy of shared interests.
Lastly, this shirt brings a sense of fun and whimsy to my wardrobe. It encourages me to express my personality through fashion while staying true to my passion for the Florida Gators. As the fabric dances around me in a vibrant display of blue and orange hues, I can't help but feel a surge of happiness and excitement. It's like wearing a celebration on my shoulders, radiating positivity and energy wherever I go. In a world often influenced by serious undertones, this shirt reminds me to embrace joy, laughter, and the thrill of being part of something larger than myself.
In conclusion, the Florida Gators Skeleton Hawaiian Shirt is not just another piece of clothing for me. It represents my unwavering loyalty, tradition, and camaraderie as a fan of the Florida Gators. It sparks conversations, connects me with fellow supporters, and brings a vibrant and spirited element to my attire. It's more than a shirt; it's an emblem of my devotion and love for the team.. Florida Gators Skeleton Hawaiian Shirt.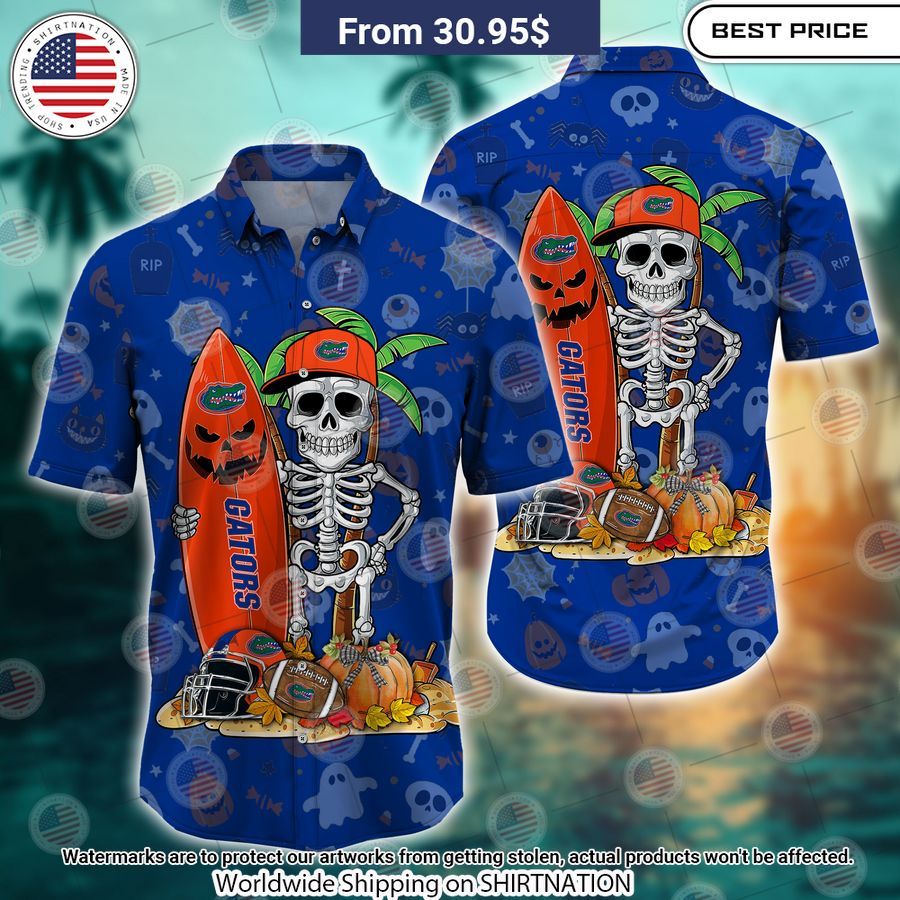 What you need to know About Florida Gators Skeleton Hawaiian Shirt:
KEY FEATURES:
Summer Short Sleeve Hawaiian Beach Shirt. Casual/Dating/Sun Beach Party/Hawaiian/suitable for a variety of occasions

Suitable for special occasions such as Christmas, birthday, celebration, housewarming gift. 
PRODUCT INFORMATION:
100% KATE SILK

Casual button-down shirts /Soft decent Regular fit/Breathable/Good Quality/Men designer shirts /Good Choice for Summer/men Hawaiian shirts
PRINT: Dye-sublimation printing
WASHABLE: Machine wash cold, only non-chlorine bleach when needed, hang dry, cool iron on the reverse side or dry clean
SIZE CHART – Florida Gators Skeleton Hawaiian Shirt: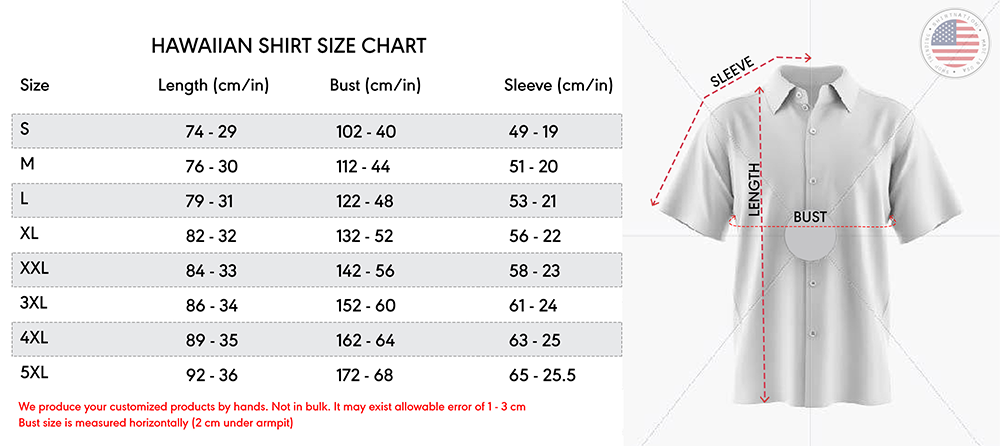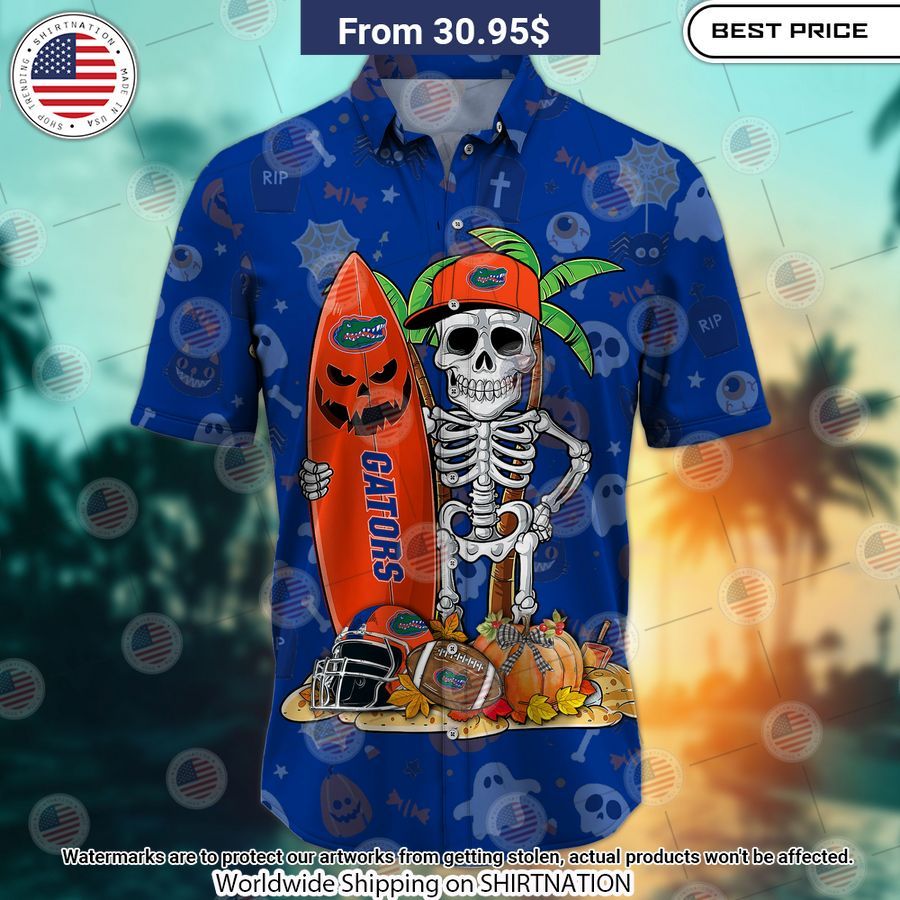 Reason To Purchase Hawaiian Shirt:
There are multiple reasons why buying a Hawaiian shirt can be a great decision. Whether you want to add some lively and colorful style to your wardrobe or are preparing for a tropical trip, there are compelling reasons to consider getting a Hawaiian shirt. They offer a unique and attention-grabbing style with their bold and vibrant prints featuring tropical elements. These shirts embody the warm and welcoming spirit of Hawaii, allowing you to embrace the "Aloha" culture. Additionally, Hawaiian shirts are versatile and comfortable, suitable for both casual and more formal occasions. They are also perfect for vacation wear, instantly creating a relaxed and carefree atmosphere. With their nostalgic and timeless appeal, Hawaiian shirts serve as a form of self-expression and can uplift your mood with their cheerful designs. Overall, a Hawaiian shirt is a fantastic choice for infusing your wardrobe with personality, style, and a touch of tropical paradise.
Design Features of Florida Gators Skeleton Hawaiian Shirt:
 The Florida Gators Skeleton Hawaiian Shirt is the perfect combination of sporty and tropical styles. With its unique design features, this shirt is sure to make a statement wherever you go. Let's explore in detail the various design elements that make this shirt stand out from the crowd.
First and foremost, the feature that immediately catches the eye is the skeleton print on the shirt. The artwork depicts a cool and edgy skeleton wearing sunglasses and a vibrant orange and blue Hawaiian shirt. This skeleton represents the Florida Gators team spirit, exuding a sense of fun and camaraderie. The intricate design of the skeleton brings it to life, with each bone and joint carefully crafted to give it a realistic look.
Moving on to the background design of the shirt, it is adorned with an abundance of hibiscus flowers in different shades of blue, orange, and white. The hibiscus is a classic symbol of the tropical paradise, and its presence on the shirt adds a touch of exotic charm. The flowers are positioned strategically throughout the shirt, creating a balanced composition that is pleasing to the eye.
The color palette of this Hawaiian shirt is inspired by the official team colors of the Florida Gators – blue and orange. These bold and contrasting colors symbolize the energy and enthusiasm of the team and their fans. The bright blue serves as the base color of the shirt, while the orange accents bring a pop of color to the overall design. The use of these vibrant colors ensures that the shirt will not go unnoticed and will make a powerful fashion statement.
In addition to the striking design, this Florida Gators Skeleton Hawaiian Shirt is constructed with high-quality materials to ensure utmost comfort and durability. The fabric used is a lightweight and breathable blend of polyester and cotton. This combination allows for maximum breathability, making it ideal for warm weather or tropical climates. The shirt also features a relaxed fit and short sleeves, allowing for freedom of movement and ease of wear.
When it comes to functionality, this shirt is equipped with some practical design features as well. The front button closure makes it easy to put on and take off the shirt, while also offering flexibility in terms of how open or closed you want the neckline to be. The collar is reinforced to maintain its shape and prevent any sagging. Additionally, the shirt has a chest pocket that comes in handy for storing small essentials such as a pen or sunglasses.
To ensure a precise fit, the Florida Gators Skeleton Hawaiian Shirt is available in a range of sizes, from small to extra-large. It is important to consult the provided size chart to select the most suitable size based on your individual measurements. This way, you can enjoy all the design features this shirt has to offer while ensuring maximum comfort.
In conclusion, the Florida Gators Skeleton Hawaiian Shirt stands out from the crowd with its unique and eye-catching design features. With a well-crafted skeleton print, vibrant hibiscus flowers, and bold team colors, it embodies the perfect blend of sporty and tropical aesthetics. Constructed with high-quality materials and practical design elements, this shirt offers both style and functionality. Whether you are a die-hard fan of the Florida Gators or simply looking for a standout piece for your wardrobe, this shirt is an excellent choice. Florida Gators Skeleton Hawaiian Shirt.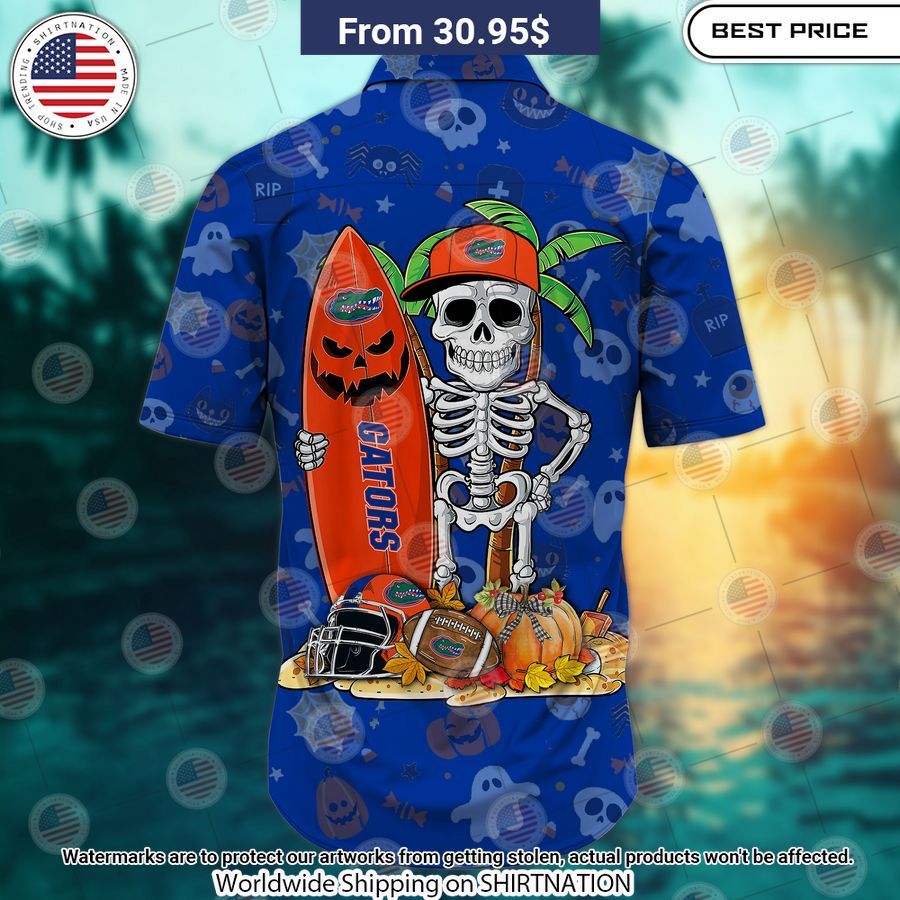 Production Time: 3 – 5 days
Worldwide Shipping Time (including Production Time ):  7 –14 days by Fast Ship, 15 – 20 days by Standard Ship

Tracking Number: When your order is completed, we will send you the tracking number with the confirmation email so that you can track the package online.

Our factories are located in America, Canada, E.U, Turkey, Viet Nam, and Indonesia.

If you find the delivered product:




– Damaged due to production quality (missing button, dirty marks…)




– Damaged due to poor packaging/handling during shipment                                                                                                
Please notify us at [email protected] with photo evidence of the errors mentioned above, so that we can help you resolve the problem as quickly as possible
WAREHOUSE – SHIPPING WORLDWIDE
MONEY-BACK GUARANTEE
We want you to be 100% satisfied with the products you buy from us. If for ANY reason you are not satisfied with your purchase, we offer an iron-clad money-back guarantee.
If you have any questions during shipping time, please send them via our email [email protected] or chat messenger with us. Thank you!
🌐 Home Page: Shirtnation.net