Introducing About

– Crown Royal Baseball Shirt:
Crown Royal Baseball Shirt. Are you ready to elevate your game both on and off the field? Look no further than the Crown Royal Baseball Jersey, a truly unique and stylish addition to any sports enthusiast's wardrobe. Whether you're a baseball player who wants to showcase your love for the sport or a fan eager to support your favorite team, this one-of-a-kind jersey will have heads turning and teammates envious.
Our Crown Royal Baseball Jersey is not your average sports apparel. It combines the timeless sophistication of Crown Royal, the iconic Canadian whisky brand, with the passion and energy of America's favorite pastime. This collaboration brings together the best of both worlds, resulting in a garment that stands out from the crowd and resonates with fans and players alike.
Let's dive deeper into the four standout features that make the Crown Royal Baseball Jersey an absolute must-have:
1. Premium Quality: Crafted with meticulous attention to detail, the Crown Royal Baseball Jersey is made from high-quality materials that ensure durability and comfort. The blend of breathable fabrics ensures maximum breathability, keeping you cool during intense games or heated cheering sessions in the stands. Whether you're swinging for the fences or relaxing with friends at your local watering hole, this jersey will keep you feeling comfortable and confident.
2. Iconic Branding: With Crown Royal emblazoned across the front, this baseball jersey proudly displays your affinity for both the sport and the legendary whisky brand. The iconic Crown Royal logo adds a touch of sophistication, symbolizing excellence and refinement. This isn't just a jersey; it's a statement piece that celebrates your unique style and appreciation for quality craftsmanship.
3. Eye-Catching Design: The Crown Royal Baseball Jersey stands out from the usual plain and uninspiring sports uniforms. Its vibrant color scheme, featuring the brand's signature purple alongside contrasting accents, catches the eye and demands attention. The thoughtful design ensures that you won't blend into the background but instead shine like the star player you are.
4. Versatile Wearability: While a perfect fit for baseball enthusiasts on and off the field, the Crown Royal Baseball Jersey also suits a variety of social occasions. It effortlessly transitions from playing ball to grabbing drinks with friends or attending a sports-themed gathering. The versatility of this jersey allows you to easily express your love for both the game and the renowned whisky brand in any setting.
Now that you understand the unparalleled qualities that make the Crown Royal Baseball Jersey a must-have item, you may be wondering how to get your hands on it. Look no further than our website, where you'll find the entire collection of Crown Royal merchandise, including this magnificent baseball jersey. Don't wait any longer to add this standout piece to your wardrobe – start turning heads and making a statement today!
From backyard games to professional matches, the Crown Royal Baseball Jersey makes it clear that you're a true fan and an individual who appreciates unparalleled quality and style. Don't settle for plain and uninspiring sports apparel when you can confidently express your passion with this one-of-a-kind garment. Shop now and be the envy of your teammates and fellow fans – you won't regret it!
Why Crown Royal Baseball Shirt is Important to You?
 As a fan and lover of both royalty and baseball, the Crown Royal Baseball Jersey holds a special place in my heart. This unique and exclusive piece of apparel seamlessly brings together two worlds that I hold dear. The fusion of sophistication, elegance, and sportsmanship embodied in this jersey is truly remarkable, making it an important product for me.
First and foremost, the Crown Royal Baseball Jersey symbolizes a sense of empowerment and regality. When I don this jersey, I feel like royalty, exuding confidence and charisma that transcends the boundaries of a mere baseball game. The intricate detailing and craftsmanship of the jersey's design showcases the brand's commitment to excellence and luxury. The deep purple color, reminiscent of velvet curtains hiding the secrets of a majestic throne room, enhances the aura of nobility and ambition. This symbolism is important to me, as it serves as a reminder to always strive for greatness and carry myself with dignity, whether I am on the field or in everyday life.
Since childhood, baseball has captivated my imagination and instilled within me a love for the sport. The crack of the bat, the smell of freshly mown grass, and the camaraderie among teammates create an unparalleled atmosphere that fills me with excitement and joy. By wearing the Crown Royal Baseball Jersey, I celebrate my passion for the game and display my deep admiration for the athletes who dedicate themselves to its pursuit. It allows me to connect with fellow fans, sparking conversations and forging new friendships through our mutual appreciation for both the sport and the iconic Crown Royal brand.
Another reason why the Crown Royal Baseball Jersey is important to me is its embodiment of unity and sportsmanship. Baseball, like royalty, has a rich history characterized by values such as fairness, teamwork, and respect. The classic pinstripe pattern adorning the jersey evokes a sense of tradition and nostalgia, reminding us of the great players who have graced the diamond before us. Whether it's sharing in the triumphs of a thrilling home run or enduring the trials of an extra innings game, baseball has served as a unifying force and a common language that bridges people from diverse backgrounds. Wearing this jersey not only showcases my reverence for the sport, but also reinforces my commitment to uphold these foundational values both on and off the field.
Lastly, the Crown Royal Baseball Jersey represents an ongoing legacy and heritage. Crown Royal, renowned for its exceptional quality as a Canadian whisky brand, has long been associated with class, elegance, and distinction. By offering a baseball jersey graced by their iconic logo, they extend their presence beyond the realm of spirits and into the world of sports fashion. This fresh collaboration resonates with me as a consumer and loyal supporter of Crown Royal, demonstrating their ability to adapt and innovate while staying true to their timeless essence. When I proudly wear this jersey, I am not only showcasing my love for baseball and Crown Royal, but also becoming part of their enduring legacy.
In conclusion, the Crown Royal Baseball Jersey holds great significance for me as a fan who embraces the fusion of royalty and America's pastime. Its representation of empowerment, passion, unity, and legacy deeply resonates with my values and interests. The craftsmanship, design, and symbolism contained within this prodigious apparel evoke inspiration and provoke a sense of pride and admiration. Being able to sport this one-of-a-kind jersey not only connects me to the storied history of baseball and the esteemed tradition of the Crown Royal brand, but also emboldens me to embody the virtues of a modern-day royal athlete.. Crown Royal Baseball Shirt.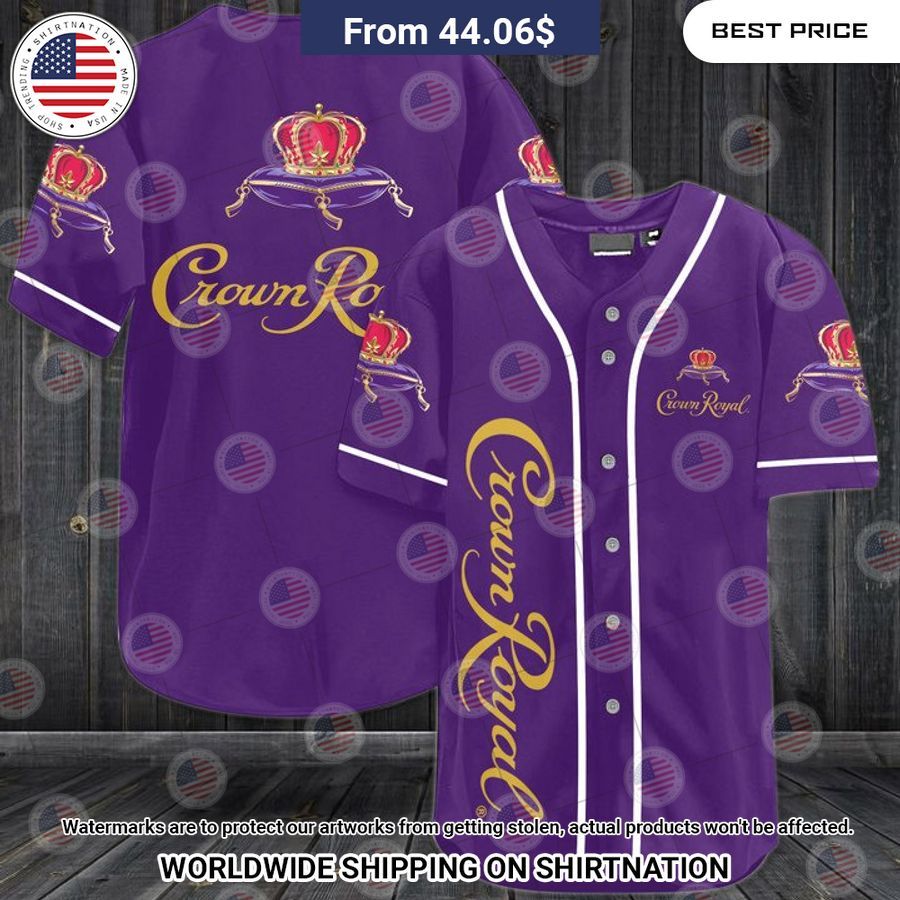 What you need to know About Crown Royal Baseball Shirt:
KEY FEATURES:
Baseball/softball jersey with a full button down closure
It is appropriate for special events like as Christmas, birthdays, celebrations, and housewarming gifts. 
PRODUCT INFORMATION:
Breathable fabric made of polyester and mesh. 
Quick-drying and wrinkle-free fabric. The fabric is silky and breathable.
PRINTS: Dye-sublimation printing
WASHABLE: Machine wash cold, only non-chlorine bleach when needed, hang dry, cool iron on reverse side or dry clean
SIZE CHART – Crown Royal Baseball Shirt:

Reason To Purchase Baseball Jersey:
Wearing a baseball jersey provides various benefits and opportunities for both dedicated players and enthusiastic fans. It serves as a symbol of unwavering team loyalty and camaraderie, allowing individuals to connect with fellow supporters. Additionally, donning a jersey bearing the name and number of a favorite player becomes a tribute to their accomplishments and sparks conversations among like-minded enthusiasts. Beyond game days, baseball jerseys offer comfort and versatility in everyday wear, while also holding sentimental value as collectibles and serving as thoughtful gifts. Overall, owning a baseball jersey is a meaningful way to showcase love for the sport and become part of the passionate baseball community.
Design Features of Crown Royal Baseball Shirt:
 The Crown Royal Baseball Jersey is a sleek and stylish garment that embodies the essence of both luxury and sport. It is designed to enhance your look and provide utmost comfort during various activities, whether you are on the field or simply going for a casual outing with friends. This premium jersey exhibits a combination of functional and aesthetic design features that make it stand out from the crowd.
Starting with the fabric, the Crown Royal Baseball Jersey is crafted using high-quality materials that ensure durability and breathability. Made from a blend of cotton and polyester, this jersey offers the perfect balance of softness and stretch, making it suitable for a wide range of body types. The cotton provides a natural and comfortable feel against the skin while the polyester component enhances the jersey's ability to retain shape and resist wrinkles.
One of the standout design features of this jersey is its unique color-scheme. The combination of deep royal purple and vibrant gold accents creates an eye-catching visual contrast that instantly catches the attention of onlookers. This color palette not only aligns with the brand identity of Crown Royal but also gives a regal touch to the overall design. To complement the colors, the jersey features embroidered Crown Royal logos on both the front and back, ensuring authenticity and a touch of luxury.
Moving on to the fit, the Crown Royal Baseball Jersey offers a relaxed and comfortable silhouette that flatters the body while allowing ease of movement. The classic baseball-style design includes raglan sleeves, which are known for their increased range of motion and flexibility. This design feature ensures that you can freely swing your arms and engage in any physical activity without feeling restricted by the fabric.
The collar of the jersey adopts a vintage-inspired look with a ribbed knit construction. This design adds a retro charm to the overall appearance, creating an effortlessly cool vibe. The double-stitched collar ensures durability, preventing any fraying or damage with regular use. Additionally, the collar features a reinforced V-neckline, adding a touch of sophistication to the design without compromising on comfort.
When it comes to practicality, the Crown Royal Baseball Jersey pulls no punches. The jersey incorporates strategically placed ventilation panels that promote airflow and prevent overheating during intense activities. These moisture-wicking panels are positioned under the arms and on the back to maximize breathability and keep you feeling fresh, even on the hottest days. Moisture-wicking technology helps to draw sweat away from the body, ensuring quick evaporation and preventing the fabric from becoming soaked or clingy.
As for the details, this jersey features contrast piping along the seams, adding a subtle yet distinctive element to the design. The piping is meticulously crafted, ensuring clean lines and a polished finish. In addition, the long sleeves of the jersey have ribbed cuffs, which not only enhance durability but also create a snug fit around the wrists, preventing any interference during physical activities.
The Crown Royal Baseball Jersey is available in various sizes, ranging from small to XXL, catering to a wide range of customers. Whether you prefer a loose and relaxed fit or a more fitted style, you can find the perfect size to suit your personal preferences. Furthermore, the jersey is designed to be machine washable, allowing for easy care and maintenance while preserving its quality even after repeated washing.
In summary, the Crown Royal Baseball Jersey encapsulates the best of both the sports and luxury worlds. With its attention to detail, such as carefully selected materials, impeccable stitching, and thoughtful design elements, this jersey offers a superior level of performance, comfort, and style. Whether you are a sports enthusiast, a fashion-conscious individual, or simply a fan of Crown Royal, this premium jersey is sure to become a cherished addition to your wardrobe. Crown Royal Baseball Shirt.
SHIPPING INFORMATION:
Production Time: 3 – 5 days
Worldwide Shipping Time (including Production Time ):  7 –14 days by Fast Ship, 15 – 20 days by Standard Ship

Tracking Number: When your order is completed, we will send you the tracking number with the confirmation email so that you can track the package online.

Our factories are located in America, Canada, E.U, Turkey, Viet Nam, and Indonesia.

If you find the delivered product:




– Damaged due to production quality (missing button, dirty marks…)




– Damaged due to poor packaging/handling during shipment                                                                                                
Please notify us at [email protected] with photo evidence of the errors mentioned above, so that we can help you resolve the problem as quickly as possible
WAREHOUSE – SHIPPING WORLDWIDE
MONEY-BACK GUARANTEE
We want you to be 100% satisfied with the products you buy from us. If for ANY reason you are not satisfied with your purchase, we offer an iron-clad money-back guarantee.
If you have any questions during shipping time, please send them via our email [email protected] or chat messenger with us. Thank you!
🌐 Home Page: Shirtnation.net