Introducing About

– Corona Extra Baseball Shirt:
Corona Extra Baseball Shirt. Are you looking to up your game in style and comfort while showing your love for the iconic Corona Extra beer? Look no further! Introducing the Corona Extra Baseball Jersey – a must-have apparel for any fan or enthusiast. This unique jersey combines the love for baseball with the passion for Corona Extra, resulting in a perfect blend of style and comfort that will make heads turn whenever you step out onto the field. With its exceptional design, premium material, customizable options, and unbeatable durability, this baseball jersey is truly the ultimate fan outfit. Read on to discover how the Corona Extra Baseball Jersey will take your fandom to the next level.
Top-quality material
When it comes to sports apparel, nothing beats the feeling of luxury fabric against your skin. The Corona Extra Baseball Jersey is crafted with meticulous attention to detail, using high-quality materials that promise ultimate comfort during every game or casual wear. Made from a blend of breathable and lightweight polyester, this jersey ensures maximum airflow to help keep you cool and dry even during intense moments of sweat-inducing action. The fabric is wrinkle-resistant, meaning you can wash and wear it countless times without compromising its shape or print quality.
Stylish and functional design
The Corona Extra Baseball Jersey boasts a stylish yet functional design that caters to discerning fans' tastes. The front showcases a prominent Corona Extra logo, strikingly embroidered using high-definition thread, which lends an authentic look to the jersey. It features a classic button-up style incorporating a traditional collar and wide sleeves with contrasting piping that adds a sporty edge to the design. This jersey captures the essence of both baseball and Corona Extra, merging them flawlessly into one outstanding piece of apparel.
Customizable for personalization
To make your jersey truly unique and distinct, the Corona Extra Baseball Jersey offers various customization options ensuring that you stand out among fellow fans. You can personalize your jersey by adding your name, favorite number, or any other text of your choice. Whether it's your nickname or lucky number, this customization feature enables you to add a personal touch to your jersey and make it 100% yours. The customization process is convenient and hassle-free, allowing you to create a jersey that reflects your individuality and passion.
Unmatched durability
Every sports enthusiast knows the importance of investing in products that withstand the test of time. The Corona Extra Baseball Jersey understands this need and has been expertly designed to offer unbeatable durability. This jersey is constructed to endure vigorous movement, challenging weather conditions, and frequent laundering without fading, stretching, or losing its shape. By ensuring it can withstand tough playing conditions and remain in pristine condition, the Corona Extra Baseball Jersey will accompany you year after year on countless baseball adventures.
In conclusion, if you are looking for an exceptional way to support and represent the beloved Corona Extra while engaging in your baseball passion, the Corona Extra Baseball Jersey is the perfect choice. Featuring top-quality materials, stylish and functional design, customizable options, and unmatched durability, this jersey is a true fan's dream come true. So why wait? Join the Corona Extra enthusiasm today and grab your Baseball Jersey – your ticket to unparalleled style and comfort on and off the field! Order now to experience the ultimate statement of fandom!
Why Corona Extra Baseball Shirt is Important to You?
 The Corona Extra Baseball Jersey holds a special place in my heart. As a fan of both baseball and the Corona brand, this jersey combines my two passions perfectly. It represents a union of two worlds that I hold dear, making it an essential piece in my collection.
First and foremost, baseball has been an integral part of my life ever since I was a child. I remember spending countless summer afternoons at the ballpark with my family, cheering on our favorite team. The sound of the crack of the bat and the scent of freshly cut grass are engrained in my memory. This sport has given me some of my greatest memories, from celebrating monumental victories to commiserating heartbreaking defeats. The Corona Extra Baseball Jersey encapsulates all these emotions and brings them to life.
The design of the Corona Extra Baseball Jersey is nothing short of exceptional. The vibrant color combination of navy blue and golden yellow catches the eye immediately. The classic pinstripe pattern running down the front adds a touch of authenticity and nostalgia, reminding me of the rich history of the game. The jersey proudly displays the iconic "Corona Extra" logo across the chest, ensuring that everyone knows which team I support. The attention to detail is remarkable, from the professionally embroidered logos to the fine stitching that holds the jersey together.
Wearing the Corona Extra Baseball Jersey not only allows me to showcase my love for the game and brand, but it also symbolizes a sense of unity among fellow fans. Whenever I don the jersey while attending games or social gatherings, I immediately feel a connection with others who sport it as well. It becomes a conversation starter, a way to bond over shared experiences and passion. The jersey evokes a sense of belonging and camaraderie among fans, fostering a community that extends far beyond the ballpark.
Moreover, the Corona Extra Baseball Jersey serves as a constant reminder of the values and qualities I strive to uphold. Every time I put it on, I am reminded of the dedication, teamwork, and persistence required in baseball. These principles carry over into my everyday life, urging me to approach challenges head-on and work collaboratively with others. It serves as a source of inspiration, pushing me to always strive for excellence in all aspects of my life.
Beyond its symbolic significance, the Corona Extra Baseball Jersey also provides unrivaled comfort. Crafted from premium materials, it feels soft against my skin and allows for unrestricted movement. Whether I am cheering from the stands or participating in a casual game, the jersey embraces my body with its perfect fit. This blend of comfort and style makes it ideal for any occasion, be it a game day celebration or a laid-back outing with friends.
In conclusion, the Corona Extra Baseball Jersey represents more than just a piece of clothing to me. It is an emblem of my passion for baseball and my unwavering loyalty to the Corona brand. Its design, craftsmanship, and symbolic meaning make it an irreplaceable part of my collection. So, when I put on this jersey, not only am I wearing my favorite team's colors, but I am proudly showcasing my love for the game and embracing the unity it brings.. Corona Extra Baseball Shirt.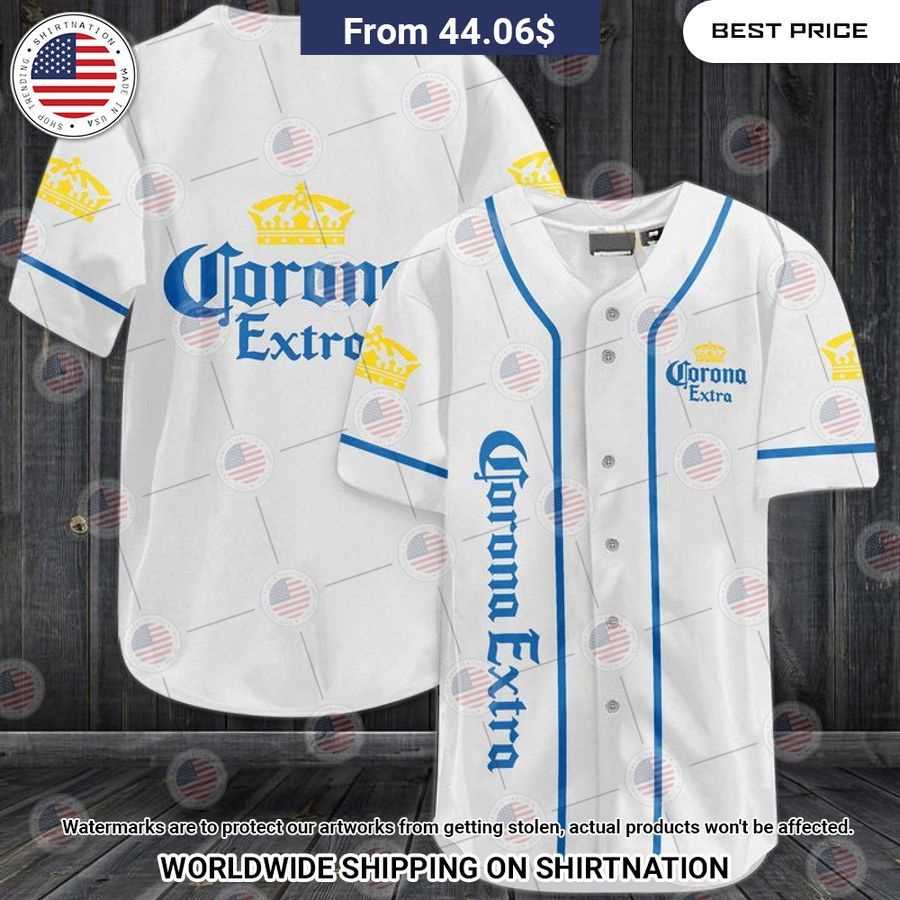 What you need to know About Corona Extra Baseball Shirt:
KEY FEATURES:
Baseball/softball jersey with a full button down closure
It is appropriate for special events like as Christmas, birthdays, celebrations, and housewarming gifts. 
PRODUCT INFORMATION:
Breathable fabric made of polyester and mesh. 
Quick-drying and wrinkle-free fabric. The fabric is silky and breathable.
PRINTS: Dye-sublimation printing
WASHABLE: Machine wash cold, only non-chlorine bleach when needed, hang dry, cool iron on reverse side or dry clean
SIZE CHART – Corona Extra Baseball Shirt:

Reason To Purchase Baseball Jersey:
Wearing a baseball jersey provides various benefits and opportunities for both dedicated players and enthusiastic fans. It serves as a symbol of unwavering team loyalty and camaraderie, allowing individuals to connect with fellow supporters. Additionally, donning a jersey bearing the name and number of a favorite player becomes a tribute to their accomplishments and sparks conversations among like-minded enthusiasts. Beyond game days, baseball jerseys offer comfort and versatility in everyday wear, while also holding sentimental value as collectibles and serving as thoughtful gifts. Overall, owning a baseball jersey is a meaningful way to showcase love for the sport and become part of the passionate baseball community.
Design Features of Corona Extra Baseball Shirt:
 The Corona Extra Baseball Jersey boasts a variety of design features that make it an essential wardrobe staple for fans and enthusiasts of the beloved Mexican beer brand. From its high-quality materials to its attention-grabbing details, this jersey is sure to catch the eye and provide utmost comfort during any occasion.
Let's start with the fabric. Crafted from premium 100% polyester, this jersey guarantees both durability and breathability. Polyester fibers are known for their strength and resistance to tearing, ensuring that this garment can withstand the rough and tumble of any sporting event or casual outing. Additionally, the shirt's moisture-wicking properties help keep the wearer cool and dry, even on those hot summer days.
The jersey's fit is another noteworthy feature. With a relaxed, yet flattering cut, it offers a balance between comfort and style. The shirt contours to the body without feeling constricting, allowing for ease of movement whether you're cheering on your team in the stands or relaxing with friends at a local pub. The classic baseball jersey silhouette gives a nod to the sport's history while maintaining a modern edge.
One design element that sets the Corona Extra Baseball Jersey apart is its striking color scheme. The iconic blue and yellow hues associated with Corona Extra are prominently displayed, making it immediately recognizable by fans of the beer brand. The bold colors add vibrancy to any ensemble and are perfect for showcasing your loyalty to your favorite team, group, or simply your love for a refreshing Corona beverage.
The attention to detail on this jersey is truly remarkable. Starting with the front, the Corona Extra logo is boldly emblazoned across the chest, proudly announcing your allegiance to the brand while also adding a touch of sporty elegance. Its screen-printed design ensures longevity, so you can be confident that the logo will stay pristine throughout repeated washes and wear. Moving on to the back, a large number "19" is displayed below an intricately embroidered "Corona Extra" text, showcasing a timeless design that stands the test of time. This number represents the iconic year Corona Extra was first brewed, further emphasizing your connection to the rich history and tradition of the brand.
A particularly unique design feature of this jersey is the inclusion of beer bottle-inspired stripes on the sleeves. These horizontal stripes evoke images of a refreshing bottle of Corona, subtly nodding to the brand's roots without overwhelming the overall design. The vibrant yellow color stands out against the blue fabric, adding a playful element to the jersey's aesthetic.
Not forgetting functionality, the Corona Extra Baseball Jersey comes equipped with the essential pocket found on the lower right-hand side. This pocket is perfect for carrying small items such as keys, tickets, or even a bottle opener, ensuring that you have everything you need conveniently at hand while staying true to the jersey's authentic baseball style.
Every aspect of the Corona Extra Baseball Jersey has been meticulously designed to combine comfort, durability, and style. Whether you're lounging at home, heading out for a match, or simply expressing your love for the favorite beer brand, this jersey will make a statement wherever you go. With its eye-catching design features and exceptional quality, it's a must-have item for every fan's collection. Corona Extra Baseball Shirt.
SHIPPING INFORMATION:
Production Time: 3 – 5 days
Worldwide Shipping Time (including Production Time ):  7 –14 days by Fast Ship, 15 – 20 days by Standard Ship

Tracking Number: When your order is completed, we will send you the tracking number with the confirmation email so that you can track the package online.

Our factories are located in America, Canada, E.U, Turkey, Viet Nam, and Indonesia.

If you find the delivered product:




– Damaged due to production quality (missing button, dirty marks…)




– Damaged due to poor packaging/handling during shipment                                                                                                
Please notify us at [email protected] with photo evidence of the errors mentioned above, so that we can help you resolve the problem as quickly as possible
WAREHOUSE – SHIPPING WORLDWIDE
MONEY-BACK GUARANTEE
We want you to be 100% satisfied with the products you buy from us. If for ANY reason you are not satisfied with your purchase, we offer an iron-clad money-back guarantee.
If you have any questions during shipping time, please send them via our email [email protected] or chat messenger with us. Thank you!
🌐 Home Page: Shirtnation.net