Introducing About

– Boise State Broncos Skeleton Hawaiian Shirt:
Boise State Broncos Skeleton Hawaiian Shirt. Are you ready to showcase your team spirit in a unique and unforgettable way? Then look no further than the Boise State Broncos Skeleton Hawaiian Shirt! This one-of-a-kind apparel combines the vibrant and laid-back Hawaiian aesthetic with the intimidating pride of the Boise State Broncos. Whether you're attending a game, hosting a tailgate party, or simply looking to stand out in your day-to-day life, this shirt is the perfect choice to express your enthusiasm for your favorite team. Get ready to turn heads and invite compliments, as we delve into the captivating features of this remarkable product.
First and foremost, the design of the Boise State Broncos Skeleton Hawaiian Shirt is truly eye-catching. The iconic blue and orange colors of the Broncos are brilliantly incorporated into the traditional tropical motifs. Showcasing an intricate skeletal silhouette of a ferocious bronco charging across the fabric, this shirt seamlessly merges two contrasting themes to create an unforgettable visual concept. The dynamic composition is both elegant and intimidating, making it an ideal choice for any dedicated Boise State fan wanting to make a strong statement.
Another remarkable feature of this shirt is its exceptional comfort. Crafted from high-quality and breathable fabrics, this premium Hawaiian shirt ensures you stay cool and comfortable, even during the most intense moments of game-day excitement. The relaxed fit allows for a full range of motion, ensuring that you can fully engage in spirited celebrations with friends and fellow fans. You no longer have to choose between style and comfort – the Boise State Broncos Skeleton Hawaiian Shirt offers the best of both worlds.
Additionally, this shirt boasts outstanding versatility. Unlike traditional team merchandise, which commonly falls into two categories – casual wear or game-day attire – the Boise State Broncos Skeleton Hawaiian Shirt breaks the mold by being suitable for a wide range of occasions. Dress it up for a night out with friends by pairing it with slacks or khakis, or dress it down with shorts for a laid-back day at the beach. Regardless of the setting, you will undoubtedly capture attention and envious glances from fellow fans and spectators alike.
Last but not least, the Boise State Broncos Skeleton Hawaiian Shirt represents a commitment to sustainability. Made with eco-friendly materials, this shirt helps to reduce the carbon footprint associated with apparel production. By choosing this product, you are not only expressing your unwavering support for the Broncos, but you are also making a conscious decision to protect the environment and promote a more sustainable future. It's a win-win situation you can feel proud of!
In conclusion, the Boise State Broncos Skeleton Hawaiian Shirt exudes an aura of uniqueness, style, and team pride that simply cannot be matched by any other merchandise. Its captivating design, comfortable fit, versatile nature and commitment to sustainability make it the ultimate choice for any avid fan of the Boise State Broncos. Whether you're gearing up for game day, attending social events, or simply strolling around town, this shirt is guaranteed to make a statement. Don't miss out on this opportunity to showcase your dedication in the most fashionable way possible. Join the ranks of awe-inspiring Boise State Broncos enthusiasts who proudly wear the Skeleton Hawaiian Shirt, and become a trendsetter among your peers. Order yours today and experience a new level of team spirit that truly stands out in a sea of ordinary merchandise. Go Broncos!
Why Boise State Broncos Skeleton Hawaiian Shirt is Important to You?
 The Boise State Broncos Skeleton Hawaiian Shirt is an iconic piece of apparel that holds immense personal importance to me. As an ardent fan of the Boise State Broncos and a lover of unique and eye-catching fashion, this shirt perfectly encapsulates my passions and individual style. In the following description, I will delve deeper into why this product is important to me by exploring its design, its connection to my favorite team, and its ability to showcase my personality.
First and foremost, the design of this shirt is truly captivating. Its bold, black background immediately captures attention, while the intricate, skeleton print in the team's blue and orange colors adds a distinct aesthetic dimension. The skeletal pattern creates a visual contrast, simultaneously symbolizing both fragility and power, an imagery that resonates with the spirit of the Boise State Broncos football team. This unique design not only appeals to my love for artistic expression, but it also serves as a conversation starter, inevitably sparking dialogue among fellow fans and fashion enthusiasts alike.
Beyond its artistic appeal, the Boise State Broncos Skeleton Hawaiian Shirt holds sentimental value by virtue of its connection to my favorite team. As a devoted supporter, I constantly seek out ways to display my allegiance proudly. This shirt allows me to effortlessly do so, given its striking homage to the team's colors and logo. It serves as a tangible representation of my dedication, helping me to connect with other fans and display a sense of community. Whether I am attending a game at the Albertsons Stadium or simply going about my daily routine, wearing this shirt helps me express my loyalty in a uniquely stylish and vibrant manner.
However, what truly makes this shirt important to me is the fact that it encompasses my personality and allows me to stand out from the crowd. Personal style is a form of self-expression, and I have always believed that fashion can play a powerful role in conveying one's interests and individuality. By donning the Boise State Broncos Skeleton Hawaiian Shirt, I am instantly aligning myself with the team and proudly showcasing my passion for sports. Furthermore, it provides a space for me to incorporate my love for unconventional fashion choices. The fusion of classic Hawaiian aesthetic with the bold skeleton design allows me to eschew mainstream fashion trends and forge my own path, demonstrating that I am confident in my personal tastes and unafraid to step outside of society's stylistic norms.
Moreover, the versatility of this shirt makes it even more important to me. It seamlessly transitions from game-day attire to casual summertime wear, making it suitable for a wide range of occasions. Whether it's a barbecue party, a social gathering, or simply a day out with friends, this shirt effortlessly adds a touch of whimsy and personality to any ensemble. Its vibrant design embodies the spirit of adventure and embraces the carefree nature often associated with the Hawaiian shirt style. Therefore, it not only provides comfort and ease, but also exhibits an effortless flare that can catch eyes and elicit a smile from strangers passing by.
In conclusion, the Boise State Broncos Skeleton Hawaiian Shirt is more than just a piece of clothing to me, it is an expression of my passion, creativity, and individuality. With its captivating design, strong connection to my favorite team, ability to showcase my personality, and versatile wearability, this shirt truly holds a special place in my wardrobe. It assures me that I can confidently embrace my interests through fashion while making a unique statement that sets me apart from the crowd. Whether I am at a game or going about my daily life, this shirt symbolizes my unwavering support for the team and serves as a visual representation of who I am as a person – someone who takes joy in expressing themselves through original choices in both style and sport.. Boise State Broncos Skeleton Hawaiian Shirt.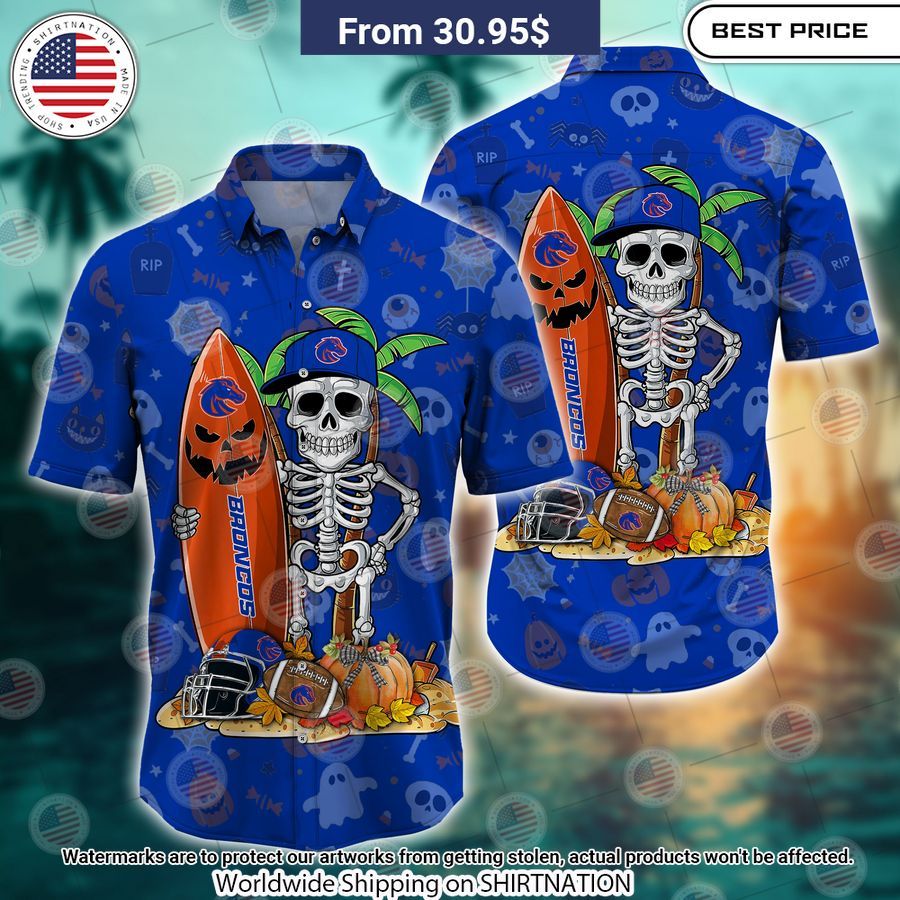 What you need to know About Boise State Broncos Skeleton Hawaiian Shirt:
KEY FEATURES:
Summer Short Sleeve Hawaiian Beach Shirt. Casual/Dating/Sun Beach Party/Hawaiian/suitable for a variety of occasions

Suitable for special occasions such as Christmas, birthday, celebration, housewarming gift. 
PRODUCT INFORMATION:
100% KATE SILK

Casual button-down shirts /Soft decent Regular fit/Breathable/Good Quality/Men designer shirts /Good Choice for Summer/men Hawaiian shirts
PRINT: Dye-sublimation printing
WASHABLE: Machine wash cold, only non-chlorine bleach when needed, hang dry, cool iron on the reverse side or dry clean
SIZE CHART – Boise State Broncos Skeleton Hawaiian Shirt: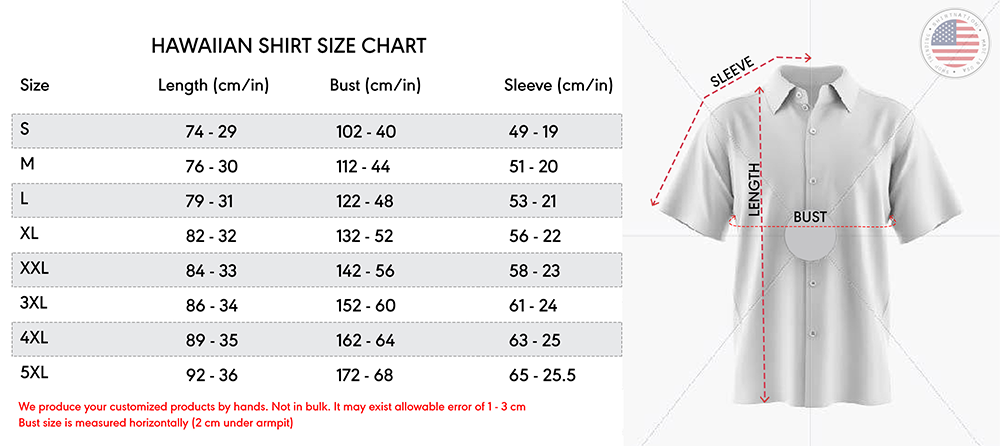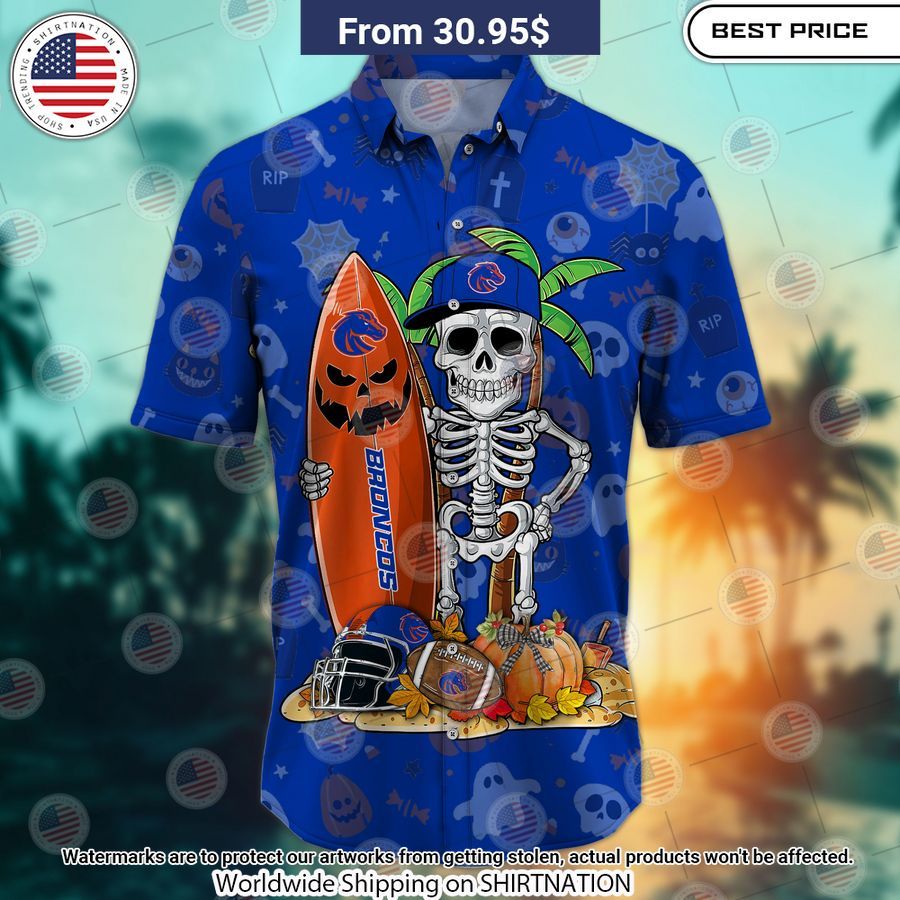 Reason To Purchase Hawaiian Shirt:
There are multiple reasons why buying a Hawaiian shirt can be a great decision. Whether you want to add some lively and colorful style to your wardrobe or are preparing for a tropical trip, there are compelling reasons to consider getting a Hawaiian shirt. They offer a unique and attention-grabbing style with their bold and vibrant prints featuring tropical elements. These shirts embody the warm and welcoming spirit of Hawaii, allowing you to embrace the "Aloha" culture. Additionally, Hawaiian shirts are versatile and comfortable, suitable for both casual and more formal occasions. They are also perfect for vacation wear, instantly creating a relaxed and carefree atmosphere. With their nostalgic and timeless appeal, Hawaiian shirts serve as a form of self-expression and can uplift your mood with their cheerful designs. Overall, a Hawaiian shirt is a fantastic choice for infusing your wardrobe with personality, style, and a touch of tropical paradise.
Design Features of Boise State Broncos Skeleton Hawaiian Shirt:
 The Boise State Broncos Skeleton Hawaiian Shirt is a unique and eye-catching garment that captures the essence of the Boise State University football team while incorporating elements of Hawaiian culture. This shirt allows fans to show off their school spirit in a fun and playful way.
One of the most notable design features of this shirt is the intricate skeleton pattern that covers the entire fabric. The design depicts the Bronco horse, the mascot of the Boise State Broncos, in a slightly abstract yet instantly recognizable form. The skeleton pattern is intricately detailed, with each bone clearly visible and accurately proportioned. Not only does this add a fascinating visual dimension to the shirt, but it also emphasizes the strength and athleticism associated with the Broncos football team.
The skeleton pattern is expertly placed on a vibrant and high-quality fabric that showcases the colors of the Boise State University. The base color of the fabric is a deep shade of blue, which is the primary color associated with the Broncos. This helps to create a sense of unity and coherence with the team's branding. The pattern is then accentuated with touches of orange, further reinforcing the iconic colors of the school. The bold and vivid color combination adds vibrancy and excitement to the shirt, making it a standout piece of apparel.
To enhance the Hawaiian theme of the shirt, tropical foliage is intricately woven into the design. Lush green leaves and exotic flowers gracefully intersect with the skeleton pattern, creating a visually appealing contrast. The infusion of these Hawaiian-inspired elements gives the shirt a playful and relaxed vibe, perfect for wear at outdoor gatherings, beach parties, or tailgating events. It adds a touch of paradise to the attire, fitting the Hawaii-inspired "Hawaiian Shirt" style and making it suitable for casual occasions.
Another key design feature of this shirt is its versatility. With its attention-grabbing design, it can be worn as a standalone piece, making a striking statement on its own. Pair it with shorts, jeans, or chinos for a fashionable and laid-back look. The shirt also provides an opportunity to display team pride in various settings. Whether you're attending a Boise State University football game, having a BBQ with friends, or relaxing on vacation, this shirt ensures you'll always stand out as a proud Broncos fan. Its versatility cannot be overstated, making it a versatile and valuable addition to any wardrobe.
Additionally, the fabric used for the shirt is of exceptional quality. It is lightweight and breathable, making it comfortable to wear even in warm weather. The fabric drapes well on the body, giving it an effortlessly stylish appearance. It is also durable, ensuring that the shirt will maintain its vibrant colors and intricate design for years to come. The longevity of this shirt ensures that fans can proudly wear their Boise State Broncos spirit season after season.
In conclusion, the Boise State Broncos Skeleton Hawaiian Shirt embodies the fusion of tradition and enjoyment through its intricate design features. The skeleton pattern captures the essence of the Broncos' mascot in an artistic and inventive way, while the vibrant colors and tropical elements pay homage to the beauty of Hawaii. The shirt's versatility, exceptional fabric quality, and superior craftsmanship make it a truly exceptional piece of apparel that no Boise State fan should be without. Whether at a football game, a social gathering, or simply showing everyday pride in style, this shirt is a must-have for any die-hard Broncos supporter. Boise State Broncos Skeleton Hawaiian Shirt.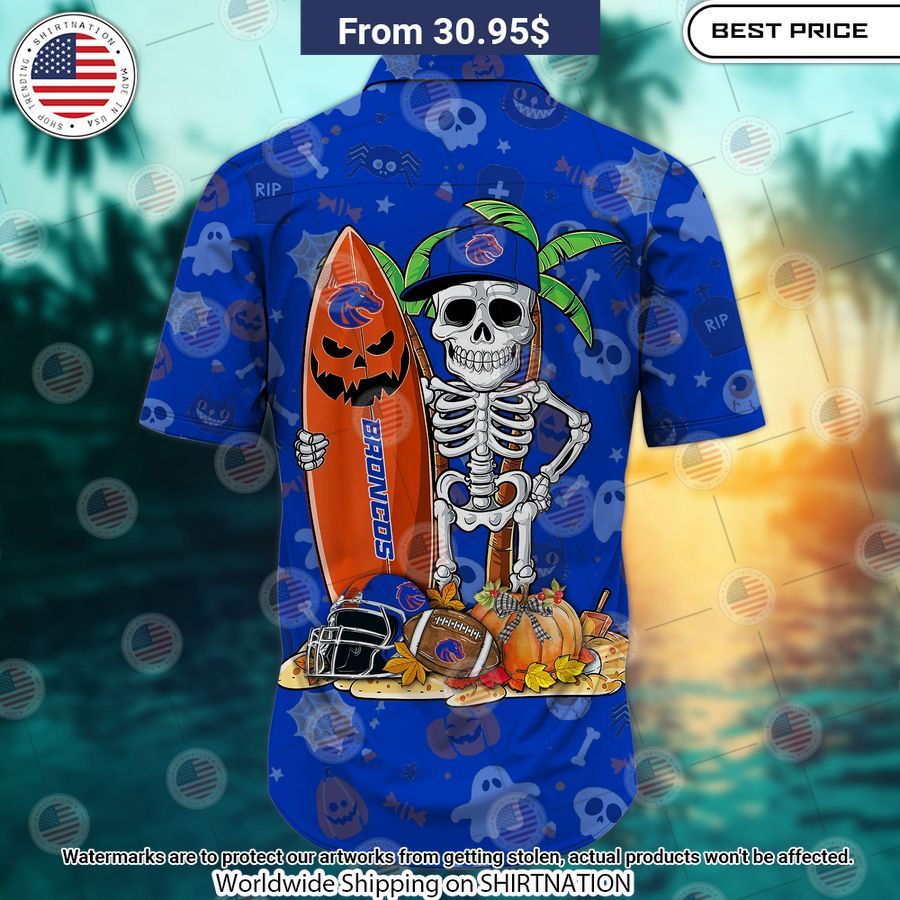 Production Time: 3 – 5 days
Worldwide Shipping Time (including Production Time ):  7 –14 days by Fast Ship, 15 – 20 days by Standard Ship

Tracking Number: When your order is completed, we will send you the tracking number with the confirmation email so that you can track the package online.

Our factories are located in America, Canada, E.U, Turkey, Viet Nam, and Indonesia.

If you find the delivered product:




– Damaged due to production quality (missing button, dirty marks…)




– Damaged due to poor packaging/handling during shipment                                                                                                
Please notify us at [email protected] with photo evidence of the errors mentioned above, so that we can help you resolve the problem as quickly as possible
WAREHOUSE – SHIPPING WORLDWIDE
MONEY-BACK GUARANTEE
We want you to be 100% satisfied with the products you buy from us. If for ANY reason you are not satisfied with your purchase, we offer an iron-clad money-back guarantee.
If you have any questions during shipping time, please send them via our email [email protected] or chat messenger with us. Thank you!
🌐 Home Page: Shirtnation.net